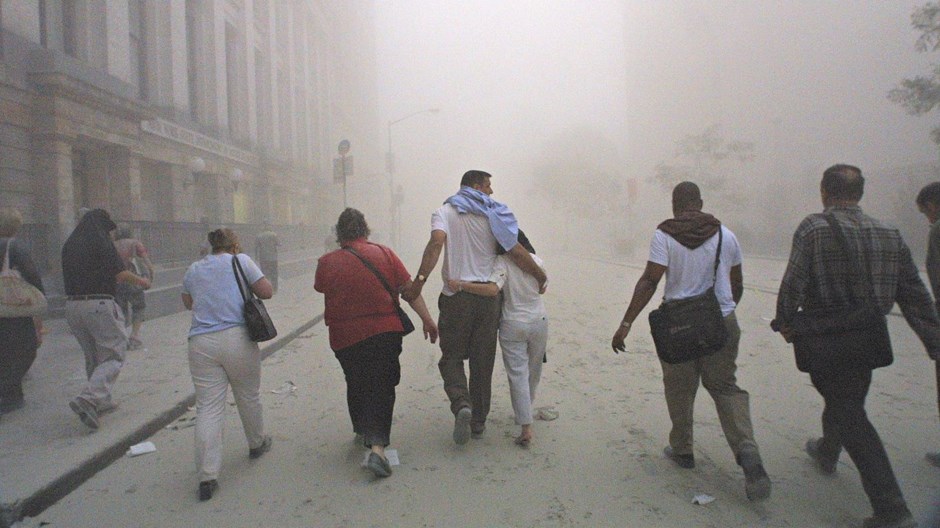 Image: Mario Tama / Getty Images
On Tuesday morning, September 11, pastors and staff at the churches near the World Trade Center prepared to open their doors in anticipation of a full day of activity.
Marcos Rivera, pastor of Primitive Christian Church, an Assemblies of God congregation, glanced over his right shoulder at the towers of the World Trade Center as he does every morning.
"In the neighborhood everyone seems to do this," Rivera told Christianity Today. "We grew up with them being built and as part of our lives."
Rivera was among the many Christian leaders who were unaware of the roles they were about to play in the aftermath of the horrific suicidal attacks by terrorists, in which more than 6,000 people are presumed to have died, the World Trade Center's towers collapsed, a Pentagon wing was devastated, and a passenger jet crashed in Pennsylvania.
Fleeing the Inferno
As Terry Vega-Ramirez, Rivera's executive assistant, was walking out of the subway at 8:47 a.m., she saw an airliner flying extremely low. "The plane was silvery and smaller than a big jumbo liner," she says. "All of a sudden there was an explosion that sounded like two big booms."
American Airlines Flight 11 had just rammed its 176,200 pounds and thousands of gallons of fuel into the north tower of the World Trade Center.
Down the street from Primitive Christian, Nelson Santiago, who works as Rivera's clerical associate, was at home ironing clothes in his living room, where he has a clear view of the towers. As he mentally reviewed his to-do list for the day, he didn't notice the burning skyscraper.
On the street, Rivera's secretary knew something terrible had happened. Running into the church, she burst through the doors and shouted,
"The trade tower is on fire!" Rivera thought she was joking, until he caught a glimpse of the dark smoke filtering down into the streets. They were still unaware that a Boeing 767 had crashed.
Meanwhile, Rivera's son, Matthew, 15, was on the 10th floor of the High School for Leadership and Public Service on Trinity Place. He smelled something unusual, what seemed like burning ink, which soon began to permeate the school. Santiago's son Phillip, 14, was on the floor below. Anxious family members arrived downstairs, clamoring for their children to be evacuated.
Only minutes later, at 9:03 a.m., United Airlines Flight 175 hit the south tower between the 87th and 93rd floors. A red-orange fireball erupted from the building. Shards of window glass fell hundreds of feet, killing pedestrians on impact.
At street level, people began to flee, many leaving the infirm and injured behind. Hours later, a man sobbed as he shared his experience with CT: "I don't feel victorious. I saw people I couldn't help—the old, elderly people who were left in wheelchairs. Some were crying in every direction for someone to help them."
Mychal Judge, a New York City Fire Department chaplain since 1992 and a Roman Catholic priest for 40 years, was among the first to arrive on the scene. Judge began to administer last rites to a severely injured firefighter. As Judge, 68, removed his helmet, he was killed by debris falling from the airliners and the towers.
Drifting Like Snowflakes
Back at the High School for Leadership and Public Service, the windows "rippled like water," one witness recalled. As the building shook, a teacher downstairs started screaming, "A bomb! A bomb!"
Terrified, Phillip Santiago looked up at the two towers. "I saw people drifting down, down like snowflakes," he said. "At first I thought they were debris. One guy jumped out and hit his leg on the building and started spinning like spokes on a bicycle."
One teacher told the students to continue their work, but some began to wail. Others became furious. Matthew Rivera immediately started packing his book bag. Turning to his best friend, Larry Pitta, he yelled, "I want to get out!"
A few blocks away at Primitive Christian, Marcos Rivera ran out of the church building and encountered chaos. "There was a roar of weeping when I got outside," Rivera says. "I started yelling, 'O God, have mercy! Protect us!'"
Pacing on the sidewalk, Rivera thought about his son and the other children from his church at nearby schools. Finally, he decided to stay and help his people. "I got ahold of myself. I had always told my son to come home in such an event. I was pretty sure he would do that."
Santiago and his wife, Angela, tried to make their way to the high school but were blocked by smashed and disabled emergency vehicles. Still, they told each other, "We need to trust God!" Moments later, the World Trade Center's south tower collapsed in front of them.
"Lord, save my baby! Save my son!" Angela Santiago prayed as they fled to the church.
At the school, students and staff left in an orderly fashion but were then swept up in a flood of panicking people. Matthew and Phillip joined a small group of students and teachers running toward the southern tip of Manhattan. Matthew was a little ahead of Phillip. Hearing a long rumble, Phillip yelled, "Is that thunder?" as they all ducked. Then they started to hear metal cracking as the second tower collapsed.
"A huge gray cloud started rolling toward us," Phillip recalls. "It became darker and darker as it got closer."
Stymied and disoriented, the teachers told their students to head north, but they couldn't get their bearings. Matthew took charge of a small group, shouting, "To the church!" Primitive Church was far enough away to be a safe shelter. The collapsing towers had destroyed the nearby Faith Exchange Fellowship and St. Nicholas Orthodox Church.
Moments later, Matthew says, "A huge, boiling cloud of smoke and debris came like a fast-moving flood toward us," forcing his group further south, then to the Lower East Side, the farthest they could get from the towers.
Finding a Way Home
In the confusion, Phillip and three others became separated as they ran.
"I prayed God would keep me," Phillip recalls, "and I prayed for my parents, that the police would tell them to go back home."
Phillip, bent over, covered with debris, and staggering, led his group onward. "The smoke kept getting darker and darker until at times I couldn't even see my hand. We couldn't run fast enough, and [we] were starting to have trouble breathing."
Phillip prayed, "God, show me the way." He sensed a renewed calmness and a clear leading that God was drawing them to safety. He spotted an abandoned sanitation car, yanked open the door, shoved a classmate into the front seat, and fell in behind her.
"It was a miracle it was open. God was watching!" he says. "We caught our breath for a few minutes." In the darkness, the debris from the towers engulfed them.
Back at Primitive Christian, Pastor Rivera scrambled. "Get food! Get tables!" he barked.
He took chairs and water outside for the injured as he scanned the crowds for any sign of his son and the other children from the church. Every 30 minutes or so, he would lock himself in his office and pace, crying out to God.
Suddenly Matthew, along with teachers and fellow students, their hair filled with ash, pebbles, and concrete, entered the church. He stood before his father amid a sea of people streaming by in silence. The father grabbed Matthew in a bear hug, and they wept together. Matthew prayed and gave thanks.
Across the street, the despairing Santiagos felt helpless. Phillip's mother, at one point thinking her son had perished, prayed to God with resignation, "He is with you!"
"Then, my son walked in," she says. "Though he was snowy white, I knew who he was." Phillip embraced his mother, saying, "I am okay! He was telling me where to go! God was telling me!"
A Time to Pray
Other church buildings in lower Manhattan were physically shaken, but their staff gave immediate sanctuary to thousands fleeing the destruction.
At the Overseas Chinese Mission, the largest church in Chinatown, pastor Andrew Lee had felt his nine-story church building tremble for several seconds. Ascending to the roof to see what had happened, Lee saw orange flames shooting out of the World Trade Center.
"Within 45 minutes of the first crash, church people started coming in. They were trying to find a place to stay. They didn't know where else to go." The church provided access to phones, e-mail, and a television. "In the shock of everything, they wanted to find out about loved ones," Lee says. Church staff quickly organized prayer cells as their building filled with traumatized and injured people.
Churches and ministries in greater New York immediately began tracking down their staff to mobilize a rapid response.
"We understand that there is a possibility that they will be after Jewish targets, and we have a menorah engraved on the front of our building," said Mitch Glaser, president of Chosen People Ministries, an organization for messianic Jews. Chosen People sent doctors and nurses downtown to help at Beth Israel Hospital and offered help to a nearby synagogue.
Impromptu prayer sessions began across the city. Several prayer circles formed outside the twin towers before they collapsed, witnesses say. One federal officer on the scene said, "We need prayer in here, in the belly of the beast."
'Anti-Shock' Services
Here's Life Inner City of Campus Crusade for Christ set up a prayer station at the Queens end of the 59th Street (Queensborough) Bridge. Cars were banned, so the bridge was filled with people fleeing on foot from the disaster.
"We put up a sign saying free prayer," says the director, Glen Kleinknecht. "People were respectful, and many stopped. They didn't want to stay long, but they prayed and took some literature." Prayer stations on street corners popped up throughout the city.
By Tuesday evening, churches convened prayer vigils, or "anti-shock services," as one pastor called them.
Columbia University, which had many alumni employed in the World Trade Center, provided one poignant service: New Yorkers attended just as they were, out of the dormitories in jeans and khakis, in suits and white shirts and conservative dresses from downtown, and some with ashes still flaking off their shoulders.
They huddled behind the protective walls in the university's great quad and told their stories of fleeing down the streets, calming the traumatized, and waiting in line for hours to give blood.
About 150 people came to the steps of Low Library to hear pastor Charles Drew of nearby Emmanuel Presbyterian Church reassure them that God is in charge in the midst of the upheaval. "You should exalt Jesus while the nations rage," Drew preached. "God is in charge, and in the end we have hope."
After announcing where people could get help and give blood, the pastor divided the crowd into prayer groups. Participants shared their experiences and comforted one another. One prayer circle consoled a recent graduate of Columbia, who nearly died when the debris from the collapsing towers came roaring toward him.
Drew urged his impromptu congregation to sustain its compassion. "Today, people here waited two or three hours to give blood," he said. "Remember that we have to be concerned with what happens on Wednesday and Thursday, too. We as Christians have a special reason to give our blood for those who are fallen."
As the weekend arrived, churches were preparing to help New Yorkers come to terms with terrorism. Tim Keller, senior pastor at Redeemer Presbyterian Church in Manhattan, was one.
"We have to address the fear and even the problem of hate," Keller says. "We are going to mourn our losses and thank God for the homegoing of Christians."
Keller says that churches also need to respond to people's hatred for the terrorists. "If those towers hadn't come down, I think it would have been different," Keller says. "The coming down was much more horrific and will forever stand for an intrusion, a hostile attack."
Keller believes New Yorkers will feel the horror for years.
"It was satanically brilliant," he says. "Now, every time you see that empty space, you will not be able to put it out of your mind. I felt a hatred well up in me, so I thought, Well, we are going to have to deal with that, too."
Christian men and women on the front line of the terrorist war also were confronting their hurts, and they said they wanted justice.
Kenneth Wong, a federal officer, worried about his fellow officers on the scene and wanted something to be done. "I am wondering about my Secret Service and US Customs brothers and sisters based in 7 World Trade Center." (Building 7 collapsed late Tuesday afternoon.) "This is an act of war," Wong said, reflecting a feeling among church leaders in Chinatown.
A New Normality
By Monday, New Yorkers were trying to put the horror behind them. The mayor encouraged people to return to their routines. But it's not simple.
"My life is different now," says Phillip Santiago. He says he isn't the same person. He remembers his experience and thanks God. "Unless I get Alzheimer's, I will remember this my whole life. The flesh always wants to destroy. But God is on the throne, above the panic, and his hand is on everyone."
Matthew Rivera feels freer than ever to talk about Christ. "Mainly now the adults are crying, and some teenagers," he says. "I feel more free and opened-up myself. I talk with everybody and help everybody. I feel that I am ready for anything good with God."
Christians on the scene see an opportunity to include Christ in the "new normality." New Yorkers are more open-minded to spiritual questions than they have been. And Christians seem to be more accepting of their mortality, and looking even more to God.
During the evening of September 11, the Riveras formed a circle in their bedroom to thank God. Rivera closed with the words, "Our goodbyes should be with the knowledge that life is fragile, and we won't always see each other again."
Down the street, the Santiagos looked at the dark clouds where the World Trade Center towers had stood. "We have to look for someone higher than the 110th floor," Santiago said.
Naming Evil Deeds
On the morning of the terrorist attacks, Miroslav Volf, a Yale University theologian from Croatia, addressed international leaders at the annual fall prayer breakfast at the United Nations on First Avenue. Known for his analysis of ethnic conflicts, Volf spoke about how Christians may embrace their enemies in a spirit of reconciliation.
After the meeting, Volf headed for Grand Central Station. He heard about the terrorist attack and saw a large crowd in the distance. Volf, who has seen comparatively worse damage in his Croatian homeland, where an estimated 200,000 died in ethnic cleansing during the 1990s, was nonetheless shocked. Knowing that the scene before him was an unexpected test of the speech he had just presented, Volf's initial reaction was to "go after" the terrorists.
Volf says that believers must act not simply as aggrieved human beings in the face of such assaults, but as Christians. "The will to embrace an enemy must be unconditional," he says. "The naming of the deeds as evil and the protection of those who are innocent [are] extraordinarily important.
"We must work to find out who did [the attacks] and, in a carefully qualified sense, bring those people to justice." Still, he says, "We can never close the door to reconciliation."
Tony Carnes is Christianity Today's senior news writer.
Copyright © 2001 Christianity Today. Click for reprint information.
Related Elsewhere
In his September 11 speech, Miroslav Volf told a United Nations prayer breakfast that "You will have justice only if you strive for something greater than justice, only if you strive after love."
Volf talked with Tony Carnes about reconciliation in the wake of such evil.
Churches in the article include: Primitive Christian Church's, Redeemer Presbyterian Church, Chosen People Ministries, and Here's Life Inner City of Campus Crusade for Christ.
Tony Carnes's Christianity Today coverage of the World Trade Center attack includes:
Where I Minister, Grace Abounds Over Sin | At Ground Zero, a New York pastor becomes a symbol that God is present and available. (Sept. 24, 2001)
'Is That Thunder?' | With metal cracking at the World Trade Center, New York pastors cry out to God. (Sept. 14, 2001)
Christians Provide Comfort in the Shadow of Calamity | Still "stunned and reeling," New Yorkers seek support at prayer service. (Sept. 13, 2001)
In the Belly of the Beast | Christians, calling terrorist attack "satanically brilliant," minister at epicenter of World Trade disaster. (Sept. 12, 2001)
Christianity Today's other coverage of the September 11 attacks includes:
Judgment Day | God promised that calamity would follow disobedience. So why are we quick to dismiss it as a reason for the September 11 attacks? (Sept. 25, 2001)
Myths of the Taliban | Misinformation and disinformation abounds. What do we know? (Sept. 24, 2001)
Now What? | A Christian response to religious terrorism. (Sept. 21, 2001)
Shock Waves Tear Through a Shock-Value Industry | How can we think of movies at a time like this? (Sept. 20, 2001)
Was September 11 the Beginning of the End? | Observers say geography and gravity of attacks have led to little prophecy speculation. (Sept. 19, 2001)
The End of the World (Trade Center) | Dispatches from out of the dust. (Sept. 19, 2001)
Active Christian on Flight 93 Hailed as a Hero | Wheaton College graduate and others "figured out how to do extraordinary things" aboard United plane. (Sept. 19, 2001)
With Grief and Anger, the U.S. Mourns Its Losses | A week of official services and impromtu demonstrations follows shocking attacks. (Sept. 18, 2001)
Orthodox Church Near Ground Zero Hopes to Rise Again | Members hope to rebuild 169-year-old structure, which stood only 500 feet from the World Trade Center. (Sept. 18, 2001)
Churches Meet Needs at Ground Zero | Brooklyn pastors and parishioners thank God for survival, but help victims and families cope. (Sept. 17, 2001)
Church Mourns 'Father Frank' | Fond memories comfort those who knew retired priest killed in World Trade Center attack. ? (Sept. 17, 2001)
The Imagination of Disaster | "We thought we were invulnerable." Really? (Sept. 17, 2001)
Taking It Personally | What do we do with all this anger? (Sept. 14, 2001)
Shaken Christians Turn to Prayer | Impromptu services usher in the bereaved by word of mouth, road signs, and e-mail. (Sept. 13, 2001)
Illinois Pastor on Fatal Flight | Jeffrey Mladenik, 43, was involved in workplace ministry, international adoption. (Sept. 13, 2001)
Communication Troubles Challenge U.S. Church Relief Agencies | Aid work continues amid atmosphere of shock, fear, and sporatic harrassment. (Sept. 13, 2001)
Reflections on Suffering | Classic and contemporary quotations for dark times. (Sept. 13, 2001)
When Sin Reigns | An event like this shows us what humans are capable of becoming—both as children of darkness and of light. (Sept. 13, 2001)
Churches, Agencies Respond to Attacks | Leaders call for prayer, justice, and mercy. (Sept. 12, 2001)
Muslims Fear a Backlash | No matter who is responsible, observers feel a reaction will still be present. (Sept. 12, 2001)
A Wake-Up Call to Become Global Christians | The deadly attacks on America will provoke many responses, but Christians are commanded to love our neighbors. (Sept. 12, 2001)
Nation's Religious Leaders Urge Calm, Pray for Peace | Churches will maintain prayer vigils for victims and leaders. (Sept. 11, 2001)
Church Leaders Around World Deplore 'Unspeakable Horror' of Attack | Christians urged to unite in prayer as they unite in shock and denunciation. (Sept. 11, 2001)
Experts Say Spiritual Roots Will Aid in Coping With Catastrophe | Pray and connect with others, advise nation's chaplains. (Sept. 11, 2001)
Fear and Hate | In times like this, as in all other times, Christians have a responsibility to love above all else. (Sept. 11, 2001)
God's Message in the Language of Events | In the face of evil, we must focus on keeping our hearts right. (Sept. 11, 2001)
For in-depth and continuing coverage, see The New York Times, The Washington Post, and Yahoo full coverage.
The Washington Post has a list of tenants of the World Trade Center and a graphic depicting the attack.
Yahoo compiled aid organization contact information and survivor lists. The New York Blood Centers declared a blood emergency after the September 11 attacks.
The Text This Week, a resource for pastors, has collected sermons and reflections in response to the Sept. 11 events.
The BBC, Boston.com, The Village Voice, and USA Today have photo essays of the destruction.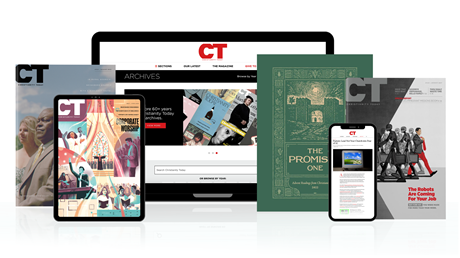 Subscribe to Christianity Today and get access to this article plus 65+ years of archives.
Home delivery of CT magazine
Complete access to articles on ChristianityToday.com
Over 120 years of magazine archives plus full access to all of CT's online archives
Subscribe Now
Day of Terror, Day of Grace
Day of Terror, Day of Grace