American Family Association founder Donald Wildmon and several prominent Christian broadcasters, concerned that National Religious Broadcasters would step back from conservative politics, sparked a controversy that ended with the resignation of NRB's president, Wayne Pederson. The ugly flap exposed rifts in philosophy about the influential association's direction.
Pederson assumed the NRB presidency on January 1. The controversy began soon after the January 5 Minneapolis Star Tribune quoted Pederson as saying that NRB should emphasize gospel ministry. "We get associated with the far Christian right and marginalized," he said. The association planned to install him at its annual convention in Nashville on February 16. Instead, the NRB board accepted his resignation.
"In this case, we had a very capable man who very quickly, with this article, stepped on one of the landmines," executive committee member Jerry Rose told Christianity Today after the NRB annual meeting. "I don't feel that people asked enough questions, but their concern was valid."
Glenn Plummer, chairman of the NRB board and CEO of the organization, and Michael Glenn, executive vice president, will lead the organization while the executive committee searches for a new leader. Pederson had served in several NRB positions during the past 25 years. The NRB chose him as president last year after Brandt Gustavson's death from pancreatic cancer.
Calls for Resignation
Wildmon was the first to call for Pederson to resign. Author Tim LaHaye suggested that board members "reappraise" whether Pederson should remain in the position.
Focus on the Family founder James Dobson held a conference call on January 24 with other well-known broadcasters. During the call, according to Plummer, Dobson indicated he might leave the organization if Pederson remained in office. Plummer also said Dobson implied he would withdraw as the convention's keynote speaker.
"I was very concerned when I read the article," Dobson told CT. "I opened the [telephone] conversation by saying, 'I don't know where I am, but I want to know if you're concerned.' "
After discussion, the group's clear consensus was for Pederson to resign. Dobson then called Pederson and asked him to step down.
Some NRB members were upset by Dobson's actions, which they say forced their executive committee's hand. At a January 28 meeting the executive committee voted 5-4 to retain Pederson, with Plummer casting the tiebreaking vote. A few days later, the committee offered Pederson an opportunity to resign. Pederson did so on February 8. The executive committee voted 7-1 to accept Pederson's resignation. In a nonbinding action, the NRB board voted 47-36 in Nashville to accept his resignation.
Fault Lines
Jim Gwinn, the lone executive committee vote against accepting the resignation, said he almost cried. "I'm sad, but I think everyone's sad on the executive committee," he told CT. "All have a deep love and high regard for Wayne, as I do. They believe he couldn't lead NRB. I believe he could have."
Gwinn, president of CRISTA Ministries, said "dozens and dozens" of NRB members congratulated him on his dissenting vote.
"There's disappointment in the way this has worked out," Pederson said at the meeting, where he received a standing ovation after his speech. "We're sad to leave, but we would even be sadder still if this breaks NRB apart."
While some in Nashville spoke of the need for unity, others vented their frustration and disappointment.
"I believe you have done an injustice to a good person, and I think that this committee is going to have to work very hard to regain the confidence of a good many people in this room," said Tom Sommerville, director of broadcasting for KGBI-FM in Omaha, Nebraska. The tone of the lobbying, Sommerville said, "was uncalled for, was unjust, was un-Christian."
Before the convention, Tony Evans, president of the Urban Alternative, wrote a pro-Pederson letter to the board. "NRB is perceived as an arm of the Christian Right, and in fact, to a great extent this is more than a perception," he wrote. "Most African Americans believe NRB to be a politically right, Republican organization. Most feel unwelcome and marginalized by the politics of NRB."
During his keynote address in Nashville, Dobson referred indirectly to the controversy. Dobson choked up slightly as he described a partial-birth abortion. "I'm only speaking for myself, [but] to call that kind of outrage 'political' is itself an outrage," he said to applause. "Since when have we become timid about addressing the moral issues of our day?"
Executive committee members say the decision to accept Pederson's resignation was based on his inability to lead a unified organization.
"During this controversy," Plummer said, "many on this executive committee—many, not all—felt that Wayne alienated a substantial portion of the NRB."
Related Elsewhere
Related Christianity Today coverage includes:
Article continues below
Broadcasters Aim to Cool NRB ControversyDobson, Neff make gestures to mend wounds. (March 8, 2002)
Christian History Corner: Don't Touch That DialCould a bitter debate among religious broadcasters really cause a "full-scale split in evangelicalism"? (March 8, 2002)
Weblog: Battle for NRB Heats Up as Dobson, Moody Square OffRobert Neff calls Focus on the Family head's actions "ungodly," Dobson says he's victim of "smear campaign." (March 5, 2002)
New NRB President ResignsChristian broadcasters divided over politics-religion controversy. (Feb. 18, 2002)
Politics May Splinter NRBChristian broadcasters may sack incoming president or bolt the organization. (Feb. 15, 2002)
Weblog: Saying Christian Radio is Too Political May Get Head of Religious Broadcasters FiredThe battle for Christian radio. (Feb. 22, 2002)
Daring to Discipline AmericaJames Dobson's influence, already huge, is growing. Can he keep his focus? (March 1, 1999)
Other news coverage includes:
Silence isn't golden — World (March 9, 2002)
Dobson fires back in NRB fracas — World Net Daily (March 9, 2002)
The NRB controversy began following Pederson's comments in a January 5 article in the Minneapolis Star-Tribune.
Have something to add about this? See something we missed? Share your feedback here.
Our digital archives are a work in progress. Let us know if corrections need to be made.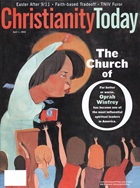 This article is from the April 1 2002 issue.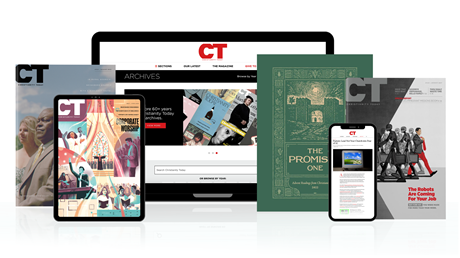 Subscribe to Christianity Today and get access to this article plus 65+ years of archives.
Home delivery of CT magazine
Complete access to articles on ChristianityToday.com
Over 120 years of magazine archives plus full access to all of CT's online archives
Subscribe Now
Broadcast Bloodletting
Broadcast Bloodletting