true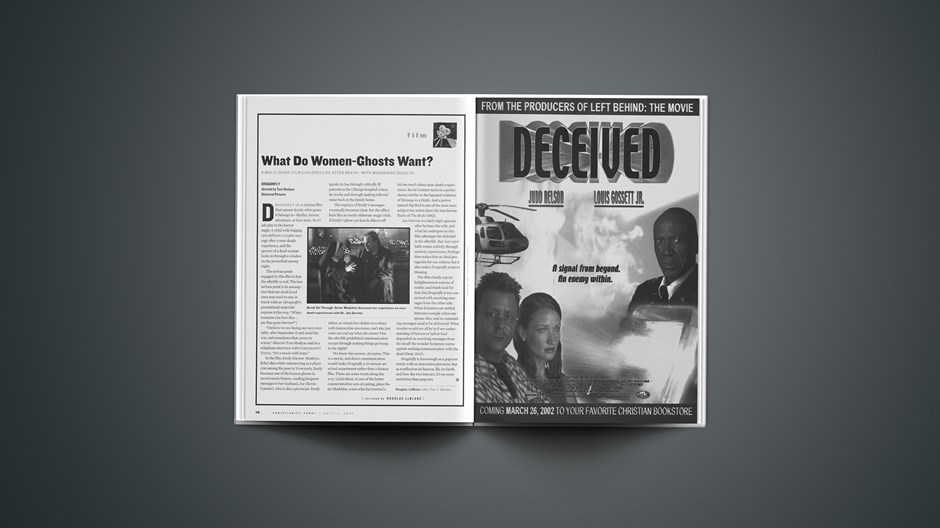 Dragonfly
directed by Tom Shadyac
Universal Pictures
Dragonfly is a curious film that cannot decide what genre it belongs in—thriller, horror, adventure, or love story. Its TV ads play to the horror angle: A child with bulging eyes delivers a cryptic message after a near-death experience, and the specter of a dead woman looks in through a window on the proverbial stormy night.
The serious point engaged by this film is that the afterlife is real. The less serious point is its assumption that our dead loved ones may need to stay in touch with us. (Dragonfly's promotional materials express it this way: "When someone you love dies … are they gone forever?")
"I believe we are facing our own mortality, after September 11 and amid the war, and sometimes that comes in waves," director Tom Shadyac said in a telephone interview with Christianity Today. "It's a movie with hope."
In the film, Emily Darrow (Kathryn Erbe) dies while volunteering as a physician among the poor in Venezuela. Emily becomes one of the busiest ghosts in recent movie history, sending frequent messages to her husband, Joe (Kevin Costner), who is also a physician. Emily speaks to Joe through critically ill patients at the Chicago hospital where he works and through making infernal noise back at the family home.
The urgency of Emily's messages eventually becomes clear, but the effect feels like an overly elaborate magic trick. If Emily's ghost can knock objects off tables, or return her clothes to a closet with immaculate precision, can't she just come out and say what she wants? Has the afterlife prohibited communication except through making things go bump in the night?
We know the answer, of course: This is a movie, and direct communication would make Dragonfly a 15-minute art school experiment rather than a feature film. There are some treats along the way. Linda Hunt, in one of the better counterintuitive acts of casting, plays Sister Madeline, a nun who has learned a bit too much about near-death experiences. Kevin Costner turns in a performance similar to the haunted widower of Message in a Bottle. And a parrot named Big Bird is one of the most menacing avian actors since the murderous flocks of The Birds (1963).
Joe Darrow is a fairly rigid agnostic after he loses his wife, and what he undergoes in this film sabotages his disbelief in the afterlife. But Joe's new faith comes entirely through esoteric experiences. Perhaps that makes him an ideal protagonist for our culture, but it also makes Dragonfly a mixed blessing.
The film clearly rejects Enlightenment notions of reality, and thank God for that, but Dragonfly is too concerned with receiving messages from the other side. What if matters are settled between a couple when one spouse dies, and no outstanding messages need to be delivered? What trouble would we all be in if our understanding of heaven or hell or God depended on receiving messages from the dead? No wonder Scripture warns against seeking communication with the dead (Deut. 18:11).
Dragonfly is fun enough as a popcorn movie with an innovative plot twist. But as a reflection on heaven, life on Earth, and how the two interact, it's no more nutritious than popcorn.
Douglas LeBlanc edits The CT Review.
Related Elsewhere
RottenTomatoes.com features capsule reviews, information, trailers, and stills from Dragonfly.
For past Christianity Today movie reviews, see our Film archives.
See also our Film Forum area, a weekly roundup of what Christian critics are saying about new and noteworthy movies. The column covered Dragonfly in February.
Have something to add about this? See something we missed? Share your feedback here.
Browse All Movie Reviews By: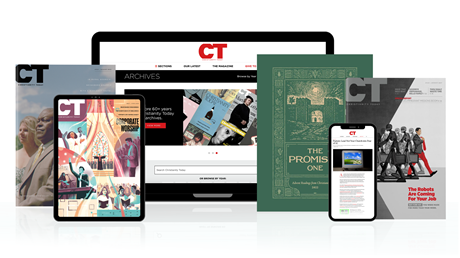 Subscribe to Christianity Today and get access to this article plus 65+ years of archives.
Home delivery of CT magazine
Complete access to articles on ChristianityToday.com
Over 120 years of magazine archives plus full access to all of CT's online archives
Subscribe Now
What Do Women-Ghosts Want?
What Do Women-Ghosts Want?