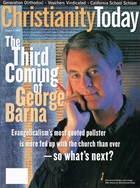 This article is from the August 5 2002 issue. Subscribers can read all of CT's digital archives.
If believers are to follow Jesus, they must work and pray for Christian unity. But unity means vastly different things, and some efforts toward unity are more faithful to the biblical vision than others.
In May of 2001, I went to Malaysia to attend the General Assembly of the World Evangelical Fellowship (since renamed the World Evangelical Alliance, or WEA). In December 1998 I attended the General Assembly of the World Council of Churches in Zimbabwe. What I saw in these very different meetings helps us think about cohesion and cooperation between Christians—about our participation in global, national, and even local efforts at "being one."
The World Council of Churches is an organization of churches, historic denominations chagrined about their divisions. Its task is to bring church bodies into a formal dialogue leading toward visible unity.
The WEA is an alliance of evangelical missions, parachurch ministries, and national and regional fellowships of evangelical churches and alliances. Its task is to bring these associations of ministries into loose and informal cooperation, into joint practical efforts at proclaiming the gospel and building national movements. Evangelicals are not even talking about organic unity among church bodies. They assume the era of the denominations is over. They prefer missional variety and trust the Spirit to bring unity to the body of Christ.
The WCC wants to claim sole proprietary ownership of the term ecumenical. It aspires to be the one inclusive ecumenical organization for Protestants in dialogue with Orthodox. But it is not inclusive, as is seen from its long history of frequently ignoring evangelical concerns, missions, initiatives, and spectacular growth. It has hardly recognized that the ...
1
Whither Christian Unity?