Religion in the post-Enron marketplace
"In the current climate of corporate scandal, many workers are questioning their employers' decisions, and some are beginning to use their spiritual beliefs as a compass to guide them at work," Cynthia Ingle reported on yesterday's edition of the Minnesota Public Radio program Marketplace (the segment starts 22 minutes and 24 seconds into the program).
Some companies with strong Christian values were especially lifted up as havens for those fed up with the Enrons and Qwests of the world.
"When there's an ethical code, people know where I stand on issues as opposed to the greed mentality that's driving a lot of decisions in large companies throughout the country," said Keith Richardson, president and founder of Sierra Trading Post. His company headquarters has a prayer and meditation room and all employees are instructed about the Christian principles guiding the company.
Likewise, Chick-Fil-A founder Truett Cathy (who has a new book out) says his Christian values—closing on Sundays, following the Golden Rule, leading by serving, etc.—are the secret to his success. "I see no conflict between good business practice and solid biblical principles," he said. "You don't have to be crooked to be successful. You can make a business successful by being honest, truthful, and generous to your employees."
But what Ingle doesn't report is that the Enrons and Qwests of the world were also run by some of the country's best-known Christian executives.
Check out, for example, Fortune magazine's new list of America's 25 Greediest Executives. At the top is Qwest's Philip Anschutz, who sold $1.57 billion worth of company stock in May 1999. Regular Weblog readers will remember Anschutz as the man financing the Narnia films who said he wanted to do "something significant in American Christianity." Weblog doesn't recognize a lot of the other executives as Christians, but they may be. There is, of course, AOL Time Warner's Steve Case (sold $475 million of stock), who was attacked by gay activists for donating $8.3 million to D. James Kennedy's Westminster Academy. Enron's Ken Lay doesn't make the list, but the difference between his actions and his Christian commitment has been much discussed over the last year.
By the way, the Marketplace segment immediately preceding "Faith on the Job" is on the Metropolitan Community Church, a mostly gay denomination that Marketplace reporter Jason DeRose says has been untouched by the clergy abuse scandal. Wait a second—what about this story? Well, at least the article concludes by pointing out another sinister threat menacing churches nationwide: 15-passenger vans.
More articles
Life ethics:
Sex, marriage, and family:
Church abuse scandals:
Missions & ministry:
The Grahams:
Pop culture and media:
Related Elsewhere
A ready-to-download Bible Study on this article is available at ChristianBibleStudies.com. These unique Bible studies use articles from current issues of Christianity Today to prompt thought-provoking discussions in adult Sunday school classes or small groups.
See our past Weblog updates:
August 12
August 9 | 8 | 7 | 6 | 5
August 2 | 1 | July 31 | 30 | 29
July 26 | 25 | 24 | 23 | 22
July 19 | 18 | 17 | 16 | 15
July 12 | 11 | 10 | 9 | 8
July 5 | 3 | 2 | 1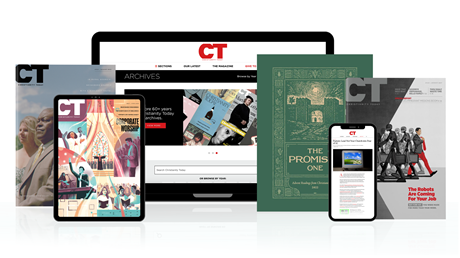 Annual & Monthly subscriptions available.
Print & Digital Issues of CT magazine
Complete access to every article on ChristianityToday.com
Unlimited access to 65+ years of CT's online archives
Member-only special issues
Subscribe
Are Christian Executives More Ethical?
Are Christian Executives More Ethical?