Have you ever wanted to show your children a movie, but wished you could edit your own "parental cut"?
A new technology called Movie Mask is sure to be a hit with parents. The software allows you to filter out sex, violence, and cursing from your household DVDs. Imagine We Were Soldiers without any blood or GoodFellas who never utter a discouraging word. Since meetings between Trilogy representatives, studios, and the MPAA are proceeding, the software may be coming to a home theater near you. The success of another Utah-based company, CleanFlicks (which was covered in a recent CT story) indicates that the venture could be quite successful.
That is, if legal action from the Directors Guild of America doesn't get its way. Moviemakers are not thrilled about the new services, calling them a form of censorship. Just as this edition of Film Forum was getting a final edit, headlines began appearing that announce the attempt to stop this trend before it really spreads. For starters, check out stories at The Directors Guild of America (here and here.)
Director Steven Spielberg, a member of The Film Foundation, argues, "Every film represents a truth which is morally and exclusively the right of the writer and director. No one is authorized to impose their truth on top of ours despite how strongly they may disagree with it. Schindler's List and Saving Private Ryan have been cited as two of my most important contributions to history through cinema. The public has a choice to make—do they or do they not want to share in this experience. No one has the right to delete, re-shuffle, or in any way alter our films without our permission or the permission from the copyright holder."
Why such a fuss over bleeping out bad words? Don't network television stations do this all the time when they broadcast R-rated films?
No, actually. Trilogy Studios's pioneering software doesn't just "bleep" out bad language or cut scenes. It actually alters the imagery. Titanic's Kate Winslet doesn't pose nude when Movie Mask is running—instead she appears in a corset. And Saving Private Ryan starts with a bloodless massacre. Referring to Private Ryan's opening scene, Trilogy cofounder Breck Rice boasts to ABC News, "There are 32 edits in that scene. If you had never seen the original, you wouldn't know the difference—gone are the severed limbs and gushing blood. We've taken out some of the real gory scenes where people's guts were laying on the beach."
What do you think? Is Movie Mask a gross abuse of technology that compromises the visions of artists? Or should parents have the options of altering works of art in order to protect their children from certain elements of a work? Let me know what you think. (Your reply may be excerpted in an upcoming issue.)
Hot From the Oven
It's hard to imagine what Movie Mask might do to the scantily clad heroes of John Stockwell's Blue Crush, a movie about surfer girls striving to make their mark in the sports world. But even religious critics are admitting that there is more to this surf flick than meets the eye. The human drama at the center is realistic and engaging—at least compared to other titles in the surfing genre. And everyone agrees: the waves are truly worth catching.
Holly McClure (Crosswalk) says, "I really enjoyed this movie for a lot of reasons but mostly because it introduces the sport of surfing as I've never seen it before. I also like the fact that the hero turns out to be a woman who gets her dream and her man! If you've ever been curious about surfing and you can't go to Hawaii to see the biggest waves in the world, do the next best thing and see this movie!"
Anne Navarro (Catholic News) writes, "Blue Crush is a movie about youthful exuberance with pseudo-profound dialogue about overcoming fear spoken by undemanding characters. The tension in the final scenes is milked for all it's worth, ending almost exactly as the moviegoer would expect anyway. The story dissolves from the mind as the pummeling wave does on the shore. But, oh, those waves."
Brian Shun (Movieguide) calls it "one of the better summer fun movies to grace the screen in a long while. The girls are not the stereotypical Barbie types that you would see in Baywatch; rather, their figures are more realistic, and lean more towards the sporty side as opposed to the bimbo side." Still, he adds a warning: "Viewers should exercise extreme caution due to the obscenities and images of implied fornication."
Not everyone was pleased. "Despite the positive messages about conquering fears and being true to your dreams," says Paul Bicking (Preview), "Blue Crush sinks under vulgar vocabulary and misguided sexual messages."
Michael Elliott (Movie Parables) says, "Stockwell … deserves some credit for breathing a bit of new life into a genre which has never been accused of originality. With a fresh-faced, hard bodied cast and some magnificent camera work, Blue Crush uses the same formula as its predecessors but then layers it with a theme of female empowerment." But he adds, "While the film does have some positive things to say … we shouldn't approach it with the expectation of seeing behavior we would want our daughters to emulate."
Phil Boatwright calls the surfing "awesome," but he is worried that, although these female characters show considerable dedication to their work, they seem to be "exploiting their bodies in order to gain acceptance." He concludes with a caution. "Note to my younger readers: It's a natural desire to want to look at the opposite sex. And sexuality is certainly a driving force in this realm. But, because our culture is so dominated by sexual exploitation, maybe we should be careful about how often we expose ourselves to things sexual."
Steven Isaac (Focus on the Family) remarks he was surprised at the film's emphasis of the dangers that surfers face out there on the waves. He adds, "It's too bad other dangerous activities presented in the movie (sex and wild partying) aren't given as much scrutiny."
Mainstream critics celebrated the exhilarating cinematography, engaging performances, and the unusually compelling story.
But MaryAnn Johanson (Flick Filosopher) argued from a different point of view. "Blue Crush teases the hopeful girl critic for a while, misleading her into thinking it has something of substance to offer. Any girl trying to follow her bliss can identify. [But] it doesn't take long for the story of smart and tough women to devolve into a slick, simplistic washout, all beautiful cinematography and standard sports platitudes. 'When you fall off a wave, you gotta get right back on it again,' or something."
***
Author A.S. Byatt won the Booker Prize for her 1990 novel, Possession. It tells the story of two British academics, Roland Michell and Maud Bailey, and two Victorian poets, Randolph Henry Ashe and Christabel LaMotte. Michell is researching Ashe when he discovers clues that the writer might have carried on a secret love affair with the lesser-known LaMotte. Bailey, an expert and a descendent of LaMotte, denies it. But as the two begin following the clues together, they begin to uncover a scandalous story, one that excites not only their academic curiosity, but their desire for each other as well. The story jumps back and forth between their present-day research and the past extramarital affair.
The film version is unlikely to win awards, say critics. While director Neil LaBute (Nurse Betty) uses wry humor to tone down potentially sappy scenes, the book's intricacies have been severely abbreviated. Further, Roland is no longer a Brit—now he's an aggressive American (played by the always impressive Aaron Eckhart) who unsettles his partner-in-research, a mellow and mannered British beauty (Gwyneth Paltrow, in fine form). While some critics are praising it for being more sophisticated and restrained than most big-screen romances, others find that this adaptation is only half-baked.
Religious media critics complain it's another cinematic glorification of an extramarital affair. Jan Stallones (Movieguide) says it is "beautifully filmed and well acted … sad, funny, and mysterious all at once. But [Possession] emphasizes 'heart over head' living, and minimizes the damage that romantic decisions can cause in the lives affected by them. The biggest problem … is the clear endorsement of romantic philosophy over reason and morality. Ash obviously struggles with guilt over betrayal of his wife, whom he clearly loves. La Motte regrets hurting Ash and his wife, but in the end, she declares, 'Was not the love we found worth the tempest it brought?'"
Paul Bicking (Preview) says, "Condoned adultery, a fairly graphic love scene, and some less-than-ethical 'borrowing' from institutes suggest Possession should not be taken."
But Phil Boatwright describes it as "[an] intriguing love story, nicely acted by Northam and Ehle, [with] beautiful cinematography, and a nice balance between modern times and days gone by. The film is not so much about an adulterous relationship as it is about finding that one true love."
Anne Navarro (Catholic News) writes, "The script admirably condenses the comprehensive novel, layering in intrigue and obstacles to love. But it isn't able to avoid narrative lags, eventually resulting in a reasonably entertaining but not completely absorbing or dramatically compelling film."
I'd agree with Navarro. In condensing the novel, LaBute has lost a good deal of characterization, so the intellectual and romantic dilemmas of the leads remain vague and uninvolving for us. And the few snatches of poetry in the film do not convince us that their favorite writers are really that interesting. Thus, while Eckhart and Paltrow do have some chemistry, they are never compelling enough to draw us emotionally into the film. Worse, the poets they so admire are frequently shown staring at each other with silent intensity, striking notes of melodrama and melancholy that could almost be a parody of period piece soap operas. (My full review is at Looking Closer.)
Mainstream critics are divided between praising the film's strengths and lamenting its lapses. Roger Ebert (Chicago Sun-Times) writes, "The movie is not a serious examination of scholarship or poetry, but a brainy romance. In a world where most movie romances consist of hormonal triggers and plumbing procedures, it's sexy to observe two couples who think and debate their connections, who quote poetry to each other, who consciously try to enhance their relationships by seeking metaphors and symbols they can attach to. Romance defined by the body will decay with the flesh, but romance conceived as a grand idea—ah, now that can still fascinate people a century later."
***
Warner Brother reportedly spent $100 million to produce The Adventures of Pluto Nash, the new action/comedy sci-fi adventure starring Eddie Murphy. The film was long delayed due to complicated special effects. But when the studio opted not to show the film to critics before opening day, all signs pointed to a disaster. Sure enough, the film has opened to dismal reviews and a disappointing opening day, earning back only about $2 million. Some are comparing it to the legendary "disaster" film Ishtar. Lou Lumenick (New York Post) blasted it: "Watching it is like watching 90 minutes of outtakes—deleted scenes randomly assembled by a drunken night watchman at the studio."
Religious critics are unable to find anything worthy of praise.
Phil Boatwright testifies, "I said to myself, 'Hey, it stars Eddie Murphy, there's got to be something funny in it.' Alas, I was wrong. And I miss my $6.The production values and special effects leave something to be desired in this era when production values and special effects are more focused on that story. And speaking of story … there is none."
Loren Eaton (Focus on the Family) believes that the special effects and the plot are not the real problems with the film: "Pluto has been taking heat for all the wrong reasons. Sexual baggage and profane potholes spoil this good-hearted trip far more effectively than a run-of-the-mill script and so-so special effects."
Holly McClure (Crosswalk) writes, "I wanted to like this movie because I like Eddie Murphy, but it starts bad and gets worse. There are better movies out there, so save your time and money on this one!"
Side Dishes
Michelle Williams, who earned celebrity for her work on Dawson's Creek, plays a very different role in the new independent film from writer-director Sandra Goldbacher. Me Without You is a coming-of-age story about two best friends. Williams plays Holly, a quiet and well-mannered Jewish girl, while her friend Marina (Anna Frie) is wild, self-centered, and free-spirited. Codependent and close as sisters, their friendship suffers when they begin to hide from each other the secrets of their romantic entanglements.
J. Robert Parks (The Phantom Tollbooth) praises Williams: "It's a wonderfully vulnerable performance." But that's only one bright spot. "Unfortunately, the other aspects of Me Without You are overly broad and uncompelling. … Predictability is not a virtue in my book … I knew the outcome … well before the movie's halfway point."
Anne Navarro (Catholic News) lists some complaints of her own. "While the characterizations are authentic and the performances compelling, viewers may be troubled by the casual representation of sexual encounters and drug use. The story drags, taking a depressing turn before abruptly turning the corner to a sunny, incongruous ending." But she has high praise for other aspects: "Goldbacher infuses the narrative with classic tell-tale signs of the period. Signature '80s songs and fashion sensibilities are in full force as is the punk attitude of the '70s and the materialism of the '90s. Goldbacher guides the actors with a gentle hand, drawing nuanced performances from both women."
***
In Michael Winterbottom's comedy/documentary 24 Hour Party People, an ambitious television reporter named Tony Wilson (played by Steve Coogan) discovers a band called The Sex Pistols and rides their rising success to play a major part in the cultivation of a successful musical trend. The result is a comical look at the mid-'70s and the emergence of a group of successful bands including Joy Division and New Order.
Rather than discussing whether the film offers significant cultural commentary, Phil Boatwright says, "As for a review—I think the content will tell you all you need to know about this film." He goes on to list all of the occasions of documented swearing, drug use, and sexual activity.
Anne Navarro (Catholic News) says the movie "is not for everyone. Those who will most appreciate the film are fans of 1980s bands New Order, Happy Mondays, and Stone Roses. But many likely will not enjoy the acerbic comedy or attention-grabbing characters because of the irreverent and often depraved lifestyle portrayed in the film which spells out the sex, drugs and rock 'n' roll excesses of the times in a defiant, in-your-face manner."
Still Cooking
Film Forum presented early reviews of The Good Girl last week. This week, Jennifer Aniston continues to impress and distress religious media critics as they ponder the moral dilemmas and messy relationships in this independent drama.
Paul Bicking (Preview) reports, "The film explores some difficult issues such as adultery and reconciliation as well as showing the character's self-evaluation along the way." But he complains of graphic sexual encounters and explicit sexual discussions that degrade the story.
Tom Snyder (Movieguide) writes, "Christians, not to mention people from West Texas, should sue the filmmakers … for defamation of character." He argues that the film gives the impression "that all Christians and all men are fools, especially if they come from a small town in West Texas."
Mainstream critics continued to debate the film's merits. Ebert declares, "Jennifer Aniston has at last decisively broken with her Friends image in an independent film of satiric fire and emotional turmoil. It will no longer be possible to consider her in the same way." He also praises director Miguel Arteta and writer Mike White: "They know how much satire and exaggeration is enough but not too much, so that in a subterranean way their movies work on serious levels while seeming to be comedies."
***
Meanwhile, Vin Diesel's action-spy flick XXX ruled the box office again, and religious critics continued to roll their eyes (see our earlier review roundup here).
David Bruce (Hollywood Jesus) finds some interesting differences between the film's tattooed hero, Xander Cage, and the legendary film hero to which most critics compare him. Bruce writes, "James Bond, though an independent thinker, was always a company man. He was what we would term an organizational man. Xander Cage is an outsider that the organization needs to bring in. … In today's world successful organizations seek out entrepreneurial and creative types, the outsiders. Xander Cage is more centered on a central relationship than is the womanizing James Bond. Cage develops the friendship before the romantic relationship. Sexual intercourse is secondary." He goes on to list several more interesting contrasts, as well as some vague but intriguing spiritual themes.
Ryan Izay (Christian Spotlight) is troubled that "our youth [are] able to see women being treated as objects of pleasure alone, and a criminal being paid to kill people. I urge any parent that is skeptical about letting their child see this film to think twice.
J. Robert Parks argues that the film insults the intellect: "No, I don't expect an action thriller to be believable or even make sense. But I do hope that it won't completely insult the audience's intelligence, that it will have some sort of internal consistency. In XXX, there is absolutely no logic to anything that happens. Even the explosions are random, which creates a mind-numbing sense of boredom."
Tomorrow's Menu
Andrew Niccol, the creator of such thoughtful, artful films as Gattaca and The Truman Show, is back with another film about the difference between real and artificial life. In Simone, Al Pacino plays Viktor Taransky, a director who is fed up with spoiled-brat actors and actresses. Thus, he is ecstatic when he inherits the software for a digitally simulated actress called "Simulation One" (or "Simone"), a performer who won't talk back. Unfortunately, Taransky's own ego takes over and his manipulated non-actress becomes merely a dangerous extension of his own personality.
Anne Navarro (Catholic News) writes that the film starts strong but slumps into oversimplification and redundancy: "The script … happily mocks actors and their peculiar 'requests,' hinting that maybe Tinseltown would be better off with 'synthespians'—computer-generated actors who don't talk back. Niccol plays with the themes of identity, reality and media fascination in a film that is spiked with dry wit. The film takes some deliciously dark and comical turns, but then loses its way, always returning to one joke. Niccol ends on a down beat with too tidy a wrap-up for the narrative without properly probing the questions raised about whether the connections made by human beings can be replaced or duplicated by a digital creation."
Film Forum will feature more reviews of the film next week.
DIGEST: Are you ready for another movie about Jesus?
Actor Mel Gibson, enjoying his latest box office triumph in Signs, is ready to take on a far more ambitious project. This time, though, he will not be in front of the camera. Several media outlets are reporting that Gibson is scouting locations in southern Italy for a movie called Passion. He is reportedly considering actor Jim Caviezel to play the Messiah. (If so, good choice. I saw Caviezel for the first time in Terrence Malick's wonderful war epic The Thin Red Line, and immediately thought to myself, "that guy would be the perfect actor to play Jesus.") Both men are reportedly believing Catholics.
Are you excited about the possibility of another big screen Jesus film? What sort of things would you like to see a new Jesus movie emphasize? Let me know.
Next week: Critics turn in reviews of Simone, a new family film called Little Secrets, and more.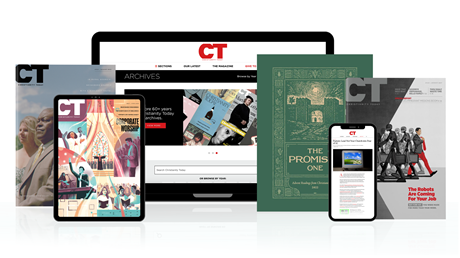 Subscribe to Christianity Today and get access to this article plus 65+ years of archives.
Home delivery of CT magazine
Complete access to articles on ChristianityToday.com
Over 120 years of magazine archives plus full access to all of CT's online archives
Subscribe Now
Adventures in Poetry and Surfing
Adventures in Poetry and Surfing