A federal judge in Washington, D.C., ruled Monday that plaintiffs in two lawsuits accusing the Navy of discriminating against evangelical chaplains represent as many as 1,000 current or former chaplains.
The ruling by U.S. District Judge Ricardo M. Urbina approved the actions to be certified as a class action lawsuit based on the plantiffs' demonstration that they could represent evangelical Naval chaplains on duty between 1988 and 2002. The decision has no bearing on case merit.
The suits, filed by Baptist, Evangelical, and Pentecostal chaplains, claim that non-liturgical chaplains were passed up for promotions, forced to retire early, or treated unfairly.
The class-action boost comes after a federal judge in June dismissed a Navy chaplain's claim that Naval superiors discriminate against non-liturgical clergy in promotion and hiring. Calling the ruling a "temporary speed bump on the road to justice," Dean Broyles, the San Diego lawyer for the plaintiff, quickly filed an appeal of the ruling.
Thomas Whelan, U.S. District Judge for the Southern District of California, granted a Justice Department motion to dismiss a suit brought by Pentecostal chaplain Patrick Sturm. Lt. Cmdr. Sturm says Protestant clergy from non-liturgical churches—such as Baptists and Pentecostals—face discrimination in hiring and promotion in the Navy Chaplain Corps compared to clergy from liturgical churches, such as Episcopalians or Lutherans. Sturm's superiors promoted him after he filed suit.
The judge's ruling cited policy changes the Navy has made since Sturm filed the lawsuit. Whelan noted that seniority alone now determines candidates for promotion, a process that cannot exclude a particular faith group. The judge noted that from 1990 to 2001, more non-liturgical Protestant chaplains went on active duty than chaplains from any other group, including Roman Catholics and members of other religious groups, such as Islam. Non-liturgical clergy are the largest group within the chaplain corps.
Whelan ruled that the composition of the chaplain corps and the new changes in the selection process "conclusively demonstrate that any form of institutionalized discrimination is not only improbable, but for all practical purposes, impossible."
Attorney Art Schulcz of Vienna, Virginia, who represents 42 plaintiffs in the class action lawsuit, says the Navy has dramatically improved its practices since he began representing plaintiffs several years ago.
Schulcz says 32 percent of the sailors and Marines who disclose their church affiliation are non-liturgical Protestants, while 40.7 percent of chaplains are now non-liturgical. On the other hand, while only about 7 percent of sailors and Marines claim a liturgical affiliation, 35.2 percent of chaplains in those branches are liturgical.
"What they're saying now—and what they're also admitting indirectly—is that they've changed," Schulcz says. "But they forget to say they've changed because of litigation. They also don't have procedures to ensure this old-boy network doesn't dominate in the future."
Schulcz questioned the California ruling, saying that a case cannot be rendered moot because a defendant has righted a wrong. "When you have evidence of a pattern over a long period of time," Schulcz says, "the courts are supposed to be wary of claims that the wrong has been fixed."
Neither the Justice Department nor the Navy will comment on the cases.
Related Elsewhere
Recent news articles include:
Ruling may combine 700-plus chaplains in class action over Navy discrimination—Baptist Press (August 21, 2002)
Judge allows class action suit by Navy chaplains—The Washington Post (August 21, 2002)
Religion suit vs. Navy moves ahead—Associated Press (August 20, 2002)
Chaplains feel stand justified—The Daily News, Jacksonville, N.C.(August 11, 2002)
Navy chaplains take stand on prayers, wage lawsuit—Associated Press (August 11, 2002)
Chaplains allege unfair treatment in race, religion—The Daily News, Jacksonville, N.C. (August 8, 2002)
Previous Christianity Today articles include:
More Navy Chaplains Allege Discrimination | "We're not on the same ground as the high church group or the Catholics," say evangelicals. (April 18, 2001)
Evangelicals File Bias Suit Against Navy | May 22, 2000
Other Christianity Today articles about religion in the military include:
The Just-Chaplain Theory | The church need not divorce the military to remain a godly counterculture. (July 27, 2000)
Irreconcilable Differences | The church should divorce the military. (March 6, 2000)
Wiccans Practice on U. S. Bases | Court okays pagan ceremonies. (July 12, 1999)
Military Chaplains Win Speech Case | Military personnel can speak against partial-birth abortion (June 6, 1997)
Military Chaplains Sue Over 'Project Life' Ban | Chaplains ordered to "actively avoid" political comment. (December 9, 1999)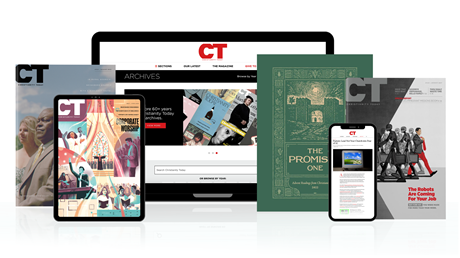 Annual & Monthly subscriptions available.
Print & Digital Issues of CT magazine
Complete access to every article on ChristianityToday.com
Unlimited access to 65+ years of CT's online archives
Member-only special issues
Subscribe
Judge Allows Class Action Suit Against Navy
Judge Allows Class Action Suit Against Navy