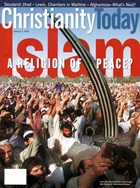 This article is from the January 7 2002 issue. Subscribers can read all of CT's digital archives.
A Polish tabloid reports that speeders stopped by the police in Glogów face a choice: pay a fine or pray with a priest. Police say the priest is even more effective at stopping poor driving than they are.
Pity that the police in Weert, Netherlands, aren't as church-friendly: 200 members of St. Martinus Church received parking tickets during a special anniversary service. Wim van der Valk, pastor of the church, says he'll pay each 91-guilder fine out of his own pocket—totaling about $7,500. "They may reward me for it in heaven," he says.
Related Elsewhere
Related stories include:
Priest will pay his flock's parking fines - Ananova (Oct. 29, 2001)
Drivers can avoid tickets if they pray with police priest - Ananova (Nov. 3, 2001)
Polish Priest prays for traffic offenders - Assist News Service (Nov. 2, 2001)
1
Trafficking in Religion