Two things are sly fictions; a third leads fools astray—psychoactive medications, cosmetic surgery, and consumer credit. This latter-day aphorism will never make it into the Book of Proverbs. But the writers of that underappreciated book would not go wanting for material if we brought them to America circa 2002.
In wisdom literature, fools mistake the world as it seems to be for the world as it truly is. The fool, the writers of Proverbs say over and over, "does not know." "There is a way that seems right to a person, but its end is the way to death" (Prov. 14:12, NRSV). Does it seem that a quick lie will bring more pleasure than pain? "Whoever walks in integrity walks securely, but whoever follows perverse ways will be found out" (Prov. 10:9). Does someone's attractive wife seem willing and available? The wise ask a different set of questions: "Can fire be carried in the bosom without burning one's clothes? Or can one walk on hot coals without scorching the feet?" (Prov. 6:27, 28).
Folly may begin with a mistake, but it ends with the refusal to accept the truth about oneself and the world. Adam and Eve saw only that "the tree was good for food, and that it was a delight to the eyes, and that it was to be desired to make one wise"—the ultimate wishful thinking, as if wisdom could come painlessly from a fruit. Their sons and daughters haven't quite given up that hope. Which brings us to Zoloft, facelifts, and Capital One.
Harvard University Gazette reports, in an article with the cheery title "Study Finds Harvard Students Healthier than Peers," the astonishing revelation that 34 percent of Harvard undergraduates—one of three—say they are in therapy or taking medication for depression.
Shortly after reading this article, on an autumn day crisp with the incomparable New England combination of red maples and blue sky, I walk across Harvard Yard, looking at the faces of students passing from class to class. Over and over, I count, "One, two, three." How many of the confident smiles I see are actually on loan from selective serotonin reuptake inhibitors?
During my morning workout in a hotel's weight room, NBC's Today catches my eye. Well, more specifically, Katie Couric catches my eye. She is pert, youthful, attractive—the girl every boy wanted to date and every girl wanted to be. I am absent-mindedly admiring her All-American beauty when I tune into the subject being discussed: the latest developments in facial reconstruction. She guilelessly volunteers details of her past plastic surgeries.
I suddenly realize I am not looking at an All-American girl—I am looking at a profoundly skilled surgical team's idea of an All-American girl. "Seems, madam? I know not seems," protested Hamlet (a candidate for Prozac if ever there was one). Is, Katie? I know not is. Not anymore.
And to complete this trifecta of folly, I read in the paper about the current fashion for cash-out mortgage refinancing, which takes advantage of low interest rates to increase the size of families' mortgages without increasing their monthly payment, thus returning a hefty lump of cash. Members of a typical family—at least, so the reporter presents them without any conscious irony—exult in their ability to use part of their $20,000 payout to reduce their $35,000 credit-card debt. But only part—they are also shopping for a $3,000 wide-screen television as an early Christmas present.
Given that immediately paying off $3,000 in credit-card debt would save more than $6,000 in interest, their motto must be that a wide-screen TV in the hand is better than three in the bush.
Now, my family and I have benefited from both psychotropic medications and reconstructive surgery—a long-standing battle with bipolar disorder put to rest, a lost front tooth perfectly restored.
When used responsibly, credit (as in a mortgage or small-business loan) can be an investment in the future. But peek through the windows of America's model homes and you see a borrowed life. It is not a life that uses medication to heal, or surgery to restore, or credit to invest—it is a life that uses these things to flee from the truth.
The truth is that we cannot have everything we want. We have sinned and been sinned against, and we hurt. We are growing older and will die. So sings wisdom in the streets, and she offers something beyond wisdom called grace. But fools stuff cotton in their ears, Zoloft down their throats, and credit cards into their wallets, and they cannot, or will not, hear.
Related Elsewhere
Crouch is editor-in-chief of re:generation quarterly.
Many of Crouch's other writings are available at his and his wife's Web site.
Earlier Andy Crouch columns for Christianity Today include:
GroundedOur technologies give us an illusion of omnipresence—most of the time. (Nov. 15, 2001)
Zarathustra ShruggedWhat apologetics should look like in a skeptical age. (Sept. 5, 2001)
Consuming PassionsOne man's "testimony" from the First Great Mammon Awakening. (July 10, 2001)
Generation MisinformationForget the latest PowerPoint seminars on Generations X-Z. (May 16, 01)
Dead Authors SocietyWe're no longer interested in tasting death but only little morsels of cheer. (Mar. 28, 2001)
Promises, PromisesOur technology works. But all idols do at first. (Feb. 21, 2001)
A Testimony in ReverseI have discovered how inconvenient it can be when God actually does speak. (Feb. 5, 2001)
Crunching the NumbersA modest proposal for measuring what really matters in church life. (Dec. 20, 2000)
Have something to add about this? See something we missed? Share your feedback here.
Always in Parables
Andy Crouch is an editor at large for Christianity Today. Before working for CT, Crouch was chief of re:generation quarterly, a magazine which won the Utne Reader's Alternative Press Award for spiritual coverage in 1999. He was formerly a campus minister with InterVarsity Christian Fellowship at Harvard University. Crouch and his wife, Catherine, a postdoctoral fellow at Harvard, have two children. His column, "Always in Parables," ran from 2001 to 2006.
Previous Always in Parables Columns:
Our digital archives are a work in progress. Let us know if corrections need to be made.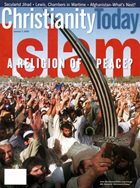 This article is from the January 7 2002 issue.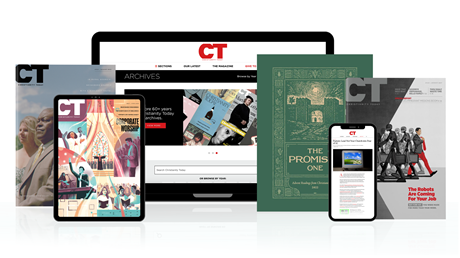 Subscribe to Christianity Today and get access to this article plus 65+ years of archives.
Home delivery of CT magazine
Complete access to articles on ChristianityToday.com
Over 120 years of magazine archives plus full access to all of CT's online archives
Subscribe Now
Borrowing Against Time
Borrowing Against Time