true
Harry Potter and the Sorcerer's Stone
Warner Bros. directed by Chris Columbus
For some evangelicals, anticipating the film Harry Potter and the Sorcerer's Stone was like preparing for Halloween. We may have pleasant memories of trick-or-treating, but once we're adults, the holiday's focus on the ghoulish and macabre makes us queasy. Do we just hand out candy like most of our neighbors? Do we toss both candy and Halloween-themed tracts into the plastic jack-o-lanterns of the young monsters at our door? Or do we attend a church-sponsored "harvest festival" and risk the retribution of spurned trick-or-treaters?
The first Harry Potter film (does anyone doubt there will be many more?) takes these conflicted feelings to a keener level. Novelist J.K. Rowling brushes aside any concerns that her book series could lure young readers into dabbling in the occult. "I have met thousands of children now," she said in an Associated Press report, "and not even one time has a child come up to me and said, 'Ms. Rowling, I'm so glad I've read these books because now I want to be a witch.'"
Nevertheless, a film company spends millions of dollars on cross-marketing because it knows that millions of children want to project themselves into the roles they see onscreen. It was no coincidence to see many young Harry Potters at your door on Halloween night, and they'll probably grow in number by next October. Sheer joy may not have been the first response felt by evangelicals whose children insisted on a magic wand or a child-sized flying broomstick for Christmas.
A Dickensian Tale
Except for some necessary compression, Harry Potter and the Sorcerer's Stone is almost slavishly faithful to the first book in Rowling's series. Rowling insisted on it, and considering how often movies have ruined perfectly good stories through nonsensical improvisation, she was right to do so.
Young Harry's life with his adoptive family, the Dursleys, reaches Dickensian levels of abuse and misery. The Dursleys treat Harry (Daniel Radcliffe) as their servant, speak ill of his murdered parents, and threaten to withhold food from him for a week at a time. When a giant gardener named Hagrid (Robbie Coltrane) rescues Harry from his cruel relatives, only the most severe Potter critic could feel unhappy.
After Harry finally arrives at Hogwarts Academy, the magic he learns is harmless. His prowess on the broomstick makes him a star of Quidditch, the airborne game that serves as the film's special-effects centerpiece. His friend Hermione Granger (Emma Watson) uses her skills to repair Harry's broken glasses, open stubborn door latches, and (humorously) knock out an overly inquisitive classmate.
Harry relies less on his magic skills than on his courage when facing down the villainous Voldemort (Ian Hart). "There is no good or evil," Voldemort hisses at Harry while trying to lure him to the dark side. "There is only power." It's a relief that the most explicitly occult philosophy in this film is expressed by an indisputably evil character and is rejected (by extension) by the storytellers.
In short, an evangelical viewer must be rather stubborn to find Sorcerer's Stone worthy of contempt. Cursing is minimal and there is no nudity. Its violence is intermittent and no more graphic than necessary. The most violent scenes, which involve a life-size version of "wizard's chess," are more focused on the sudden bravery of Harry's classmate, Ron Weasley (Rupert Grint), than on destruction for its own sake.
The runaway popularity of Rowling's series (she's sold more than 100 million books worldwide) has pushed evangelical parents into warring camps. Some have protested when their children must listen to teachers read aloud from Potter books. Evangelicalism's Potter fans have criticized Potter critics for their lack of a "mythopoeic imagination."
Such a public conflict may at first seem embarrassing, an evangelical version of straining out gnats (dime-store wizardry) while swallowing camels (other children's films that offer product placements instead of interesting characters). But ultimately this conflict is a gift, an opportunity for vigorous discussion on what we believe about good and evil, storytelling, and our faith. Christian parents should not be dullards, allowing their children to frolic in whatever cultural sludge becomes popular in a given year. Nor should parents feel frightened or besieged each time a book or film challenges their faith.
Only Rowling knows why she chose Hogwarts Academy as the setting for her series, or what directions the series will take. The Potter series will continue to provoke debate among evangelicals. We should argue honorably, neither caricaturing each other's interpretations nor ignoring Rowling's treatment of the occult. And if advocates on either side grow frustrated that the Potter debate continues, they should try something truly daring: Writing better stories.
Douglas LeBlanc edits The CT Review.
Article continues below
Related Elsewhere
Christianity Today'sFilm Forum collected mainstream and Christian critical response to Harry Potter and The Sorcerer's Stone. Is the big-screen Harry Potter as delightful as the one in the book? And should you be worried about his witchcraft?
More on Harry Potter and Christianity is available from the Center for Studies on New Religions (CESNUR) and the Apologetics Index.
Christianity Today sister publication Christian Parenting Today analyzed the Harry Potter series to compile a list of everything a Christian parent needs to know about the books.
Harry Potter and the Sorcerer's Stone, Harry Potter and the Chamber of Secrets, Harry Potter and the Prisoner of Azkaban, and Harry Potter and the Goblet of Fire are all available from Amazon.com and other book retailers.
Harry Potter and the Bible and What's a Christian to Do with Harry Potter? are available from Christianbook.com.
Previous Christianity Today articles on the Harry Potter debate include:
Let Harry Potter Conjure Up 'Gospel Magic', Says Christian MagicianAndrew Thompson and others agree that some Christians have a false understanding of what Harry Potter is about. (Dec. 18, 2001)
Potter's FieldHarry doesn't always make money magically appear. (Nov. 15, 2001)
The Perils of Harry PotterLiterary device or not, witchcraft is real—and dangerous. (Oct. 23, 2000)
Virtue on a BroomstickThe Harry Potter books, and the controversy surrounding them, bode well for the culture. (Sept. 7, 2000)
Opinion Roundup: Positive About PotterDespite what you've heard, Christian leaders like the children's books. (Dec. 13, 1999)
Parents Push for Wizard-free ReadingBestsellers now under fire in some classroom. (Dec. 13, 1999)
Why We Like Harry PotterThe series is a 'Book of Virtues' with a preadolescent funny bone. (Dec. 13, 1999)
Have something to add about this? See something we missed? Share your feedback here.
Browse All Movie Reviews By:
Our digital archives are a work in progress. Let us know if corrections need to be made.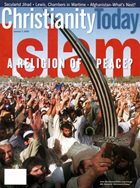 This article is from the January 7 2002 issue.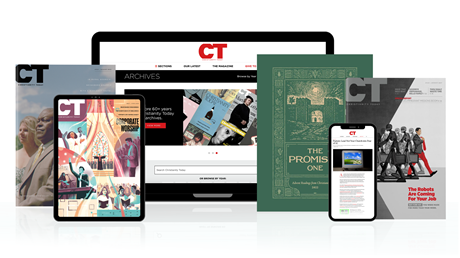 Annual & Monthly subscriptions available.
Print & Digital Issues of CT magazine
Complete access to every article on ChristianityToday.com
Unlimited access to 65+ years of CT's online archives
Member-only special issues
Subscribe
Harry Potter and the Sorcerer's Stone
Harry Potter and the Sorcerer's Stone