true

Carolyn Arends
2B Records
One of Christian music's finest singer/songwriters has put together a joyful soundtrack celebrating one of life's great adventures-parenthood. With lyrics ranging from the poignant to the witty, this CD is a perfect gift for any new or expecting couple. (Note: the CD is available only at carolynarends.com.)
Read the original review here.

Big Fat Jam
Absolute Records
Confession time: In high school, I loved the Southern-fried rock sound of the Allman Brothers and Lynyrd Skynyrd. And now, just when I figured I was over it, along comes this album. If the Allmans or Skynyrd found Jesus, this is sort of what you'd get. Loud, raucous, fun – and solid lyrically
Jars of Clay
Essential Records
The only "problem" with Jars' stunning 1995 debut – one of the best Christian CDs ever – was that it set a standard so high that even Jars couldn't live up to it. Their next two CDs, Much Afraid and If I Left the Zoo, were relatively forgettable, but this one's a keeper. An intelligent, well-conceived, and brilliantly executed rock album.
Read the original review here.

Mary Mary
Columbia Records
Hands-down the best Christian R&B album of the year. Sisters Erica and Tina Atkins follow up their brilliant debut, Thankful, with an even better sophomore effort. It's also a bargain-17 tracks and just over 70 minutes of music guaranteed to move your soul … and your feet. If you can sit still while listening to this, check your pulse.
Read the original review here.

Randy Stonehill
Fair Oaks Music
One of the original Christian rockers, Stonehill delivers a delightful walk through time, featuring the past, present, and future of Christian music. "We Were All So Young" includes an all-star cast from the early days of Jesus Music – Larry Norman (singing with Stonehill for the first time in two decades), Russ Taff (of Imperials fame, now with the Gaither Vocal Band), Annie Herring (2nd Chapter of Acts), Phil Keaggy, Barry McGuire, Noel Paul Stookey (Peter, Paul & Mary), and LoveSong (together for the first time in 30 years). The future is well represented by rising star Sara Groves, who jumped at the chance to sing with one of her idols, lending her angelic voice to "Take Me Back" and "Hey, Pauline."
Read the original review here.

Randy Travis
Warner Records
Let me set the record straight: I don't like country music. But from the very first note of "Raise Him Up," the CD's opener, I felt compelled to listen to the whole disc. And I kept coming back to it. Travis' rich baritone is only the beginning; the musicianship throughout is unsurpassed (especially the guitars), and the soulful lyrics are well penned. Highlights include "Raise Him Up," a tender ballad about a father raising an illegitimate child; "When Mama Prayed," a semi-autobiographical tune about how a mother's prayers brought a wayward son back home; and "Pray for the Fish," a hilarious number about a river baptism from the perspective of a fish. I haven't converted to a country music fan, but this CD certainly brings me a step closer.
Read the original review here.

KJ-52
Uprok Records
It's been a fabulous year for Christian hip-hop. I could've picked several hip-hop CDs for this list (GRITS' The Art of Translation and T-Bone's Gospelalphamegafunkyboogiediscomusic among them), but I chose KJ's for several reasons. One, as the title implies, Collaborations features some of holy hip-hop's top talent, such as John Reuben, Playdough, Pigeon John, and Mars Ill, among others-plus a unique appearance by hardcore rockers Pillar and Thousand Foot Krutch. Another reason I dig this album is KJ's clever wordplay, such as in the chorus of "Nursery Rhymes": "Mary had a little lamb case you didn't know / That little lamb took my sin made it white as snow / And everywhere that the lamb will go / That's the place I got to go, man, I got to see the streets of gold." But the biggest reason I love this CD is its social relevance. KJ addresses everything from secular rapper Eminem's negative influence ("Dear Slim") to sexual purity from a male's perspective ("Wait for You") to child abuse ("Where Were You?") to hip-hop culture ("5th Element").
Read the original review here.

Tonéx
Verity Records
It's too simplistic to say that if some combination of Prince and Michael Jackson met Christ, you'd get something like Tonéx. But it's a good place to start, because it at least tells you this much about Tonéx: He's an immensely talented musician. And eclectic: It would also be too simplistic to categorize O2 as merely urban or R&B, though there's plenty of both here (in addition to pop, hip-hop, gospel, and more). But I think Tonéx can handle any genre with excellence (I've even heard he's pretty good at country music!). This 19-track gem clocks in at 76 minutes, giving you twice the music you'll find on many CDs. Standout cuts include "God Has Not 4got," one of those singalongs you can't get out of your head; a funky, soulful remake of "I Have Decided to Follow Jesus"; the soaring "Seasons," an amazing duet with wife Yvette, a dynamic singer herself; "See You Again," a song of hope in the wake of losing a loved one in the 9/11 terrorist attacks; and "The Beautiful Place," a lush, expansive ballad colorfully describing the riches of heaven, culminating with a beautiful chorus of four languages. Indeed, this entire CD is heavenly, a masterful piece of art.
Read the original review here.

Sixpence None the Richer
Reprise / Warner Records
It's been too long of a wait (five years!) since Sixpence's eponymous 1997 breakthrough CD, which included the smash hit "Kiss Me." But Divine Discontent makes it more than worth the wait. One of Christian music's most intelligent and creative bands (read: Matt Slocum, the group's principal songwriter), Sixpence can do it all – radio-friendly pop ("Breathe Your Name"), soul-stirring, mind-blowing, six-and-a-half-minute sonic sagas ("Dizzy" and "A Million Parachutes"), and in-your-face rock-and-roll ("Paralyzed"). Leigh Nash's ethereal voice, never better, lilts over and under and through the melodies, especially "Melody of You," a beautiful picture of devotion to God. There's not a weak point on the album. It's 13 tracks and 55 minutes of pure excellence.
Read the original review here.

Amy Grant
Warner Records
Hard to believe it's almost been 25 years since all my college buddies and I had a mutual crush on Amy Grant, who had just released her debut record (and yes, it was a record back then!). Since then, Amy has made some of Christian music's best-ever music and has enjoyed immense mainstream success, selling over 22 million albums. But with Legacy, she comes back to her roots-and does so beautifully. Co-produced by Brown Bannister and Vince Gill, Legacy is a warm, rich celebration of some of the most well-loved hymns of our faith. Highlights abound (there are no "lowlights" on this one), but the Appalachia-tinged "My Jesus, I Love Thee" and the countrified "I Need Thee Every Hour/Nothing But the Blood" medley, both pure foot-stomping joy, especially stand out. Add the sensitive arrangements of old-time classics such as "Holy, Holy, Holy," the celebratory bagpipes and choir of "Marching to Zion," plus a few new tunes (including a cover of MercyMe's smash hit, "I Can Only Imagine"), and the result is a timeless gem you'll keep spinning for years.
Read the original review here.

Glenn Kaiser
Grrr Records
I've always appreciated Glenn Kaiser's music, both with the Resurrection Band as well as his solo ventures. But my mere "appreciation" didn't prepare me for this. When I first popped Ripley County Blues into my player, I was expecting something good, but I had no idea I was about to hear one of the year's best CDs. Glenn successfully merges faith and the blues in a knockout piece of work that, frankly, almost made it to No. 1 on my list. As Glenn puts it, "Blues speaks to hurts, struggles, and desires in a powerful, emotionally passionate way. Christians should learn to do the same. Jesus did, and still does." And this recording does too, addressing struggles while also pointing to the hope of Christ. Featuring some of the best guitar work (electric, acoustic, and slide) I've heard, Ripley County Blues was recorded in a large log cabin in rural southern Missouri. The result is a raw, "live" sound complete with echoes, reverb, and even the occasional background noise, giving it a "you-are-there" feel. The acoustic cuts (such as "Deliver Me," "Ripley County Blues," "Keep It to Yourself?") are reminiscent of the bluesy/bluegrass selections on O Brother Where Art Thou? And the electrified tracks (such as "Nick of Time," "I Got My Eyes on You," and "Mystery") remind you of the great blues of B.B. King, while "Runaway Train" includes some terrific harmonica riffs. There's even a nod to gospel blues legend Blind Willie Johnson on the final cut, "Take Your Stand," written by Johnson about seven decades ago. Exhilarating, all the way through.
Read the original review here.
Sara Groves
INO Records
A year ago, I voted Sara's Conversations as the No. 1 CD of 2001 – and it's still one of my favorites of all time. So I had incredibly high expectations for All Right Here – a perfect set-up for disappointment. But Sara doesn't disappoint here, not at all. All Right Here might be even better than Conversations, if that's possible – though I'm sure both will be on my short playlist for a long, long time. Great singer/songwriters have a knack for making the listener say, "Yes, that's exactly what I was trying to say! I wish I could've put it like that!" Sara not only does that, but takes it a step further, digging even deeper into your soul and making you say, "Wow, I didn't even know that's what I wanted to say." Take, for example, "Less Like Scars," where Sara writes about how God uses trials to build character: "Healing changes are subtle / But every day it's / Less like tearing more like building / Less like captive more like willing / Less like breakdown more like surrender / Less like haunting more like remember / And I feel you here / And you're picking up the pieces / Forever faithful / And in your hands the pain and hurt look less like scars and more like character." I was brought to tears the first time I heard it. But this CD is more than just a lyrical treat. It's a sonic delight as well, an eclectic mix of pop, jazz, piano-driven ballads, and worship songs, with some of the best musicianship and vocals you'll hear this year-or any other. If you only buy one CD a year, this is definitely the one for 2002.
Read the original review here.
Browse All Music Reviews By: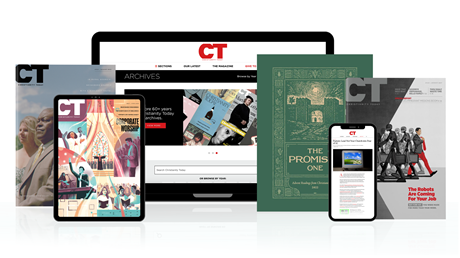 Annual & Monthly subscriptions available.
Print & Digital Issues of CT magazine
Complete access to every article on ChristianityToday.com
Unlimited access to 65+ years of CT's online archives
Member-only special issues
Subscribe
Top 12 Christian Albums of 2002
Top 12 Christian Albums of 2002