true

Newsboys
Sparrow Records
2002 may well be the Newsboys' most successful year to date, and it all started with the release of Thrive last spring. The band is always at its best when the legendary Steve Taylor steps in as a lyricist and producer, as he did on this project. The result is the band's best work since 1996's Take Me to Your Leader. And who would've expected that the worship single, "It Is You," would spend a record-breaking twelve weeks at #1! Including Thrive on the list is also my sly way of acknowledging the band's fine live concert DVD and remix album — both also released this year — as well as bassist Phil Joel's solo album, Bring It On, which would certainly make my top 20 list (and is included on Mike's list in the same spot). The Newsboys is one of Christian music's most beloved and enduring bands, and I'd be happy to see them play twenty more years if they can keep making music this good

Shane Barnard & Shane Everett
Inpop Records
Some may dismiss "The Shanes" as mere copycats of Caedmon's Call or just another entry in the growing modern folk sub-genre within Christian music. But those would be over-generalizations. For one thing, the musicianship is excellent. Although Shane Barnard considers himself an acoustic guitar lightweight, his rhythmic flourishes are, at times, breathtaking. The other musicians also are very skilled, as heard in some of the drumming and the passionate vocals of these two friends from Texas A&M. Second, and even more impressive, are the smartly crafted adaptations of the Psalms, which are more than merely Scripture set to music. These guys have written musical interpretations that don't alter the text, highlighting key phrases that deserve repetition or extra emphasis to drive the message home to the listener. There are more than enough examples in the history of Christian music where this has been attempted and executed poorly, but Shane and Shane have succeeded spectacularly, effortlessly combining worship, Scripture, and art.
Read the original review here.

Tonéx
Verity Records
One only needs to listen to the outrageously innovative sounds of Tonéx to realize that gospel R&B truly can be creative. Tonéx's sound is a mixture of Prince, Michael Jackson, Kirk Franklin, Usher, and Freddie Mercury. I know one of those comparisons seems particularly odd, but Tonéx pulls off his own "Bohemian Rhapsody" with "The Beautiful Place." The song truly is a sneak preview of the heavenly kingdom, highlighted by a wildly outlandish choir that sings in four different languages – and is performed entirely by Tonéx and his wife! That's the most extreme artistic example from a beautifully conceived album of sixteen tracks. The man's got an incredible voice, a good sense of melody, an inspiring heart for ministry, and a truly imaginative brain. His contributions to R&B/gospel will be invaluable in the years to come. I'm also including him for mentoring and co-producing the terrific new pop/hip-hop act Souljahz.
Read the original review here.

Denison Marrs
Floodgate Records
It's nearly criminal that this album has gone largely ignored by the majority of Christian media outlets. The fact that it's made the collective list here at ChrisianityToday.com is proof enough that I'm not the only one who admires this modern rock gem. It's not lacking coverage because of radio play, since "What Life Has" has done reasonably well on Christian rock formats. Nor is it because Denison Marrs veils their faith like some other Christian artists. Their lyrics are vivid, poetic, and meaningful; "Keeping It Cool" is a poignant homage to Christ's time on Earth and "Ps. 148" is quite creative, yet worshipful. The greatest revelation of all is the band's skill level. They're undoubtedly one of the best modern rock bands in Christian Music Today Denison Marrs blends power pop with emo rock to create a singular sound that's simultaneously retro and current. Their tight musicianship and powerhouse sound blows away the competition in Christian music, not to mention a good number of similar bands in mainstream. I still don't know why people are missing out on this one, but now that you know, you don't have to!
Read the original review here.

Jars of Clay
Essential Records
I'm not one who'd put Jars of Clay on this list simply because they are who they are. Considering how many good albums were in the running this year, I guarantee their last two efforts wouldn't have made the final cut. The Eleventh Hour, however, is an impressive album, and easily their best work since their landmark 1995 debut. They finally sound comfortable with creating and recording good alternative pop, rather than living up to the success of "Flood" or trying to prove how artistic and creative they are. This album makes you think it's easy for Jars of Clay to create radio-friendly songs of doubt, faith, salvation, and hope. Poetic lyrics? Strong musicianship? Impressive recording and mixing? No problem! They even go so far as to create, record, produce, mix, and finalize The Eleventh Hour with minimal outside help. These guys have always been good, but they've hit their stride with this one, showing great promise for things to come.
Read the original review here.

Gersh
Spring Hill Music
Last spring, this former keyboardist and songwriter for Whiteheart relayed to me what his wife said upon reading my review of his solo debut – "oh my gosh, he gets it!" On the contrary, it's clearly Mark "Gersh" Gersmehl who gets it. He knows you don't have to sacrifice creativity and intelligence when writing inspirational adult contemporary. This is a superb and sophisticated pop album that doesn't feel the least bit dated or derivative. Imagine what an inspirational album would sound like if Peter Gabriel, Seal, or David Gray wrote it, and you'll be on the right track. The fact that Gersh can recall such singular and acclaimed artists is reason in itself to celebrate, but it's because he's fused that progressive pop sound to smart-yet-accessible Christian lyrics that this is one of the year's best. Now let's just hope a lot of other people "get it," so Gersh can follow this up with an even more impressive production.
Read the original review here.

Daily Planet
Reunion Records
Last March I predicted that Daily Planet would be the strongest debut of 2002. I was a little worried I was being too hasty making such a bold statement so early in the year. While the year has seen a fair share of impressive new albums, I'm happy to say that I can still firmly stand by my statement, and then some. Hero isn't just the best debut album of the year — it's one of the year's best, period! Likening Daily Planet to Creed, Dave Matthews Band, or Third Day is too simplistic. Daily Planet recalls such artists without sounding exactly like any of them (except perhaps "Five," which is vintage Dave Matthews Band). This is simply a remarkably talented rock band with a strong sense of melody, and an excellent way with lyrics that should rightfully earn them a large following in Christian music and beyond.
Read the original review here.

GRITS
Gotee Records
What a year it's been for Christian hip-hop! I started to give up hope when L.A. Symphony's album was stuck in production limbo, but happily we were treated to a number of particularly excellent hip-hop projects-most notably KJ-52's Collaborations and GRITS' The Art of Translation. I need to give the edge in this case to GRITS for creating the most authentic, original, and catchy Christian hip-hop project of the year. Did I say Christian? This stuff actually is better than the majority of mainstream hip-hop acts. It's more insightful, varied, melodic, and groovin', not to mention a whole lot cleaner in content. Don't just take my word for it — the music on this album is beginning to pop up in all sorts of respectable mainstream outlets. I'll also qualify this by saying that while I have an appreciation and understanding of hip-hop, I don't listen to much of it in my personal listening time. The Art of Translation is an exception to the norm — it's that good.
Read the original review here.

The Normals
Forefront Records
This album isn't quite like The Normals' previous project, the critically acclaimed Coming to Life. "Romeo on the Radio" is the album's only upbeat track, and the only one to garner airplay on Christian radio. The fact is, this album needs to be listened to, not simply heard as background noise. During production, the five band members confined themselves to a house-converted-to-recording-studio, each contributing in their own way to the unique sounds and thoughtful lyrics. Their hard work and efforts paid off in an album filled with genuine creativity and intelligent songwriting. If you appreciate intelligently written progressive pop, then you can appreciate all that this project has to offer — the passion of a U2 ballad, the creativity of a Peter Gabriel production, the sophistication of a Sting album, and the thoughtful faith-based songwriting of Caedmon's Call. Granted, it may not appeal to all tastes, but A Place Where You Belong is a rewarding listen when time is taken to truly savor it.
Read the original review here.

Lifehouse
Sparrow / Dreamworks Records
I applaud the efforts of artists such as Lifehouse, who have successfully brought songs that are inspired by Christian faith to the attention of millions. You won't find overt examples of Christianity on Stanley Climbfall, but there's little doubt where this band is coming from – they are, in fact, planning a worshipful side project next year. What fascinates me about Lifehouse is how much more meaningful their songs become after repeated listens. I closely scrutinized the lyrics of this album and found they definitely were about more than mere earthly love. But it was only after the songs took root over time that I discovered the depth of what Jason is saying subtly – the only other artist who's had a similar effect on me is U2. Musically, it's shortsighted to lump Lifehouse with neo-grunge rock acts like The Calling, Matchbox Twenty, or even Creed. Lifehouse has a stronger sense of melody and classic rock elements, skillfully crafted without walloping the listener over the head with their guitar rock sound. While Stanley Climbfall may not sound all that different from No Name Face, their first album, it still shows how the band members are taking a significant step forward as musicians and songwriters. This may not be a "Christian band" in the traditional sense, but they've found a way to communicate their message of faith and hope without sacrificing the attention of those who refuse "to hear."
Read the original review here.

Sixpence None the Richer
Reprise / Warner Records
How else to say it? In my mind, this is the best work Sixpence None the Richer has ever done. Since it's been four years in the making, and considering Sixpence's past work, it's hardly surprising that they deliver quality stuff to follow up the success of their 1998 eponymous project. But did anyone expect it to be this good? Divine Discontent is a near-perfect alternative pop album. I long have admired the songwriting and guitar skills of Matt Slocum and the angelic voice of Leigh Nash, but their often stagnant, jangle guitar pop sound can be tiresome. For the first time, Sixpence seems truly comfortable with their abilities, expanding their musical palette to vary with Matt and Leigh's poetic lyrics. They sound like a full band now. The guitar sounds are more evocative and moody, with keyboards added to lend much needed color to the mix. Add to that some of the most thoughtful songwriting in Christian music today – topics cover God's presence in our lives, spiritual drought, unconditional love, patience through trials, the sad effects of war and violence, and lonely nostalgia. Now that Sixpence is on an unsinkable record label, they're more likely to release albums with more frequency. However, Divine Discontent may be justification for letting this band take as long as they need. It's a masterpiece.
Read the original review here.

Sara Groves
INO Records
Sara Groves has topped my list two years in a row now, but don't think she hasn't earned it. As wonderful as Conversations was, All Right Here is just as good, if not better. The music is more varied and features some occasionally energetic organic pop/rock to complement the adult contemporary sound she's best known for. "Jesus, You're Beautiful" is a gorgeous worship song, and the romantic "Fly" deserves mainstream radioplay, with a sound that Sarah McLachlan fans would readily embrace. If you deem Sara too mellow, don't overlook the upbeat sounds of the title track and "Less Like Scars," the rhythmic folk of "Maybe There's a Loving God," or the bluesy folk country jam of "Tornado." She has a beautiful earthy voice, and the album is very well produced, but it's Sara's songwriting that sets her ahead of the curve. You can appreciate every track like a work of literature, stimulating the mind and touching the heart after several repeat listens. To me, Sara epitomizes what it means to be a "Christian artist," balancing songs of love to her husband and son with songs of praise to God, and songs that question faith with songs that offer the answer. The fact that all of these things are "all right here" on one album is more than enough reason to name this one of the year's best. It's downright frustrating that this woman — though nominated — didn't win a Dove Award for Best New Artist in 2002, but there's little doubt in my mind that she'll be earning her share of awards before her career is over.
Read the original review here.
Browse All Music Reviews By: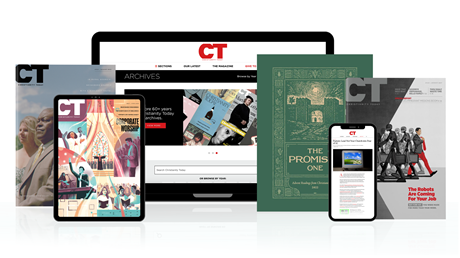 Annual & Monthly subscriptions available.
Print & Digital Issues of CT magazine
Complete access to every article on ChristianityToday.com
Unlimited access to 65+ years of CT's online archives
Member-only special issues
Subscribe
Top 12 Christian Albums of 2002
Top 12 Christian Albums of 2002