Each week, Christianity Today'sFilm Forum summarizes and links to several online sites that review current movies from a religious perspective. Many of these sites also comment on mainstream music. However, very few do the same for television.
This is not to say Christian sites do not comment on television. Many do, but they do it as media watchdogs instead of as media critics. You can easily find out how much sexuality or violence is in a show, but it is hard to find religious critics to tell you about a program's artistic merit or entertainment value.
American Family Association offers action alerts on television programs and commercials. The Dove Foundation reviews television movies. Christian Spotlight and Parents Television Council rate shows based on their family-appropriateness. And a handful of other sites exist but are apparently rarely updated. Focus on the Family's online site for its Plugged In magazine is perhaps the only site out there regularly giving full reviews of shows—but primarily in a watchdog fashion.
Why don't Christian critics analyze the creative content of television as they do with movies? It may be a question best left to TV detectives.
The halfway point of the 2001-02 TV season has now arrived, providing a good time to look at the new shows making headlines and building audiences , including: 24, Alias, Doc, Maybe It's Me, Scrubs, Undeclared, Philly, and Enterprise.
* * *
One of the most critically acclaimed new shows of the season (though its ratings haven't even broken the top 25) has been Fox's ground breaking and inventive 24. The season will be composed of 24 hour-long episodes shown in real time. An hour for the viewer covers an hour for the characters. In its entirety, the suspense-driven season will depict one day in the life of CIA counter-terrorist agent Jack Bauer (Kiefer Sutherland). And it's a bad day at that.
Someone's trying to kill a presidential candidate, the assassins are holding Bauer's wife and daughter, and there's a mole in his division. But that's only a fraction of the subplots going on. At this point in the season, it's only 8 a.m. (eight episodes have been aired) and there have already been multiple twists and turns, deaths, gunfights, and sexual encounters. No one has yet used the restroom.
Focus on the Family'sPlugged In says, "If good drama was strictly about keeping us on the edge of our seats, 24 would be an enviable success." However, the magazine suggests, there's more to good TV than gun battles and conflict. The review warns that the show's intense and sustained violence and sexuality outweigh the value of its inventiveness and suspense.
* * *
Sutherland's vehicle is one of two new shows this year up for the Golden Globe award for best drama series. The other, ABC's Alias, is also known for edge-of-the-seat suspense—and it too deals with the CIA.
Like many graduate students, Sydney Bristow (Jennifer Garner) has a part-time job in addition to classes. Instead of working on campus or at the local coffee shop, she dabbles in espionage. In her freshman year of college, Sydney was recruited to work for an organization called SD-6, which she was told was a top-secret division of the CIA. However in the pilot episode, she discovered that SD-6 was not really part of the CIA but a rival agency. Now, she is a double agent working for the CIA to expose SD-6.
Focus on the Family says that Alias combines high-energy action and brain-twisting espionage. "Storytelling is tight. Plot lines are clever," the Plugged In review says. "And it targets young adults with heat-seeking efficiency."
Fierce combat is frequent, and according to Plugged In, it may get worse. "For families that need more reasons than bullet wounds and torture chambers to avert their eyes, they would do well to remember that it's common for producers (Steven Bochco notwithstanding) to hold back racier content until after a series' first few episodes have begun resonating with viewers."
* * *
Speaking of Steven Bochco (NYPD Blue, Murder One), the television producer continues to push the nudity and profanity limits of television with his new courtroom series, Philly. According to a September New York Timesarticle, Bochco "proposed having a character use a scatological reference that has never before been uttered on the ABC series—one considered tougher than the profanities already in use on his police drama, NYPD Blue."
So far, Philly has featured exposed breasts, more than one extended middle finger, and frequent profanity that not long ago was considered taboo in prime time. Plugged In says, "Bochco is fishing for respect with 'realism' and grit. Courthouse bathrooms serve host to both fights and sex. Judges are either callous, corrupt, or maniacally eccentric. Network execs may find all of this perfectly acceptable, but many families won't."
* * *
Family-friendly television has also found a new hit this year, and the biggest ratings Pax TV has ever seen. Debuting last spring, Doc stars Billy Ray Cyrus (of "Achy Breaky Heart" fame) as a Montana physician who moves to New York City and finds a world of vastly different values and morals.
In an interview with Plugged In, cocreator Dave Alan Johnson said, "The only reason we're doing Doc—Billy and us—is to serve God. It's our only motivation."
The Parents Television Council says that the Doc episodes "consistently reinforce family-friendly themes such as honesty, compassion, hope, and reconciliation, making it a perfect fit for its family-hour time slot."
* * *
Only two shows debuted on major networks this year with devout Christians in substantial regular roles. And one is already cancelled. NBC's Kristin had a premise similar to Doc's: a young Christian woman from Oklahoma moved to the Big Apple to find a world of new moral challenges. It wasn't very good; it only lasted six episodes. A New York Times article wondered if a difficulty in portraying earnest religious characters was to blame for the show's shortcomings.
In contrast, the WB's Maybe It's Me is alive and kicking. In fact, it has earned rave reviews as one of the funniest new shows of the season. The show centers on around Molly, a 16-year-old who feels she is the Marilyn in a family of Munsters. What makes her family so weird? Mom and Dad are out of date, Grandma is nutty, her younger twin sisters are creepy, and one brother steals and gambles while the other, Grant, is a strong Christian.
According to the current issue of Focus on the Family's Plugged In, "Grant gets the short end of the stick for his spiritual ideas and Christianese comments, yet he's not despised. Indeed, Molly's best friend has a gigantic crush on him."
In fact, none of the lovable family members are despised by Molly, but their odd traits are played up to be goofy and fun. It is all good-natured. Most of the Grant-centered laughs come from his desire to be a Christian rock star. His songs are over the top and silly. In a bit of creative casting, Levis is a Christian off-screen too and wants to someday be in a Christian band.
The essence of the show is that—despite the minor embarrassments they cause her—Molly loves her family and is greatly loved in return. And this is all that matters. In one episode, Molly tells the audience, "All things considered, it's really nice to know that someone who loves you is in your corner."
According to Plugged In, this theme makes Maybe It's Me light hearted fun with clear moral messages. Molly discovers that family members' love outweighs their annoying quirks.
* * *
NBC has a critically acclaimed comedy of its own in Scrubs, a show where wackiness crosses with life and death for three young medical interns. It's ER meets M*A*S*H and Ally McBeal. Sample gags include a female intern who flashes her breasts to encourage dying male patients while another intern invents a new type of bowling by rolling a boy in a wheelchair down a hallway. But the show has heart and deals with issues such as loss, death, and guilt.
Plugged In says, "Medical malpractice inspires the bulk of the gag lines in this NBC series, a trauma center sitcom full of spurting bodily fluids and stomach-churning hijinks." The review says that gross-out humor, sexual misconduct, and profanity make the show unwatchable.
* * *
Another new show aimed at younger audiences is Fox's Undeclared, which follows a group of college kids experiencing their freshman year.
"The Fox network continues to pack its schedule with series that appeal to the basest level of human nature," said the American Family Association. "The debut episode featured the series star having sex with a girl he just met, on their first night in the dorm."
Focus on the Family agrees that the show is giving teenagers the wrong message. "Undeclared has a lot to say about growing up, but none of it is good," the review in Plugged In said. "Undeclared majors in suds and sex, with a minor in the modern mechanics of lowbrow humor."
* * *
Among the new titles this season is a name that isn't so new. Enterprise, airing on UPN, is the latest spin off of Gene Roddenberry's original Star Trek series that followed the voyages of Captain Kirk's starship Enterprise. Since then, television viewers have kept track of the universe with various crews and ships in Star Trek: The Next Generation (1987-94), Star Trek:Deep Space Nine (1994-99), and Star Trek: Voyager (1995-2001).
Enterprise is set a century before Kirk's adventures and only about 150 years into the future. The pilot episode saw the legendary starship leave dock for the first time under the guidance of Captain Jonathan Archer (Quantum Leap's Scott Bakula). Earthlings are new to space travel, and every contact is the first. They still wear baseball caps.
Shortly after the show's debut, Alex Wainer, film professor at Georgia State University, wrote for BreakPoint Online that many critics have claimed Star Trek had reached the limit of its potential. There was nowhere else for man to boldly go. So Wainer asks, can Star Trek be revived? Should Christians even care?
While humanistic utopianism, postmodern mind sets, and faith in the saving power of technology have been backbones of Star Trek, Wainer says, fans know that far greater potential exists. "The Star Trek concept has already shown itself sufficiently flexible that further explorations of (worthwhile) themes are quite conceivable," Wainer writes. "At its best Star Trek has been a vehicle for pondering what makes mankind great as well as flawed. It could be so again."
Many Christians, like Wainer, are fans of the Star Trek universe. One appealing quality of the series, he writes, "is that the Christian imagination, often badly in need of an embodied cultural vision that can reinforce its call to a virtuous life, has uses for something like Star Trek.At its best the franchise evokes a wonder at God's creation and hints at universal truths that transcend cultures."
So Star Trek should be saved—if it is given something worthy to say such as "journeys that mirror the inward adventure of the human soul toward a reality not of this world," Wainer writes.
But will this happen? It could, he argues, but it depends on Christians. Unlike most television programs, Star Trek has had an open submission policy for writers to pitch stories. "One hopes the small but growing body of Christian writers who are committed to being good writers will step through [the open doors of opportunity]," Wainer writes.
Meanwhile, National Review Online Editor Jonah Goldberg feels Star Trek has run its course.
"As anyone who's tuned in knows, much of Next Generation and all of Voyager were suffused with touchy-feely environmental and sexual themes; an emphasis on diplomacy over self-confident unilateralism; too much character development and too little exploration; and various potshots at American culture, particularly capitalism," Goldberg recently wrote in his review of Enterprise. "As even Brannon Braga, the series' co-creator, admitted, 'We had moved away from the essence of Star Trek.'"
But Goldberg feels Enterprise may be the cure. At any rate, he says, it is a good start. In a syndicated column about the history of the Star Trek franchise, Goldberg wrote: "Enterprise, with its rediscovered emphasis on "human" (read American) values and its revived enthusiasm for the thrill of exploration, is, to me, good news for … Trek fans and normal Americans alike."
Todd Hertz is assistant online editor for Christianity Today.
Related Elsewhere:
More Christianity Today articles are available on television.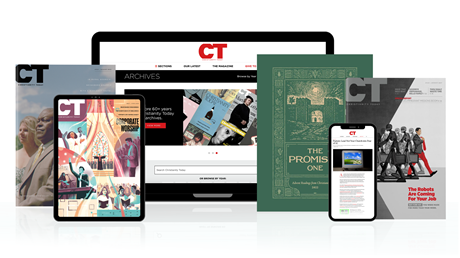 Subscribe to Christianity Today and get access to this article plus 65+ years of archives.
Home delivery of CT magazine
Complete access to articles on ChristianityToday.com
Over 120 years of magazine archives plus full access to all of CT's online archives
Subscribe Now
Doctors, Lawyers, and CIA Agents
Doctors, Lawyers, and CIA Agents