Bush supports 'vouchers' by name; Supreme Court may have helped faith-based initiative
Remember the controversy last year over federally funded school vouchers? It turns out that even during that entire debate, President Bush didn't ever use the word vouchers. At least that's what The Washington Times says today. Speaking in Cleveland yesterday, three days after the Supreme Court ruled the city's school voucher program is constitutional, Bush finally said it for the first time as President. "We're interested in aiming toward excellence for every child. And the voucher system is a part of the strategy to achieve that here in Cleveland," he said. "One of my jobs is to make sure that we continue to insist upon reform, to take this court decision, and encourage others to make the same decision at the local level."
Bush used the word voucher only twice in the 38-minute speech (full text | audio), but used compassion or compassionate ten times. This wasn't just a push for school choice reform—this was an effort to get much of his domestic agenda back on the table, and much of the speech also centered on his faith-based initiative.
"Our government should not fear programs which exist because a church or a synagogue or a mosque has decided to start one," he said. "We should not discriminate against programs based upon faith in America. We should enable them to access federal money, because faith-based programs can change people's lives, and America will be better off for it."
In fact, says The Christian Science Monitor, the two items may be very closely tied together by the Supreme Court's ruling. "Christian organizations and scholars have been working to nudge the court into a new interpretation of the First Amendment that would open the door to widespread change, putting faith institutions on an equal footing with secular groups as recipients of public funds," writes Jane Lampman. "They've had small victories in recent years, but hope this serves as the 'tipping point.'"
Jim Skillen of the Center for Public Justice is one of those who sees the potential. "This decision by the court together with the faith-based initiative will, in the long run, show that the roughly 50-year period of strict separationism is an aberration from what the First Amendment is about," he tells the paper. (CPJ's Stephen Lazarus makes a similar case at the center's website.)
We have loads of news articles, analysis, and opinion pieces on the voucher decision further down the Weblog. The same goes for the Pledge of Allegiance decision.
Prayer warriors head to D.C. in antiterror effort
You've read about warnings from the FBI, White House, and others that terrorists may strike the U.S. on July 4. Several conservative Christians are actually doing something about it—they're heading to D.C. to shield the nation's capital in prayer. The End-Time Handmaidens and Servants are one such group, and got Fox News's attention. "My mother said you're safer in the middle of the war than you are in your own backyard when you are with the will of God and prayer," says 14-year-old Heather Buss.
More articles
Pledge of Allegiance analysis:
Pro-"Under God" opinion:
Anti-"Under God" opinion
Related Elsewhere:
See our past Weblog updates:
July 1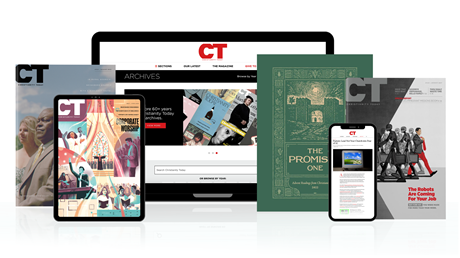 Subscribe to Christianity Today and get access to this article plus 65+ years of archives.
Home delivery of CT magazine
Complete access to articles on ChristianityToday.com
Over 120 years of magazine archives plus full access to all of CT's online archives
Subscribe Now
For First Time as President, Bush Explicitly Backs Vouchers
For First Time as President, Bush Explicitly Backs Vouchers