CT's April 22 cover story, "No Longer Left Behind," provoked strong responses. One publisher responded succinctly: "The impression … permeates Rabey's article that publishers cannot be trusted, they will use their power to financially abuse authors, and the only way an author will be treated justly is if they have an agent." That impression, says our correspondent, is "grossly untrue and deeply offensive."
In the following letter, publishing industry spokesman Doug Ross begins by responding to the article's report that agents at Alive Communications believe that at some publishing houses "bean counters" prevail over "book lovers." Of one editor an agent reportedly said, "I don't even know that he can read."
An Industry of Book Lovers
Characterizing an editor as not being able to read overlooks the serious effort on the part of editors as they direct the process to create books that change lives. The Evangelical Christian Publishers Association has nearly 100 member publishing houses, and I can assure you that they not only can read but that they view their author relationships as one of the most important relationships they enjoy. And the same is true of agents. Rick Christian—and other agents—take this seriously too. It has been my privilege to be involved in Christian publishing since the late '60s. Never have I seen the quality so high and the market reach so substantial. An excellent book that makes a difference in people's lives takes a unique partnership of authors, editors, marketers, salespeople, bookstores, and often agents. Yes, Christian publishing is big—but the positive impact on people's lives is even bigger! Ours is most certainly an industry of "book lovers." But more importantly, we are committed to the message we communicate.
Let me suggest that the next time you write about us you choose a cover photo that depicts the importance of reading—perhaps a young child being read to by their mother. Putting Rick Christian on top of a pile of books is embarrassing to those involved in the process—and I can imagine it was to Rick Christian as well.
If anyone really wants to know the impact Christian books are having these days, they should take the time to go to the many Websites sponsored by our members. There they will find literally thousands of letters testifying to the ministry of such books as the Left Behind series, The Prayer of Jabez, or The Power of a Praying Wife. Start by going to www.ecpa.org.
Doug Ross,
President Evangelical Christian Publishers Association
Tempe, Arizona
I write for the same Christian market that Steve Rabey spotlighted, but I didn't recognize the industry that he described. Much of what Rabey said is true—Christian books have crossed over to dominate the charts in the aba (American Booksellers Association) lately, causing heads to turn all across the literary community. Money paid to acquire works by top Christian authors is up as well. The importance of literary agents cannot be denied. Unfortunately, much about the focus of the article was skewed by the people interviewed. The tone of the insider comments bothered me. The adversarial relationship between writers, agents, and publishers does not exist in all segments of the industry. Agents exist who put a high priority on teamwork and on ministry as well as the business side of publishing. Some comments in the article bordered on ridicule toward publishers. Rabey briefly added the information about the millions of dollars Tyndale House Foundation sends around the globe, but this is not an isolated case. My own publisher, Moody Press, uses profits to finance scholarships for Moody Bible Institute students. The fiscal focus of the article was skewed. What about the heart of this industry? I've heard Gary Richardson, publisher of Zonderkidz, speak about his dream of providing compelling product for boys, even though more money is to be made in girls' product. His publishing house just launched the 2:52 product line (from Luke 2:52) despite the fact that it won't be a "big bucks" area. Publishers across this industry create the resources needed by the church regardless of the return. The blockbusters help pay for this end of the ministry. There's nothing wrong with being savvy in business. It's just that the other half of the story—the good stewardship and the godly focus—was left out.
Wendy Lawton
Hilmar, California
No longer left behind" was excellent and answered a lot of my questions, not the least of which was whether writing for publication might be something I should seriously pursue.
Learning where the industry is headed, it is pretty clear I should keep my day job and leave the writing to those few "brand name" authors that can turn a more substantial profit for publishers. If businesses like Wal-Mart say branding is the way to go, who are we to question such wisdom?
John Ritter
Pittsburgh, Pennsylvania
Mormon Inclusion
In the review of The New Historical Atlas of Religion in America ["Heavyweights of Religion Research," April 22], the author indicates the Mormon church "requires inclusion" as a mainline Christian group because of its size and growth in the western United States. What do size and growth have to do with this issue? Does the rapid growth of Islam in America similarly require its inclusion as a mainline Christian group? The criteria for inclusion should be based on what they believe, and Mormon beliefs are far from mainline Christian: Mormons believe that God the Father was once an ordinary person from another world who has advanced to godhood, and that there is a god above him, and his god has a god above him and so forth.
Bill Hamer
Edina, Minnesota
Graham and Jews
When i read of Billy Graham's apology to Jews for his anti-Semitic remark 30 years ago ["Graham Laments '72 Comments on Jews," April 22], I thought how appropriate it would have been if all CT readers could have been informed of a March 19 letter to The New York Times from Georgette F. Bennet, widow of the late Rabbi Marc Tanenbaum. She begins by agreeing that the comment to President Nixon was egregious, but observes that the basis of evangelical theology is redemption. Then she relates how Graham would always phone her husband to see if he could do anything for the Jews on his trips behind the Iron Curtain, and how he facilitated the release of many Jews from the Soviet Union. It was Graham's phone call to President Nixon during the 1973 Middle East war that prompted the President to send military airlift assistance to Israel. She closes with these words: "Were he alive today, I believe that my husband would have come to his good friend's defense."
H. Wade Seaford Jr.
Penney Farms, Florida
The Amplified Crouch
I agree with much of Andy Crouch's view of the use of amplified music in churches ["Amplified Versions," April 22]. Worship leaders are doing the heavy lifting of praising/performing while the congregation watches and applauds. Participation diminishes when worship leaders forget their role. They are not to perform for the congregation but to prompt it to worship the three Persons in the audience: the Father, Son, and Holy Spirit. This picture has immediate, practical applications for who should be the loudest on Sunday morning.
Stephen Morscheck
Wheaton, Illinois
Postmodern Speech
Charles Xolson ["More Doctrine, Not Less," April 22] seems to want to fight postmodernism by contending that it "rejects … the very idea of universally valid truth." Yes, postmodern thinking relies more on experience and less on logic. That does not suggest, however, that postmodern Christians believe all truth is relative. Rather, it means we have a different manner by which we accept what is true. It's akin to a new language: using personal experience, community living, and storytelling as a better means of sharing the truth—Jesus Christ, according to John 14:6—with an upcoming generation. Doesn't modifying some truths as "absolute" imply other truths are not absolute? Truth is truth. All truth is God's. So instead of resisting what is already happening in theology, ethics, philosophy, and (yes) even science, Colson and the rest of us should learn to speak the language of the 21st century. We should use that cultural language to reveal the truth of the gospel to a world in great need.
The Rev. Kent Clayton
Sandia Presbyterian Church
Albuquerque, New Mexico
Expository Preaching
A dallas theological seminary graduate (when Haddon Robinson still taught there), I cut my preaching teeth on the fundamentals of expository preaching ["Farther In and Deeper Down," April 1]. But I am disturbed by the number of evangelicals who do not take seriously the transforming power of the Spirit in their preaching. Their preaching is more technique and attempted relevance. But highly polished technique and training without the expectation of God's supernatural and empowering presence in worship, in the community of believers, and in the substantive teaching of Scripture will fail to communicate in a transformational way what God is wanting to say to our generation.
William D. Taylor
Director, Missions Commission
World Evangelical Alliance
Austin, Texas
TNIV Helps Little Girls
I doubt if i was the only little girl in the 1950s who did not feel included in biblical statements that use masculine pronouns or nouns ["Why the TNIV Draws Ire," April 1]. Claims that a feminist agenda motivates the changes in the gender inclusive TNIV seem silly. I applaud the motive of translators to use language that helps little girls (and their older counterparts) understand the truth that they are no less valued by God than males. I know it would have helped me reject Satan's lie that I was worth less to God because of a condition of birth over which I had no control. To those who finally published the TNIV, I say "Thanks." To those who oppose such changes, I gently suggest you look at this controversy through a child's eyes. Then listen to Jesus' warnings against hindering these little ones from coming to him (Matt. 19:14).
Bernice Karnop
Great Falls, Montana
Why They Hate Us
I have lived and ministered in the Arab world (mainly among Palestinians) for 28 years, and the things that Philip Yancey listed in his "Why Do They Hate Us?" [April 1] are fairly accurate. Most Muslims have an admiration for many of the things that America represents: an atmosphere of freedom, financial and medical security, education, scientific and technological progress. They do believe that much of American culture, and especially morality, however, is degenerate and therefore a threat to their religious heritage. Muslims in general also believe that U.S. Middle East policy is hypocritical. America's one-sided support of Israel, in spite of the atrocities Israel may commit on the Palestinians (Muslims and Christians), and America's disregard for U.N. Resolutions calling for the return of all occupied Palestinian lands, only fuel anger and resentment. When American policymakers demand that Israel dismantle her illegal settlements and withdraw from occupied lands, then nobody will be surprised to see a great change in the attitude of the Muslim world toward America.
Bob Robertson
Amman, Jordan
Have something to add about this? See something we missed? Share your feedback here.
Our digital archives are a work in progress. Let us know if corrections need to be made.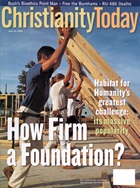 This article is from the June 10 2002 issue.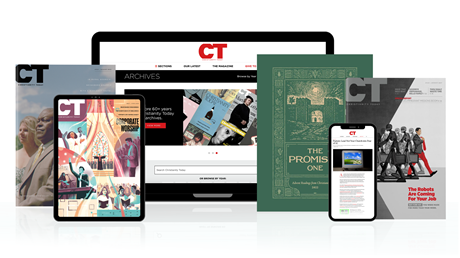 Annual & Monthly subscriptions available.
Print & Digital Issues of CT magazine
Complete access to every article on ChristianityToday.com
Unlimited access to 65+ years of CT's online archives
Member-only special issues
Subscribe
Letters
Letters