true
Divine Secrets of the Ya-Ya Sisterhood is a fancy way of saying "Sentimental Reminiscences of a Bunch of Talkative Southern Women."
I can personally testify that the book of the same name has been a bestseller. Having taken the bus to work for ten years, I'd say Ya-Ya is one of the titles I've seen being read the most. There's something about those saucy personalities, the secret social scandals, and the drawn-out drawling that is still appealing to readers six years after the book's publication. And the themes—what forgiveness can do to a grudge, what friendship and ritual can do for a community—ring true with readers and apparently with movie audiences too. Ya-Ya was the second most popular movie ticket of the week. Not bad for a bunch of belles, considering they're up against Obi-Wan Kenobi, Spider-Man, and Jack Ryan.
Critics, however, are asking for more than colorful personalities and honorable themes.
A critic at the U.S. Conference of Catholic Bishops is not entirely pleased. "In the way it presents women's relationships, particularly Southern women, the film sporadically makes an emotional connection with the audience. And the talented cast and snappy dialogue soften the high melodrama of the talky film. But more often than not, it may leave viewers dissatisfied with its frugal character development which often crosses the line into caricature."
Phil Boatwright agrees: "Although the film has a superb cast up to anything a writer can throw at them, the material becomes downright silly. It's slick, but with a superficial handling of adult subject matter. With an unconvincing, syrupy ending, the film loses any genuine poignancy."
Michael Elliott (Movie Parables) thinks the pros outweigh the cons. "Callie Khouri … has assembled a dream cast of solid female talent who build a seamless ensemble. There isn't a weak or careless performance amongst them. The constant flashbacks and the fact that multiple actresses play each character at various stages in the timeline can sometimes get a bit disorienting, but the strength of the characterizations and the richness of the relationships are such that it becomes easy to forgive any rough spots in the telling or structure of the story."
Some Christian critics would prefer that these multifaceted characters were portrayed with fewer character flaws. Paul Bicking (Preview) writes, "Despite the positive messages about friendship and reconciliation … [Ya-Ya] suffers from too much vulgar ya-ya. The wry comments are often humorous, but the dialogue is also laced with numerous obscenities, crude terms, and God's name used in vain." Likewise, Lindy Beam (Focus on the Family) argues, "Unfortunately, in portraying the gutsy feminine heroes, filmmakers include some traits that are not so admirable, including smoking, drinking, and cussing." But she concludes that it has "lots of good things to say about families, fear and forgiveness, and may even challenge viewers to work through issues in their own families to avoid passing pain on to future generations."
Halyna Barannik (Christian Spotlight) is bothered by "explicit and implicit reference to magic. The ya-yas perform a blood ritual to cement their eternal bond to each other and they pray to nature, worshipping forces and spirits other than God." And Lisa Rice and Annabelle Robertson (Movieguide) point to "its pagan worldview that touts secret ceremonies with chanting, blood pacts, and soul ties." And yet they conclude, "Above any other movie in recent memory, this movie perfectly demonstrates how the Bible speaks of the sins of the parents being passed down to the children. The movie is a fabulous study in the terrible consequences of avoiding religiosity and living apart from a true relationship with God. It also is a stinging reminder of the pain of racism and a beautiful picture of how forgiveness covers a multitude of sins."
In spite of its flaws, Steven D. Greydanus (Decent Films) says he finds it "a fairly painless experience. [I] have little doubt that true Ya-Yas will embrace it as this summer's Fried Green Tomatoes or Steel Magnolias." He does, however, caution us: "Don't try to make sense of the timeline, which has Vivi as a child (played by 13-year-old Caitlin Wachs) … but finds her all grown up and played by Ashley Judd … a couple of years later. (It gets worse: Sidda is born in the early 1950s, but is played in the present by Sandra Bullock!)"
Mainstream critics had similarly mixed feelings. Roger Ebert (Chicago Sun-Times) complains, "There is not a character in the movie with a shred of plausibility, not an event that is believable, not a confrontation that is not staged, not a moment that is not false. For their sins, the sisterhood should be forced to spend the rest of their lives locked in a Winnebago camper. Why do gifted actresses appear in such slop?"
* * *
Hot from the Oven
What would the summer movie season be without a black-guy/white-guy buddy action movie? Maybe a better movie season, according to critics who've seen Bad Company. Anthony Hopkins and Chris Rock are the odd couple this time around, perhaps too odd. Hopkins plays a CIA agent assigned to train Jake, a streetwise hustler, how to behave like his twin brother, a suave CIA agent who was recently killed. If Jake can wrap up his dead brother's unfinished project, he just might save a major U.S. city from the impact of a nuclear bomb detonated by terrorists. Jake (Rock) doesn't have any idea how to impersonate his brother's intelligence, class, and talents, but he reluctantly goes ahead with the plan. At the same time, he must strive to remain faithful to his girlfriend while his late brother's girlfriend tries to seduce him.
"Bad Company wants to be everything for everybody," says Steven D. Greydanus. "While it's not a lot of anything for anybody, it manages to be just enough of this and that not to be a total waste of time. Fitfully funny but never exciting or engaging, modestly entertaining but excessively dimwitted, and in the end just too darn long, Bad Company is relentlessly average."
Likewise, Phil Boatwright says, "Not intriguing enough to be called a spy thriller. Not funny enough to be called a comedy. Hopkins is a suburb actor. Rock can be an adroit observer of human frailties. But you'd never be convinced of either of those statements by sitting through this poorly written waste of $8.50."
Michael Elliott says that Hopkins and Rock play "cardboard cutout caricatures that serve no other purpose than to stand in the foreground of whatever explosions or automatic weapons fire might be taking place behind them. That the dialogue is stilted and the editing less than smooth will matter little to audiences looking for loud, mindlessly entertaining films. Bad Company will deliver what it is they seek." A critic at the USCCB also faults "skimpy characterization" and says "the film's protracted ending wears the viewer down, with its many twists and turns."
David Bruce (Hollywood Jesus) points out, "It reflects some positive changes that have taken place in post modern storytelling. Unlike the airhead portrayals of women in the early James Bond spy films, this film presents a woman as intelligent, independent, and fully human. Jake ... is presented as committed to one woman and does not yield to the temptation of another woman. In fact, we never see him in bed with anyone. Commitment is presented as the ideal in relationship. I cannot express my gratitude enough to Hollywood for modeling harmonious relationships between the various races, genders, and generations. Biologically Gaylord and Jake are not father and son, but symbolically they are. In this way the film speaks to family relationships. The film portrays faith as a normal function in life. It was so refreshing to me to see this. In this context it gives the Christian cross that Jake wears meaning."
Bob Smithouser (Focus on the Family) also highlights positive themes. But he concludes, "Ridiculous action and dialogue is one thing, but teens can do without the barrage of violence, language, and other moral miscues. Heed the words of 1 Corinthians 15:33. Don't let Bad Company corrupt good character." Paul Bicking and Lisa Rice complain of "a lot of language, too much violence and allusions to sex, and a poorly timed theme of international terrorism."
Douglas Downs (Christian Spotlight) says, "My two main objections to this film: 1) it's just not all that great … and 2) the plot premise preying on the worries of the public. And while many do 'worry about tomorrow,' Christians need not to do so if they follow biblical commands."
Mainstream critics made similar complaints and continued pondering whether it was appropriate to have movie bad guys plotting to blow up cities with nuclear bombs. Roger Ebert speculates, "I have a feeling that after this generation of pre-9/11 movies plays out, we won't be seeing it much anymore."
* * *
In Cherish, Robin Tunney plays a suspect in a murder who is confined to her apartment during the investigation and guarded by a kind-hearted lawman (Tim Blake Nelson, the beloved Delmar of O Brother, Where Art Thou?). Rather than letting her circumstances get her down, she decides to play an elaborate game of "let's pretend" that eventually draws the guard into a strange mix of imagination and manipulation.
Michael Elliott says, "Cherish switches moods and styles so frequently that it keeps us somewhat off balance. While there are a great many flaws to this film, the performances of Tunney and Blake are well worth seeing."
But Tom Snyder (Movieguide) is displeased by "a Romantic, non-Christian worldview where the protagonist and other characters are subject to an unjust world that unfairly restricts one's alleged freedoms."
Mainstream critics had mixed responses, mostly faulting the film for an uneven tone and style. Elvis Mitchell (The New York Times) says, "As a poky little character comedy, Cherish is enchanting in a small-scale way. But when [the director] tries to turn it into a genre thriller, [the movie] deteriorates so quickly that it's unsettling — but probably not in the way Mr. Taylor intended."
But some, like Kirk Honeycutt (Hollywood Reporter), find the film worthwhile for Tunney's winning performance: "If Cherish achieves any sort of theatrical success—and this amiable, offbeat comic drama should please romantics of all ages—then the movie could make Robin Tunney a star. Tunney doesn't miss a beat or leave any possible dramatic values unexplored. Yes, the climax is convoluted and implausible. But seeing Zoe spring into action like a lioness let out of her cage is nevertheless hugely satisfying."
* * *
Foreign Fare
While recycled ideas continue to score box office success, more adventurous moviegoers are discovering and celebrating the arrival of a truly unique and groundbreaking experience: Atanarjuat—The Fast Runner. It's an adventure set in the Canadian arctic regions where the Inuit dwell in isolation from Western culture. The movie takes us into their world, where the viewer becomes accustomed to their ways of living, communicating, surviving in the harsh environment.
The filmmakers retell an Inuit folk tale about Atanarjuat and Amaqjuaq, two sons of a hunter who has been tormented by a wicked shaman who has taken over their camp. The sons save their family's dignity, but their talents—one is called The Strong One and the other The Fast Runner—kindle jealousy in the heart of the tribe leader's son Oki. When Oki and Atanarjuat vie for the affections of the same woman, things turn violent.
So far, only one religious press critic has reported on the film: "It is with good reason that Atanarjuat—The Fast Runner has met with international acclaim and attention," raves David Shepherd (Chiaroscuro) "This is the closest thing to a pure other-cultural experience currently afforded by modern film. The story and its universal themes … allow the film to transcend the barrier of culture and language. [The actors] imbue the characters with a true sense of their unique humanity, while conveying the full range of human experience from sorrow and tragedy, to joy and laughter. The intention of the filmmakers was to add to the stream of their people's oral history and 'to be compellingly visual, quietly intelligent, and surprisingly funny.' Mission accomplished."
Watch this column for more reviews as they come in.
* * *
Tomorrrow's Menu
Need a vacation? For the price of lunch, you can have a whirlwind tour of Paris, Prague, Italy, and Greece in the company of an assassin who is trying to dodge bullets fired by his own employer. It's a scenic ride, but be warned: The Bourne Identity is intense, violent, bite-your-nails-to-the-quick thriller.
Matt Damon plays Jason Bourne in this second film version of Robert Ludlum's famous cloak-and-dagger novel. Bourne is an assassin who has lost his memory; fishermen discover him floating unconscious on the stormy Mediterranean Sea and awaken him to a living nightmare. He doesn't know his name, his job, or his way home. He discovers right away that he has extraordinary talents for close combat and quick thinking. And he learns all too soon that he is a hunted man. Jason is an employee of the CIA, which is in far worse shape in this film's fictional reality than it is in recent headlines. His supervisor (Chris Cooper wearing a scoundrel's sneer) has aggressively assigned all other assassins on the team to hunt Jason down because he failed an assassination attempt and risks embarrassing the team. Jobs are at stake. So Bourne goes on the run, trying to stay one step ahead of his mysterious foes, enlisting the help of a monetarily challenged, German-born beauty who agrees to drive him back to Paris and, of course, falls in love with him along the way.
Doug Liman, director of Go and Swingers, keeps the film running at full throttle from the opening scene. I spent most of the two hours on the edge of my seat. Liman gives the film a slick '70s style, saturating the urban landscapes in cold blue, always highlighting the important elements in red (a money bag, the lead car in a chase, a phone booth). The film's strongest virtue is its cast. While it requires some serious suspension of disbelief to accept young Matt Damon as a hardened, experienced assassin (the part would have been better served by George Clooney or Russell Crowe), Damon gives it all he's got, basically playing another Good Will Hunting with a hodgepodge of martial arts skills. Halfway through the movie I realized that it is Damon's feature-film audition for a regular part on TV's Alias. Nevertheless, the film is stolen by Bourne's sidekick; Franka Potente (Run Lola Run) brings great comic timing to a role that could easily have been merely shrill and panic-stricken. She's fascinating, and I wish the film had slowed down a bit to let her explore the character further.
The film's frenetic pace costs it dearly. The Bourne Identity is not much more than a well-executed series of action scenes, stunts, quick kisses on the run, and an exhilarating car chase. The story might have explored the philosophical implications of a man fighting for "the good guys" who finds out that the good guys aren't so good, and that he is isolated from his own country, his own cause. As the Bob Dylan song says, "It may be the devil, or it may be the Lord / but you gotta serve somebody." But this is a summer action movie, and Bourne is all business. The relentless gunshots and explosions never give him a moment to consider alternatives to his assumption that he is alone in the universe. Thus he concludes that there is no one worth serving but himself. And ultimately, that will be a disappointment as well.
David Denby (The New Yorker) calls it "a pleasant enough way of mislaying a couple of hours. The handsome old buildings of Paris and Prague … are easy on the eyes, and the action moves swiftly from one location to the next; the dialogue is pungent, the violence amusingly far-fetched. Still, there's a fatal lack of purpose. The problem is Matt Damon. He doesn't bring anything besides rage and physical energy to this role. Damon may be too young, too unformed, to play an amnesiac. Gazing at that blank face, we can't imagine that Bourne has any experiences or memories to forget."
Check back next week for other critical responses to the film.
* * *
Digest
Many people responded to media coverage of September 11th by saying, "It was like watching a movie." Apparently, the American countermeasures in Afghanistan had a select few thinking something very different: "Hey, this looks like a great video game!"
A report at Yahoo brings us news of games in development that will give gamers the opportunity to fantasize about firing on Afghan soldiers. But first, they'll get to go through the motions of another military incident, one that turned deadly and disastrous for American soldiers.
Last year, Ridley Scott's movie Black Hawk Down aimed to become a realistic historical document about the American soldiers who risked their lives in a 1993 raid in Somalia. In its striving for realism, the film was relentlessly violent. Yet it gave us a clearer understanding of just what our soldiers face when they go into such situations. Now in the name of "educating the public," a California-based company called NovaLogic is offering a video game follow-up to the film. (It may come as some small comfort that the game will not depict the way two dead U.S. soldiers were dragged through the streets of Mogadishu.)
Critics are already attacking the venture—count me in—saying that this is "blurring the line between history and entertainment and altering perceptions about the bloodiest firefight in U.S. military history since Vietnam." Mark Bowden, author of the book on which the film was based, says, "To me there's a qualitative difference between making a game and telling a story." He has refrained from involvement in the game.
But Marcus Beer, NovaLogic's spokesman on the game, says the game will avoid depicting the actual fate of the mission "so as not to offend anyone." One has to wonder, if the point is to "educate," then why cover up the troubling fate of the mission and replace it in kids' minds with the impression that such invasions are an entertaining, pulse-pounding recreational activity that ends with "Game Over" instead of loss and life-altering consequences?
NovaLogic is also one company developing a game that places U.S. soldiers in Afghanistan. Remember when we were content to gobble up ghosts with Pac-Mans? Now your boys and girls can sit down in the den and gun down those pesky Al Qaeda.
Beer assures us, however, that "a part of the proceeds" from the game will be forwarded to military charities, which have yet to be specified.
* * *
Something to Chew On
Rather than close on a troubling note, I'll leave you with a question that has started popping up in film critic commentaries. (See David Ansen's Newsweekarticle this week.) Here's the question: What happened to the brawny, muscle-bound, hyperviolent summer action hero?
Have you noticed? The Rambos, Terminators, Steven Seagals and Bruce Willises have been replaced. Not long ago, audiences were cheering for heroes whose powers were of the pectoral variety, who spoke in snappy curse-laden comeback lines. But this summer, there's no hit-first/ask-questions-later brute. (Okay, there's the Rock's Scorpion King, but that was rather tongue-in-cheek, wasn't it?) Instead, we're cheering for a small green spiritual leader who is dragged reluctantly into a light-saber battle. We're renting DVDs of a boy magician and a humble, long-suffering hobbit. The box office is ruled by a geeky teenager whose puberty brings on more than pimples—now he's fighting crime with webs and a soft-spoken sense of duty.
Why are we looking to bespectacled adolescents and soft-spoken hobbits instead of he-men to save the world? What has changed? It would almost seem that audiences are learning to demand more of their heroes than brawn. Maybe spiritual gifts and virtues are becoming standard equipment for our cinematic saviors, instead of the usual high-tech weaponry and the gift of expletive-laced gab. Or am I just being fooled? Is this, like adolescence, just a phase?
I'd be interested in hearing any of your theories. I'd also like to know: Is there a particular "good guy"—or "good gal," for that matter—past or present that embodies truly admirable character? Do you have a favorite big-screen hero who inspires you and who manifests the sort of virtues to which we should aspire?
Next week: More on The Bourne Identity, feedback on John Woo's war movie Windtalkers and other new releases.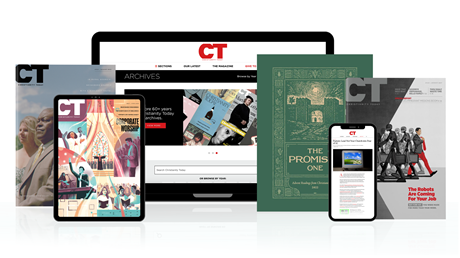 Annual & Monthly subscriptions available.
Print & Digital Issues of CT magazine
Complete access to every article on ChristianityToday.com
Unlimited access to 65+ years of CT's online archives
Member-only special issues
Subscribe
So-So Ya-Ya
So-So Ya-Ya