Ban on human cloning patent fails in Senate
An attempt by Sen. Sam Brownback (R-Kan.) to ban patents on human clones and human cloning processes failed yesterday when the Senate voted 65-31 to cut off debate on the terrorism insurance bill he'd hoped to add the ban to. "We need to make it clear to the Patent Office that a human embryo created by a cloning process is a person, not a piece of property, not livestock that can be owned, and therefore should not be allowed to be patented," Brownback said in the Senate Monday. "I had hoped we could have had a fair debate and vote on my amendment. Unfortunately, the leadership is trying to prevent my amendment coming to a vote."
The Family Research Council is furious—at the White House. "The vote on the Brownback amendment would likely have been the most significant pro-life vote this session of Congress," president Ken Connor said in his daily Washington Update:
The votes were 'there' to pass the Brownback amendment. White House lobbyists, however, were anxious to avoid a vote on the Brownback amendment and wanted a 'clean' bill. They … assured some senators that family groups would not score the bill. Relying on that misrepresentation, several senators changed their votes. … In the legal arena, material misrepresentations of fact are called 'fraud.' In Washington, such misrepresentations are called 'politics.'
The Family Research Council, Connor made clear, will score the bill. (Why wait? Here's how your senator voted.)
Brownback says he'll continue to push for cloning bans.
Archbishop of Canterbury criticizes New Westminster vote on same-sex blessings
The New Westminster dicoese's weekend vote approving the blessing of same-sex unions "saddens me deeply," Archbishop of Canterbury George Carey said in an letter to conservatives in the Canadian diocese. "I have no doubt that the unity of the Communion is threatened by your Synod's decision," he said. He promised to bring the vote up with other Anglican leaders, though the matter was sure to be a hot topic of conversation anyway. After all, New Westminster was the first Anglican diocese to approve such blessings.
Thirteen conservative Canadian bishops have also registered their "regret" over the vote. "We believe the decision of the Diocese of New Westminster to be in conflict with the moral teaching of Holy Scripture and the tradition of the universal Church," the bishops said in a press release (video also available from the CBC, which also has video of the vote). "It can only cause confusion for a local expression of the Church to purport to bless that which Anglicans globally and nationally have decided they cannot bless."
The Archbishop of Toronto, meanwhile, has registered his support of the vote.
Discussions about splits in the diocese continue. Check out Classical Anglican Net News's New Westminster site for more news and links.
More articles
Billy Graham in Cincinnati:
Prison ministry:
Evolution:
Crime and justice:
Money and business:
Pop culture:
Nickelodeon's "My Family Is Different":
Israel:
Related Elsewhere
See our past Weblog updates:
June 18 | 17
June 14 | 13 | 12 | 11 | 10
June 7 | 6 | 5 | 4 | 3
May 31 | 30 | 29 | 28
May 24 | 23 | 22 | 21 | 20
May 17 | 16 | 15 | 14 | 13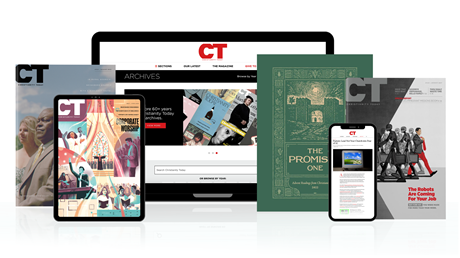 Annual & Monthly subscriptions available.
Print & Digital Issues of CT magazine
Complete access to every article on ChristianityToday.com
Unlimited access to 65+ years of CT's online archives
Member-only special issues
Subscribe
FRC Blames White House for Cloning Patent Ban Failure
FRC Blames White House for Cloning Patent Ban Failure