Seventy days before the Taliban arrested Heather Mercer, Dayna Curry, and 22 other Shelter Now workers in Afghanistan, a different radical Muslim group abducted American missionaries Martin and Gracia Burnham from a Philippine resort. Both incidents captured the attention of American Christians, especially as the September 11 terrorist attacks made discussion of radical Islam unavoidable. But as more than 200 days passed since the release of Mercer and Curry, the Burnhams remained captive. Finally, as Mercer and Curry began a tour promoting their book, word came of a Philippine military rescue attempt in the jungles of Mindanao. Gracia Burnham was free but injured; Martin Burnham and fellow hostage Ediborah Yap had been killed. The following day, Christianity Today editorial resident LaTonya Taylor contacted the two former Taliban hostages.
What is your reaction to what happened with the Burnhams?
Mercer: I had the privilege of meeting Martin Burnham's parents and Gracia's sister and best friend during their visit to Washington, D.C. [to get the U.S. government more involved in the missionaries' release]. Through their entire ordeal, I have been so struck and encouraged by the family's great faith and hope in God's provision for Martin and Gracia's well-being and safe return. They never doubted the goodness and faithfulness of God in this trial.
Dayna and I, along with thousands of other Christians around the country, prayed—and believed too—for the safe return of both parents. We are deeply saddened over their loss, but we rejoice in Gracia's freedom. For all involved, I am thankful that the immediate situation has come to a close. We know that Gracia and her children will have a long road ahead of them, and we will continue to pray for them, their families, and friends. In an amazing way, this family continues to stand firm in the goodness of God. Their faith and courage has strengthened me.
Curry: I experienced deep sadness when I heard of Martin's death, but at the same time I rejoiced that Gracia came out alive and is able to now be with her three children. I was deeply touched when I heard (via the news) that Martin felt a few days before his death that he might die soon and then wrote a goodbye letter to his children. I actually wept in the airport terminal when I heard this. I've also been touched by Gracia's comments that her husband was faithful to the end. I am so sorry that Martin did not come out alive, but I am comforted by the thought like Jeff, Martin and Gracia's 15-year-old son, was quoted as saying, "Now my dad is happy." Martin is in his eternal hope, where there is no longer suffering and pain.
I prayed for them every day, and Heather and I asked people to pray for them almost everywhere we spoke. They are in our hearts. We love them.
How does this ending cause you to reflect on your time in Afghanistan and some of the dangers you faced?
Curry: In reflecting on our situation, it just increases my feelings that God protected us as we came out alive and unharmed. Other than being in the middle of a bombing raid, the Burnham situation was much worse than ours. They were being held by a terrorist group who was out for money. Some of the Taliban who held us sympathized with us and were appreciative of how we had helped their country.
Mercer: Obviously this situation has been on our hearts tremendously in light of our own situation. Though the Burnhams' case was far more severe than our own, it has made me think a lot about our time in prison. Both situations show that there is no assurance of what tomorrow holds, but we can always trust in the promise of God's faithfulness and steadfastness, no matter what may come our way.
I know that it was a miracle that we came out alive and unharmed from our situation; nevertheless, the fact remains that God would still be good whether or not we had died in prison. His promises would still be true and he would still be a God who answers prayer. There is no easy answer as to why some must suffer more than others, but I continue to trust and believe that God's ways are good and he always knows best.
My hope for the Burnham family is that they would receive double from the Lord for what they have lost and that their own personal testimony of faith and hope would touch millions around the world who have experienced loss and pain.
Related Elsewhere
Also appearing on our site today:
Double Jeopardy | Former Taliban hostages Dayna Curry and Heather Mercer talk about the risks they took, the imprisonment they suffered, and their hopes to return to "the hardest place on Earth."
From Afghanistan Missionaries to Hostages of the Taliban | Excerpts from Prisoners of Hope, the book by Dayna Curry and Heather Mercer with Stacy Mattingly.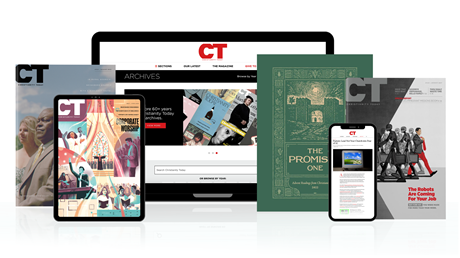 Annual & Monthly subscriptions available.
Print & Digital Issues of CT magazine
Complete access to every article on ChristianityToday.com
Unlimited access to 65+ years of CT's online archives
Member-only special issues
Subscribe
'Their Faith and Courage Has Strengthened Me'
'Their Faith and Courage Has Strengthened Me'