Rep. J.C. Watts pushes for better faith-based initiative bill in Senate "The armies of compassion are waiting for the Senate to follow the House's lead and pass a solid faith-based bill," Rep. J.C. Watts (R-Okla.) told Connecticut Republicans yesterday while campaigning for candidates there. Watts wants the Senate to pass its bill and have the differences between it and H.R. 7, the House's faith-based initiatives bill, worked out in a House-Senate conference meeting. But many Democratic senators, including Joseph I. Lieberman (D-Conn.), who is sponsoring the Senate bill, want H.R. 7 to die. They would rather have the full House vote on the Senate bill once it is passed to avoid any compromise between the two bills. Lieberman spokesman Dan Gerstein tells The Washington Times a conference would "reopen old wounds," "inject some political controversy back into the debate," and perhaps result in nothing getting to the President's desk.
There are significant differences between the two bills. The House bill expands charitable choice and allows faith-based organizations to compete for federal funds without compromising their character. The Senate bill avoids charitable choice altogether.
Is the Southern Baptist Convention's Holman Christian Standard Bible gender-inclusive, too?
As the Today's New International Version (TNIV) of the Bible gets ready for retail sale, Associated Baptist Press claims a scoop: the Holman Christian Standard Bible (HCSB), published by the Southern Baptist Convention's official publisher, Lifeway, is gender-inclusive, too. David Stratton, pastor of Brunswick Islands Baptist Church in Supply, N.C., chose a sample of seven books in the New Testament (Mark, Acts, Romans, 1 Corinthians, 1 Thessalonians, James and Revelation), and found 194 verses in which the HCSB is more gender-neutral than the NIV. It's also much more gender-inclusive than the King James Version. In fact, reports the news service, "the HCSB is actually more likely than the TNIV to translate masculine participles that refer to God in a gender-neutral manner. For example, Rev. 1:4 speaks of 'him which is, and which was, and which is to come' (KJV). The NIV translates 'him who is, and who was, and who is to come,' and the TNIV keeps the same reading. The HCSB, however, has 'the One who is, who was, and who is coming.'" Keep in mind that Associated Baptist Press often highlights stories critical of the conservative wing of the Southern Baptist Convention.
More on the TNIV:
More articles
Holy Week:
Politics:
Church & State:
Crime:
Education:
Sex & marriage:
Life ethics:
Missions & ministry:
Denominations:
Church life:
The growing unchurched:
Catholicism:
Business & money:
Science & health:
Peru plane shooting:
Interfaith relations:
Abuse news:
Abuse opinion and analysis:
Publishing:
Christian cheese gets major play:
Other stories of interest:
Related Elsewhere
See our past Weblog updates:
March 27 | 26 | 25
March 22 | 21 | 20 | 19 | 18
March 15 | 14 | 13 | 12 | 11
March 8 | 7 | 6 | 5 | 4
March 1 | February 28 | 27 | 26 | 25
February 22 | 21 | 20 | 19 | 18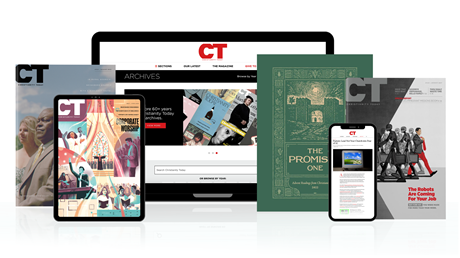 Subscribe to Christianity Today and get access to this article plus 65+ years of archives.
Home delivery of CT magazine
Complete access to articles on ChristianityToday.com
Over 120 years of magazine archives plus full access to all of CT's online archives
Subscribe Now
House's Faith-Based Initiatives Bill May Not Be Dead Yet
House's Faith-Based Initiatives Bill May Not Be Dead Yet