John Chrysostom, bishop of Constantinople; sermon, ca. 400
Let no one grieve at his poverty,
for the universal kingdom has been revealed.
Let no one mourn that he has fallen again and again;
for forgiveness has risen from the grave.
Let no one fear death, for the Death of our Savior has set us free.
He has destroyed it by enduring it.
Venantius Fortunatus, bishop of Poitiers; poem, ca. 600
The third day has returned; arise, my buried One; it is not becoming that Thy limbs should lie in the lowly sepulchre, nor that worthless stones should press that which is the ransom of the world. It is unworthy that a stone should shut in with a confining rock, and cover Him in whose fist all things are enclosed. Take away the linen clothes, I pray; leave the napkins in the tomb: Thou art sufficient for us, and without Thee there is nothing. Release the chained shades of the infernal prison, and recall to the upper regions whatever sinks to the lowest depths. Give back Thy face, that the world may see the light; give back the day which flees from us at Thy death. But returning, O holy conqueror! Thou didst altogether fill the heaven!
Martin Luther, German Reformer; sermon, ca. 1525
You have heard in the story of the Passion how Christ is portrayed as our exemplar and helper, and that he who follows him and clings to him receives the Spirit, who will enable him also to suffer. But the words of Paul are more Christian and should come closer home to our hearts and comfort us more, when he says: "Christ was raised for our justification." Here the Lamb is truly revealed, of whom John the Baptist testifies, when he says in Jn. 1, 29: "Behold, the Lamb of God, that taketh away the sin of the world." Here is fulfilled that which was spoken to the serpent: "I will put enmity between thee and the woman, and between thy seed and her seed: he shall bruise thy head," which means that for all those who believe in him, hell, death, and the devil and sin have been destroyed. In the same manner the promise is fulfilled today which God gave to Abraham, when he said in Gen. 22, 18: "In thy seed shall all the nations of the earth be blessed." Here Christ is meant, who takes away our curse and the power of sin, death and the devil.
All this is done, I say, by faith. For if you believe that by this seed the serpent has been slain, then it is slain for you; and if you believe that in this seed all nations are to be blessed, then you are also blessed.
John Donne, dean of the Cathedral of St. Paul's, London; sermon, March 28, 1619
Christ dyed because he would dye; other men admitted to the dignity of Martyrdome, are willing to dye; but they dye by the torments of the Executioners, they cannot bid their soules goe out, and say, now I will dye. And this was Christs case: It was not only, I lay down my life for my sheep [John 10:15], but he sayes also, No man can take away my soule; And, I have power to lay it down; And De facto, he did lay it down, he did dye, before the torments could have extorted his soule from him; Many crucified men lived many dayes upon the Crosse; The thieves were alive, long after Christ was dead; and therefore Pilate wondred, that he was already dead [Mark 15:44]. His soule did not leave his body by force, but because he would, and when he would, and how he would; Thus far then first, this is an answer to this question, Quis homo? [Who is this man?] Christ did not die naturally, nor violently, as all others doe, but only voluntarily.
Charles Spurgeon, British Baptist preacher; sermon, April 9, 1882
The learned are going to destroy the Christian religion. Already, according to their boastings, it has pretty nearly come to an end. The pulpit is effete, it cannot command public attention. We stand up and preach to empty benches! As you see—or do not see. Nothing remains for us but to die decently, so they insinuate. And what then? When our Lord was dead, when the clay-cold corpse lay watched by the Roman soldiery, and with a seal upon the enclosing stone, was not the cause in mortal jeopardy? But how fared it? Did it die out? Every disciple that Jesus had made forsook Him, and fled, was not Christianity then destroyed? Nay, that very day our Lord won a victory which shook the gates of hell, and caused the universe to stand astonished. Matters are not worse with Him at this hour! His affairs are not in a sadder condition today than then. Nay, see Him today and judge. On His head are many crowns, and at His feet the hosts of angels bow! Jesus is the master of legions today, while the Caesars have passed away! Here are His people—needy, obscure, despised, I grant you, still, but assuredly somewhat more numerous than they were when they laid Him in the tomb. His cause is not to be crushed, it is forever rising.
Elesha Coffman is managing editor of Christian History magazine.
Related Elsewhere
Last week's Christian History Corner focused on today, Maundy Thursday.
Article continues below
Also appearing on our site today:
Easter in an Age of Terror | Living and dying—and living again—after September 11.
Crucifixion | Quotations to stir the heart and mind at Easter.
Links to the works excerpted above include:
Christianity Today International's Easter page has articles and reflections on the resurrection, the story of Easter, and more.
Christian History Corner appears every Friday at ChristianityToday.com. Previous editions include:
The Other Holy Day | In the rush toward Good Friday and Easter, don't forget Maundy Thursday. (March 22, 2002)
The Politics of Patrick | In the field of Irish history, every turn of phrase hints at the author's spin. (March 15, 2002)
Don't Touch That Dial | Could a bitter debate among religious broadcasters really cause a "full-scale split in evangelicalism"? (Mar. 8, 2002)
Translation Wars | Sharp as debate over the TNIV may be, the version's translators are getting off easy compared to John Wycliffe and William Tyndale. (March 1, 2002)
The Cremation Question | Firm belief in resurrection hasn't kept Christians from caring-and arguing-about what happens to the bodies of the dead. (Feb. 22, 2002)
Citius, Altius, Sanctus | The modern Olympics, though hardly Christian, hail from an era when athleticism was next to godliness. (Feb. 15, 2002)
Alternative Religions | Many non- and semi-Christian groups laid claim to the West, but none more successfully than the Mormons. (Feb. 8, 2002)
Zion Haste | Does the passion of a few nineteenth-century Chicagoans still influence American policy in the Middle East? (Feb. 2, 2002)
Final Solution, Part II | The Nazis planned to obliterate Christianity, too, according to newly published Nuremberg documents. (Jan. 25, 2002)
Tell Me a Story | The most helpful church history scholarship is both broad and narrative. (Jan. 18, 2002)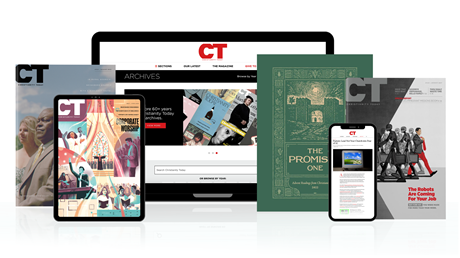 Subscribe to Christianity Today and get access to this article plus 65+ years of archives.
Home delivery of CT magazine
Complete access to articles on ChristianityToday.com
Over 120 years of magazine archives plus full access to all of CT's online archives
Subscribe Now
Easter Eloquence
Easter Eloquence