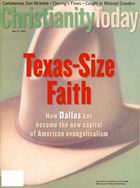 This article is from the May 21 2002 issue. Subscribers can read all of CT's digital archives.
Perhaps it was the rainy day when a drunk fell out on the street. Larry M. James, then 5 or 6, remembers his father getting out of the family car and helping the man get up. Maybe it was the Black Liberation theology he had studied in seminary. Or the vicious racism in the Louisiana church he once pastored. Whatever it was, something gave James a keen understanding of the relationship between "fairness, equity, social justice, evangelism, the gospel, the kingdom of God."
James speaks the words quickly, rhythmically, in a single breath, as if they were an inseparable phrase. Like the refrain of a song, the words return to his tongue again and again when he describes what effective parachurch ministry should look like. And as the leader of Central Dallas Ministries (CDM), one of the busiest community development organizations in the city, he seems to know what he's talking about.
Can You Help Me?
After years in pastoral ministry, Larry James became executive director of CDM in 1994, when it functioned mainly as a food pantry. For weeks, he spent every workday interviewing the poor about their needs. Out of one awkward conversation came the seed idea for a new direction in the pantry's ministry. One day he found himself unable to communicate with three Hispanic women. So he asked Josephina, a bilingual woman who had stopped by the office for assistance, "Can you help me?" She interpreted for him.
Later, as she headed for the door, she asked him, "Would you like me to help you tomorrow?"
The light went on in James's head: "Can you help me?" is the best question you can ask a person, he realized. After that, CDM staff started asking their needy clientele to volunteer in the ministry. Asking poor people for help somehow made them focus ...
1
Our digital archives are a work in progress. Let us know if corrections need to be made.
Parachurch Passion