In a resolution passed May 8, 1914, the U.S. Congress established the second Sunday in May as Mother's Day. Congress specified that on that day American flags should be flown outside homes and government buildings "as a public expression of our love and reverence for the mothers of our country." But what does patriotism have to do with Mother's Day?
The founder of Mother's Day, Anna Jarvis, saw the connection. Born in Grafton, West Virginia, in 1864, she witnessed the aftermath of the Civil War. Her mother, Anna Maria Reeves Jarvis, had spent the war organizing women to nurse wounded soldiers from North and South and generally attempting to hold her border state community together. After the war, Anna Maria started "Mothers' Friendship Days" to reconcile families divided by the conflict.
Throughout her life, Anna Maria modeled ideal Victorian motherhood. She gave up her dreams of college to tend to an older husband and four children. She bore the loss of seven other children with grace. She taught Sunday school in the local Methodist church for 20 years and stayed active in benevolent work.
Anna Maria's death in 1905 devastated her daughter. Two years later, Anna got the idea to found a holiday to remember her mother and all mothers, whom she felt could never be thanked enough. It was also Anna's idea to place Mother's Day near Memorial Day (which had been proclaimed in 1868) in recognition of women's contributions in wartime: sending sons and husbands to fight, tending the wounded, maintaining households alone, and encouraging peace and reconciliation. Memorial Day honored the sacrifices of men; Mother's Day would honor the sacrifices of women.
Mother's Day was first celebrated in 1908 in Grafton and Philadelphia, where Anna lived as an adult. The Methodist church in Grafton is sometimes called "the Mother's Day church" in recognition of its place in history. Congress and President Woodrow Wilson recognized the holiday in 1914, perhaps not coincidentally as America began to be drawn into another war.
Today, though, Mother's Day has little if anything to do with the ideals of Victorian womanhood or with patriotism. We can thank, or blame, women's rights activists for the first shift and florists for the second.
Though Anna Jarvis envisioned Mother's Day as a quiet observance centered on church and the home, advocates for causes such as world peace and female suffrage immediately seized the day for their own ideas. Julia Ward Howe, who grew firmly anti-war after penning "The Battle Hymn of the Republic," encouraged women to rise up on Mother's Day, defy their belligerent husbands, and declare, "We will not have great questions decided by irrelevant agencies, … We women of one country will be too tender of those of another country to allow our sons to be trained to injure theirs."
Other causes followed. In 1968, Coretta Scott King led a Mother's Day march to raise awareness of women and children living in poverty. In the 1970s, the National Organization for Women held Mother's Day rallies in support of the Equal Rights Amendment. The pro-gun-control Million Mom March took place on Mother's Day in 2000.
Still, florists hold primary responsibility for making Mother's Day what it is today. Anna Jarvis originally encouraged people to wear and give white carnations on her mother's holiday, because that was Anna Maria's favorite flower. This custom had the unintended consequence of causing a run on white carnations, so florists instead encouraged grateful children to buy all sorts of readily available blooms.
The marketing effort quickly grew out of hand. Anna Jarvis advised people to rebel, to wear buttons instead of flowers and to refrain from giving Mother's Day gifts at all. "I wanted it to be a day of sentiment," she said, "not profit." Obviously, no one listened. As early as the 1920s, Mother's Day was one of America's biggest commercial holidays, and it remains near the top for flowers purchased, cards sent, and phone calls made. Sue Ellen Thompson's book Holiday Symbols (Omnigraphics, 2nd ed. 2000) classifies the observance as "promotional" rather than "religious" or even, like Memorial Day, "national or patriotic."
Depending on the family, any of these categories could apply. Whether motherhood is better celebrated with flags, rallies, or bouquets (or, for my mother, with Cubs tickets) is a separate question.
Related Elsewhere
More Christian History, including a list of events that occurred this week in the church's past, is available at ChristianHistory.net. Subscriptions to the quarterly print magazine are also available.
For more articles and resources on Mother's Day, see Christianity Today's holiday page.
Christian History Corner appears every Friday at ChristianityToday.com. Previous editions include:
The Profligate Provocateur | In the twelfth century, an intellectual challenge to church authority proved much more dangerous than a sex scandal. (Apr. 19, 2002)
Article continues below
'Hier Stehe Ich!' | When Martin Luther stood up for his ideas at the Diet of Worms, did he really say, "Here I stand"? (April 12, 2002)
National Makeover | Washington's struggle to sell the American image overseas illustrates how sharply today's reality differs from seventeenth-century ideals. (Apr. 5, 2002)
Easter Eloquence | The holiday has inspired great words from some of history's greatest preachers. (March 28, 2002)
The Other Holy Day | In the rush toward Good Friday and Easter, don't forget Maundy Thursday. (March 22, 2002)
The Politics of Patrick | In the field of Irish history, every turn of phrase hints at the author's spin. (March 15, 2002)
Don't Touch That Dial | Could a bitter debate among religious broadcasters really cause a "full-scale split in evangelicalism"? (Mar. 8, 2002)
Translation Wars | Sharp as debate over the TNIV may be, the version's translators are getting off easy compared to John Wycliffe and William Tyndale. (March 1, 2002)
The Cremation Question | Firm belief in resurrection hasn't kept Christians from caring-and arguing-about what happens to the bodies of the dead. (Feb. 22, 2002)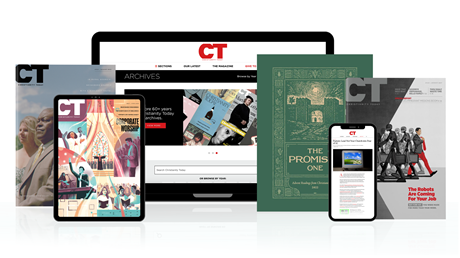 Annual & Monthly subscriptions available.
Print & Digital Issues of CT magazine
Complete access to every article on ChristianityToday.com
Unlimited access to 65+ years of CT's online archives
Member-only special issues
Subscribe
Mom, We Salute You
Mom, We Salute You