Georges Hormis Sada was an air vice marshal in Saddam Hussein's military. By any standard, he was a success. His son became a doctor in the United Kingdom. His daughter is a teacher in Jordan. With a monthly salary of 1,000 Iraqi dinars—worth $3,300—he had a bank account worth over $3 million. "It was a great life," he says.
In a country that is 96 percent Muslim, Sada is a Presbyterian. Now retired, he is the president of the National Presbyterian Church in Baghdad and chairman of the Assembly of Evangelical Presbyterian Churches-Iraq.
Nearly two decades of war, crushing United Nations sanctions, and a regime willing to let its people suffer rather than comply with U.N. resolutions about its weapons programs have all contributed to the deaths of at least 1 million Iraqis. During this time, currency devaluation has shriveled Sada's bank account to the equivalent of $500.
Yet Sada, 62, deflects talk of leaving the country (although about one-third of the country's Christians emigrated during the 1990s). "We are praying very hard," Sada told Christianity Today by telephone during a visit to the United Kingdom. "We know that one day our Lord will make it better."
Fear factor
Marilyn Borst has made four visits to Iraq since 1998 as a missions catalyst at First Presbyterian Church in Houston and as a leader of Evangelicals for Middle East Understanding. She notes that three Presbyterian churches are in or next to the northern and southern no-fly zones patrolled by American and British pilots.
"I've heard the fighters there. I've heard the antiaircraft responses on the ground from the Iraqis. I've heard the air raid warnings," Borst said. "So there is a great deal of fear."
Saying they trust in God's providence, Iraq's Presbyterians are continuing with worship, Sunday school, and youth meetings inside their buildings. Christians say the Iraqi president makes inexpensive building materials available to churches, gives land, and has even provided pipe organs.
"Far from repressing Christianity, the government of Iraq supports a multiplicity of religious expression, seeing this as a way of providing balance," Borst said.
Some observers, however, think Saddam Hussein's support of Christian churches is partly propaganda and partly an effort to maintain allegiance to his military regime. Operation World notes, "Religious minorities have been favored by Saddam Hussein if they demonstrated loyalty."
Presbyterian missionaries came to Iraq in 1836. Iraq has five Presbyterian churches with an estimated 3,000 members. Iraqi Presbyterians, however, tally membership by numbers of families. The oldest church, in Mosul, founded in 1840, has just five to ten member families. National Presbyterian in Baghdad, founded in 1952, has more than 300 families. The Assyrian Presbyterian Church, Baghdad, founded in 1921, has 36 families. Kirkuk's National Presbyterian Church, founded in 1958, has 36 families. The only church in the south, National Presbyterian Church in Basra, established in 1940, has 32 families, down from 110.
According to tradition, in the first century the apostle Thomas evangelized the region we today call Iraq. An estimated 600,000 Christians live in the country of 22 million people. By far the largest group is the Chaldean Catholic Church, followed by the Assyrian Church of the East (called the Nestorians by some), the Syrian Orthodox Church, and the Armenian Apostolic Church.
Human rights questions
Despite relative freedom for Christians, the U.S. State Department designated Iraq as a "country of particular concern" in 1999, 2000, and 2001 for severe violations of religious freedom. The State Department says the regime, run by Sunni Muslims, "for decades has conducted a brutal campaign of murder, summary execution, arbitrary arrest, and protracted detention" against the majority Shi'a population. American officials estimate that government policies have killed at least 130,000 Iraqi civilians during Saddam Hussein's 23-year rule.
In addition, the regime does not recognize Assyrians and Chaldeans as separate ethnic groups. The State Department's 2002 Religious Freedom Report notes that the regime "has sought to undermine the identity" of minority Assyrian and Chaldean Christians.
Early this year, the government placed all Christian clergy and property under the full control of the Ministry of Islamic Property. Sada, speaking for the Presbyterians, declined to discuss any government restrictions, citing Romans 13. "We obey the government, as the Bible has told us," Sada said. "Therefore, whatever comes from our government, we will try to handle it."
Borst acknowledged that Iraqis speak cautiously if at all about their situation. "Knowing of their government's concern with maintaining internal security, most Iraqis assume that their phone conversations and print interchanges—both mail, and, more recently, e-mail—may need to be monitored," Borst said. "But even in face-to-face conversations inside Iraq, I have never heard a disparaging word spoken about the current regime."
Radical Islam
Some observers fear that Iraqi Christians may become targets of opportunity for radical Muslims in the event of a U.S.-led assault on Iraq. Albert Shawo, 78, immigrated to the Chicago area with his wife in 1992. Shawo was an elder in the Assyrian Presbyterian Church in Baghdad, a member of a Presbyterian Church in Dohuk that is now a medical center, and a former secretary and treasurer of the Presbyterian assembly. Shawo is one of the 82,000 members of the Assyrian/Chaldean/Syriac immigrant population recorded by the 2000 U.S. Census. (Unofficial estimates are much higher.)
"Anti-Christianity has expanded a lot," Shawo said of Iraq. "They make it public: 'We don't like you.' You hear it when they are preaching on Fridays."
On August 15, three men entered the Sacred Heart of Jesus Monastery in Baghdad. They beheaded Sister Cecilia Moshi Hanna, 71. Observers believe Islamic extremists were responsible, but the government has made only one arrest and has said little about the case. Inside Kurdish-controlled northern Iraq, Assyrian Christians have reported numerous attacks against people and property.
Jim Jennings heads Conscience International, an Atlanta-based humanitarian organization. "If you understand the relative position of Christians in the Middle East, it helps you understand the tolerance and even support Christians have for the government," Jennings said. "The people there are really afraid of the Muslim extremists."
For his part, Sada insists that Christians and Muslims in Iraq are on friendly terms. Sada says Muslims allowed Christians to live on their farms during the Gulf War when the cities—where most Christians live—were being bombed.
Practical help
In the meantime, Christian ministries are finding ways to meet well-defined needs in Iraq. The Bible Society in Lebanon, with support from its counterpart in Jordan and other organizations, distributed nearly 6,400 Bibles and 9,300 New Testaments in Iraq in 2000 and 2001.
Working with Presbyterians, the Cairo-based Arab World Evangelical Ministers Association sends representatives into Iraq three times a year. They provide training in evangelism, prayer, leadership, and ministry. The Mennonite Central Committee and the American Friends Service Committee are also doing relief and development work. The largest Presbyterian church in the Middle East, Kasr el-Dobara in Cairo, sends lay leaders to teach and pray with Iraqi church leaders in Jordan.
Tom Hoglind of the Bible Society of Lebanon says that many Iraqi Christians have experienced revival since the Gulf War and have started ministering to the disabled and other social outcasts. Alluding to Abraham, who lived in this region, Hoglind said, "If God asked me if I could find 10 righteous men in Iraq, I can assure you that they are in place. They are Iraqis who love their country and the people living there."
Related Elsewhere
For more Christianity Today article on Iraq, see our World Report.
The 2002 International Religious Freedom Report for Iraq says "the Interim Constitution provides for individual freedom of religion, provided that it does not violate 'morality and public order;' however, the Government severely limits freedom of religion in practice, represses the Shi'a religious leadership, and seeks to exploit religious differences for political purposes."
Have something to add about this? See something we missed? Share your feedback here.
Our digital archives are a work in progress. Let us know if corrections need to be made.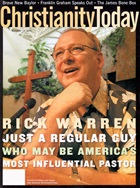 This article is from the November 18 2002 issue.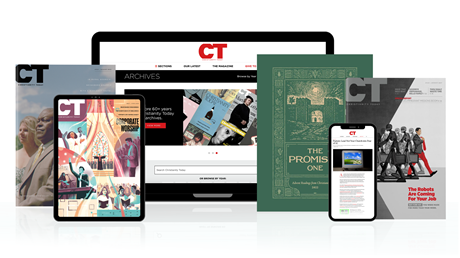 Annual & Monthly subscriptions available.
Print & Digital Issues of CT magazine
Complete access to every article on ChristianityToday.com
Unlimited access to 65+ years of CT's online archives
Member-only special issues
Subscribe
Keeping Their Heads Down
Keeping Their Heads Down