The author of Rebel with a Cause is now a rebel with a clause: "In the name of Jesus." Franklin Graham, who embraced the rebel identity in his 1997 autobiography, is stirring fresh controversy with his latest book, The Name (Nelson). Graham says Christians have a duty to pray publicly in Jesus' name. He says churches are avoiding ministry to people with HIV/AIDS. On his summer book tour, Graham reiterated his view that Islam teaches violence.
Graham, president of the relief and development agency Samaritan's Purse and chief executive officer of the Billy Graham Evangelistic Association (BGEA), recently sat with Christianity Today editor David Neff and deputy managing editor Timothy Morgan.
Your book The Name defends your use of Jesus' name in public prayers. How surprised were you by the reactions to your prayers at Columbine High School and the 2001 presidential inauguration?
I can't say I was surprised, because I've seen this before. We as Christians should not be afraid of mentioning the name of Jesus Christ. The freedoms other religions enjoy in this country are because of Christians, who came to this nation searching for freedom. Jews have had more freedom in this country than in any nation on the face of this Earth outside of Israel. A Muslim has more freedom in this country than he has in a Muslim country. Christians gave them this freedom.
Why do you think some people say they're offended, then?
Because they are. Listen, if I mention the name Muhammad, people go: Okay. You mention the name Buddha: Oh, that's nice. You mention the name of Jesus Christ, and it divides a room. People scowl. People breathe a sigh of relief. This is more evidence that Jesus Christ is the Son of God and that Satan wants to do everything he can do to discredit that name.
Do you think that Christians should be offended when in public gatherings a Hindu or a Muslim leader speaks in the name of their prophet or god?
I'm not offended. I don't expect a Buddhist to pray like a Southern Baptist. I don't expect an Islamic cleric to get up and say, "I pray in the name of Jesus Christ." If he did, I'd say, "Wow, that's pretty cool."
Local pastors often get asked to give prayers or to say a few words at community events. Should they follow the pattern that you set forth and always speak in the name of Jesus?
All I can do is speak for myself. I didn't ask to be at Columbine. It just happened. When I get invitations like that, I just have to believe that God opens those doors because he expects the name of his Son to be interjected into that situation. I would be showing dishonor to my Father in heaven not to mention the name of his Son in those settings.
At the inauguration, Houston pastor Kirbyjon Caldwell and you took mutual strength and encouragement.
We were in a room at the hotel. The program committee was meeting. Kirbyjon saw me and said, "Franklin, are you going to use the Name?" I looked at him. He said, "In the prayer, are you going to use the Name?"
"Ah. Yes, I'm going to pray in the Name."
"Good. So am I. We'll both get in trouble together."
Kirbyjon gave a great prayer, and it came from his heart.
How do you feel about Christians commemorating events separately compared to what happened in New York City last year, where everybody got together under Oprah's umbrella?
[After the memorial service at] Yankee Stadium, I talked to a lot of pastors who said, "We were left out." It was people offering generic messages and prayers. They tried to make it a Hollywood event. Hollywood has nothing to offer to anybody. Who offers more hope—Oprah or Almighty God?
You've been speaking out about HIV and AIDS. What is the biggest obstacle to Christian ministry in responding to the HIV/AIDS crisis?
One is the perception in the church that it's caused by homosexuality, which in this country accounts for the majority of cases. Churches say, "This is dirty. We don't even want to get near it." But the AIDS issue around the world is basically heterosexual.
The world's response is condom distribution. But the problem is people don't use them, for whatever reason, even people who are educated. I was invited to speak at an AIDS fundraiser in New York City with the Global Business Council on HIV/AIDS. Former ambassador Richard Holbrooke is the head, and he said, "Franklin, we'd like for you to come and give the benediction."
"Can I say something other than a prayer?"
"Yes. The only thing we ask is that you don't attack homosexuals."
"That's not what I do."
When I got up to speak, I reminded them that every one of the 40 million people infected with HIV has a soul, precious to God. I said, "I will work with each and every one of you to save life." Oh, they applauded.
Then I said, "I'm prolife." Silence. I said, "I think it's just as important to save the life of an unborn child as it is to save the life of a man or a woman eaten up with AIDS." Silence.
"We can't do this without God's help. That's why I'm here to ask for God's help."
The number one obstacle is the world's concept: Just give me a billion condoms and we can solve this issue. What the world wants to do is to continue in a sinful lifestyle.
The church is sitting back, saying, "I told you so. If you all would keep your pants zipped up, then there wouldn't be any of these problems." We have failed to get involved because homosexuals are in this fight. We've got to be willing to get down with people we don't like.
The greatest mission field in front of us is HIV/AIDS patients. Yes, it's tough, but what a challenge. These people have a soul, made in the image of God, and Jesus Christ died for them. Are we to say, "I don't want to get my hands dirty"?
Would you see this happening through organizations like Samaritan's Purse and World Vision?
No, I see it working in the local churches. Every local church ought to be looking for ways to have hospice care for HIV/AIDS victims, counseling, and education.
We need to be right up in the front. We are so wrapped up in our little programs. I'm saying, Just do it. Quit talking about it. How much money do you have in your budget for HIV/AIDS? Anything? Put it in there. Make it a line item so that the elders and the deacons and the pastor, everybody, sees it.
Then let's start looking for somebody in the community who we can invest in—somebody who has a heart for HIV/AIDS, who's doing something for HIV/AIDS in the community. Let's pray that God will raise up men and women out of that church who say, "Pastor, I'm here, I'll go to the hospital, and I'll visit."
As a Christian leader, you are unusual in that you are involved in social ministry through Samaritan's Purse and in evangelism through the BGEA. How are your two callings related?
I don't see a division. The thing is Jesus Christ. He healed people. That's social ministry. He fed people. This is social ministry. But that wasn't the end in itself. Christian organizations got off on the social ministry, and they forgot their purpose. The soul is the purpose. Every miracle Jesus did, he did so that those who were the recipients of his grace and his mercy would put their faith and trust in him as the living Son of God.
With Samaritan's Purse, we do evangelism. That's the core of everything we do. The goal of the BGEA is evangelism. But as I walk down life's road, I'm just not going to bypass people that are hurting. I'll want to help them so that I can tell them about Christ.
Some major Christian ministries got involved in just helping people. Christian people came into the organization who weren't really evangelical. They began to compromise and say, "We can have a witness by our presence." Give me a break. Don't say you're going to be a Christian by just sitting there like a knot on a log. "Faith cometh by hearing." People have got to hear it.
How do you build into organizations the ability to keep that Christian focus?
You've got to get committed people, and you have to review constantly what the goals and objectives are. Keep coming back to the Cross. Keep coming back to the focal point.
Do you have any particular historical examples or role models from which you have found strength?
Bob Pierce [founder of World Vision] was a mentor to me. Bob put the best perspective on evangelism and social work of anybody I know. The gospel was number one with this man, and he had tremendous compassion for people. I just thank God I had that opportunity to work with Bob. He took time for me and invested in me.
How do you properly draw the line when a Christian organization has a government contract to provide services?
It's very simple. You cannot use government money for proselytizing or for any kind of religious work. I don't need their money. I've got plenty of it from other people to do our religious work, to do our evangelism, our preaching. The key is don't violate trust, whether it's the U.S. government or you giving me a hundred dollars. Don't violate your trust with God either.
How do you see the BGEA in the future?
I would hope we could be a little bit smaller. Over 50 years, divisions grow and you get bigger, and you staff up and ramp up for a big project, and when that big project's over with, what do you do with all the people you've given jobs to? Moving to Charlotte, we have 171 [of about 400 employees] from Minneapolis who have signed up to go. That gives us a chance, I think, to scale back a little bit.
What are the areas you want to focus on especially?
World evangelism. We just tried a project down in Central America, where we took three countries, and we took one of my father's messages and lip-synched it in Spanish, and lip-synched one of mine in Spanish. We also took a movie and did that in Spanish, and bought three nights on television in these countries. It was prime time. Thousands of pastors [trained] ten people each from their congregations. The numbers are in. It's one of the most productive evangelistic efforts we've ever done, going by commitment cards.
Could you comment about the decision to no longer use the word crusade and to use the word festival instead?
Crusade is a church term. It's a church meeting. You have beer festivals, music festivals, flower festivals, art festivals. It's a secular term. The world understands that term, and it's the world that I'm trying to reach. That's why I made the change. The Australians used the word festival first. When I came back [from Australia], I told my team, "We're going to use that."
What motivates you?
We're living in the last days. Don't hide your head in the sand. The battle for the hearts and souls of men and women is here. We've got great opportunities, whether it's in the field of HIV/AIDS, working in the communities, going overseas, giving your resources to the Lord's work or whatever it is. We've got time right now, just a window of time. He's coming back. Then it's going to be too late.
You have called Islam "wicked" and "violent" and not "this wonderful, peaceful religion." To what degree have your views on Islam been shaped by your experience in Sudan?
It's not just Sudan. I have also been to Saudi Arabia, Iraq, Jordan, Lebanon, Turkey, Iran, Pakistan, Afghanistan. I've been around the Muslim world for a long time. Out of all of these Islamic countries, there's not one democracy. There are no personal liberties. There are no freedoms, religious freedom or any other freedom. I see how they treat people of other faiths. It frightens me.
After 9/11, there were groups that said we all worship the same God. It's not the same God. The God of Islam is not a father. The God of the Christian faith is a father. He has a son: his name is Jesus.
Related Elsewhere
Also appearing on our site today:
Graham's Current EventsIn his fifth book, Franklin Graham examines why the name of Jesus is controversial.
The Name is available at Christianbook.com.
For more information on Graham's work, see the sites of the Billy Graham Evangelistic Association and Samaritan's Purse
Previous Christianity Today articles about Franklin Graham include:
Give Franklin Graham Some Slack—and Some CreditThe evangelist shouldn't be defined by his opposition to Islam. (August 23, 2002)
NOT Your Father's EvangelistFranklin Graham has been groomed to wear his father's mantle. How does it fit? (April 5, 1999)
Following George Bush's inauguration, Christianity Today'sWeblog looked at the controversy surrounding the prayers led by Kirbyjon Caldwell and Franklin Graham. A 2001 profile of Caldwell looked at the reaction to his prayer at the ceremony.
Article continues below
In 2001 The New York Times accused Samaritan's Purse of using government funds for religious work. The organization responded with a press release and Graham wrote an editorial for The News & Observer. In a Christianity Today editorial, the magazine said the paper should have run a correction—instead it may have changed government policy.
A sidebar to June's cover story on Habitat for Humanity examined how Christian organizations, like Samaritan's Purse, keep their focus on Christ while working in the secular world.
Christianity Today has covered the BGEA change from using the word crusade in articles including "Billy's Last 'Crusade'?" and "Billy Graham's Last Crusade—Really."
Have something to add about this? See something we missed? Share your feedback here.
Our digital archives are a work in progress. Let us know if corrections need to be made.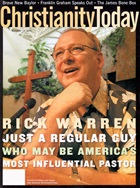 This article is from the November 18 2002 issue.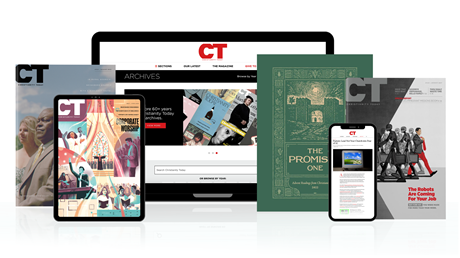 Annual & Monthly subscriptions available.
Print & Digital Issues of CT magazine
Complete access to every article on ChristianityToday.com
Unlimited access to 65+ years of CT's online archives
Member-only special issues
Subscribe
Jesus Freak
Jesus Freak