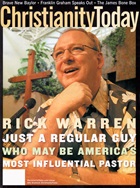 This article is from the November 18 2002 issue. Subscribers can read all of CT's digital archives.
Stymied by Senate Democrats, the Bush administration has turned to Plan B on its faith-based initiative. "Our preferred route is to go through Congress," said James Towey, the director of the Office of Faith-Based and Community Initiatives. But "the President is certainly going to work administratively to achieve his goal: to make the public square faith-friendly."
On October 3, the Department of Health and Human Services announced $24.8 million in "compassion capital" grants to 21 recipients. The federal dollars can go for training and hiring staff, managing programs, and receiving technical help in applying for grants.
Operation Blessing International, Pat Robertson's Virginia Beach-based humanitarian agency, received $500,000. Previously, Robertson had expressed deep reservations about the Bush initiative because of possible government funding of groups such as the Church of Scientology or the Unification Church. A Robertson spokeswoman was unavailable for comment.
Regulatory review
The Office of Faith-Based and Community Initiatives has new branches at five departments: Education, Health and Human Services, Housing and Urban Development, Justice, and Labor.
According to an internal government memo obtained by Christianity Today, Bush officials believe that some existing federal regulations remain inconsistent with Supreme Court case law and with Bush administration policy. Neither the internal memo nor administration officials provided specific examples.
A September 3 Associated Press story reported that Bush administration officials were poised to rewrite a slew of federal regulations governing religious groups that serve the needy, to make it easier for them to apply for federal dollars. But a Bush administration official, ...
1
Faith-Based Fight: White House moves forward with or without Senate.
Faith-Based Fight: White House moves forward with ...