Stymied by Senate Democrats, the Bush administration has turned to Plan B on its faith-based initiative. "Our preferred route is to go through Congress," said James Towey, the director of the Office of Faith-Based and Community Initiatives. But "the President is certainly going to work administratively to achieve his goal: to make the public square faith-friendly."
On October 3, the Department of Health and Human Services announced $24.8 million in "compassion capital" grants to 21 recipients. The federal dollars can go for training and hiring staff, managing programs, and receiving technical help in applying for grants.
Operation Blessing International, Pat Robertson's Virginia Beach-based humanitarian agency, received $500,000. Previously, Robertson had expressed deep reservations about the Bush initiative because of possible government funding of groups such as the Church of Scientology or the Unification Church. A Robertson spokeswoman was unavailable for comment.
Regulatory review
The Office of Faith-Based and Community Initiatives has new branches at five departments: Education, Health and Human Services, Housing and Urban Development, Justice, and Labor.
According to an internal government memo obtained by Christianity Today, Bush officials believe that some existing federal regulations remain inconsistent with Supreme Court case law and with Bush administration policy. Neither the internal memo nor administration officials provided specific examples.
A September 3 Associated Press story reported that Bush administration officials were poised to rewrite a slew of federal regulations governing religious groups that serve the needy, to make it easier for them to apply for federal dollars. But a Bush administration official, asking not to be named, disavowed most of the AP account. "Are we likely to change regulations? Absolutely," the official told CT. "Have we decided on which ones those will be? Absolutely not."
In a related effort, the White House began hosting daylong regional conferences, starting in Atlanta in October. Bush administration officials will teach religious groups how to apply for federal grants. The five to seven conferences will run through early 2003 and are similar to smaller forums the faith-based office has already hosted.
Hiring clause
The faith-based bill has languished in the Democrat-controlled Senate since July 2001, when the House passed H.R. 7. The chief stumbling block is whether religious charities may choose not to hire people who do not share their beliefs or observe their moral and sexual norms. Under the 1996 Charitable Choice Act, on which H.R. 7 is based, charities need not hire such people. The Senate's version, the Charity, Aid, Recovery, and Empowerment Act (CARE), avoids the issue. Sponsors Joseph Lieberman, D-Connecticut, and Rick Santorum, R-Pennsylvania, worked out a compromise in February with the White House. The aim was to enlist more Democratic support.
But the American Civil Liberties Union and the Human Rights Campaign, a homosexual-rights advocacy group, say the legislation would override local and state anti-discrimination laws. Greg McCarthy, a spokesman for Sen. Jack Reed, D-Rhode Island, said he is likely to "sponsor an amendment that addresses the [bill's] silence on the issue of discrimination."
Both Santorum and Towey told Christianity Today they would reject any legislation that prevents charities from hiring whom they wish. "I think, along with Sen. Lieberman, that any changes to the bill will be fought," Santorum said. He said he hopes to attach it to homeland security legislation. Lawmakers consider that bill a high priority before adjourning for the year.
Related Elsewhere
Also available on our site today:
New Study Answers Many Criticisms of White House's PlansHudson Institute's "Fruitful Collaborations" underscores the need for hiring freedom.
Recent news coverage includes:
Senate still trying to move scaled-back 'faith-based' legislation—Associated Press (Oct. 16, 2002)
Watts to support narrower faith bill—The Washington Times (Oct. 15, 2002)
Robertson Charity Wins 'Faith-Based' Grant—The Washington Times (Oct. 3, 2002)
GOP using faith initiative to woo voters—The Washington Post (Sept. 15, 2002)
Information on the White House Office of Faith-Based and Community Initiatives and bill H.R. 7 is available online.
For more coverage of the faith-based initiative see Yahoo's full coverage on the Bush Administration.
Past Christianity Today articles on the faith-based initiative include:
'I Am a Realist'U.S. Rep. J.C. Watts Responds to Weblog. (Oct. 28, 2002)
Congress's Charitable Choice Expansion Is DeadSenate may not pass "faith-based" bill, but Watts says he won't oppose it. (Oct. 16, 2002)
Will the Faith-Based Initiative 'Explicitly Prohibit Hiring Discrimination'?Barney Frank says current bill will lead to discrimination and racism. (Sept. 26, 2002)
Faith-Based Initiative Is Republican Ploy, Says Washington PostBut are Democrats really interested in explaining White House plans to their constituents? (Sept. 17, 2002)
Article continues below
House's Faith-Based Initiatives Bill May Not Be Dead YetRep. J.C. Watts pushes for better faith-based initiative bill in Senate. (March 28, 2002)
Faith-Based Give-inCompromise bill for religious nonprofits gains grudging support. (March 14, 2002)
Shortchanging CharitiesAmericans will surrender their constitutional values if nobody acts to expand Charitable Choice. (March 7, 2002)
Court Strips Faith Works of State FundsWisconsin vows to appeal setback of Bush-supported initiative. (Feb. 20, 2002)
Bush Backs Senate Faith-Based Initiative BillAllowing folks who don't itemize deductions on their tax returns to deduct for charitable giving is apparently huge. (Feb. 2, 2002)
Implacable Foes Find (Some) Common Ground on Faith-Based InitiativesDiverse working group's recommendations represent the minimum, not the maximum, that is politically possible. (Jan. 30, 2002)
The State of the Faith-Based InitiativeOne year after Bush outlined his plan to let religious social-service groups compete for government funds, little has actually made it through Congress. (Jan. 30, 2002)
Where Does the Faith-Based Initiative Stand?Observers look to Bush support, discussion, and the hiring exemption as keys to Charitable Choice legislation. (Sept. 7, 2001)
House Approves Charitable Choice BillHiring protections for religious organizations stays in the bill, but back-room negotiations may mean they won't stay. (July 27, 2001)
DiIulio Pitches Charitable Choice to Cautious NAE DelegatesMeanwhile, group suggests religious broadcasters reconsider severing ties. (March 21, 2001)
No More ExcusesBush's faith-based initiative should reinvigorate our mission of service. (March 15, 2001)
Charitable Choice Dance BeginsFaith-based organizations cautious but eager for government aid. (March 15, 2001)
Bush's Faith-Based PlansGeorge W. Bush, Texas governor and presidential candidate, has placed government cooperation with faith-based initiatives at the core of his campaign. (Oct. 25, 1999)
Have something to add about this? See something we missed? Share your feedback here.
Our digital archives are a work in progress. Let us know if corrections need to be made.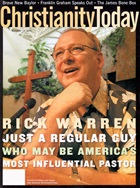 This article is from the November 18 2002 issue.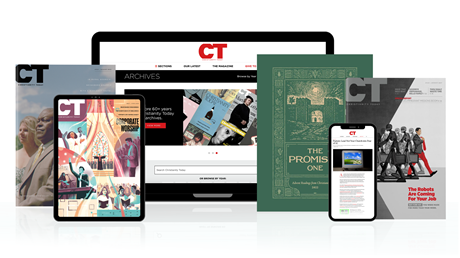 Subscribe to Christianity Today and get access to this article plus 65+ years of archives.
Home delivery of CT magazine
Complete access to articles on ChristianityToday.com
Over 120 years of magazine archives plus full access to all of CT's online archives
Subscribe Now
Faith-Based Fight: White House moves forward with or without Senate.
Faith-Based Fight: White House moves forward with ...