A new survey of nearly 400 heads of government-funded faith-based organizations should give legislative ammunition to the White House.
Conducted by the conservative Hudson Institute, an Indianapolis-based think tank, the research underscored the importance of freedom to hire. In the study, "Fruitful Collaborations," 39 percent of respondents said retaining that freedom was "very important." Another 28 percent said it was "somewhat important."
Amy L. Sherman, a senior Hudson Institute fellow, and John C. Green, director of the Bliss Institute at the University of Akron, conducted the research.
The main opposition to faith-based legislation, Sherman says, isn't whether religious charities are less effective than their secular counterparts. It's the view that government and faith groups can't work together in a fruitful way. "We think that's too pessimistic. Our findings were very encouraging," she said. For example, the study did not support "the idea that groups would lose their prophetic voice."
Indeed, 89 percent said such contracts did not hurt a group's religious character or threaten its ability to criticize the government. Eighty percent said they kept their government-funded activities separate from proselytism. Another 62 percent reported "very little intrusion" from government officials in their programs.
Leaders of faith-based organizations also reported being sensitive to those who eschew religion. Three-quarters said they "reassure clients that they will receive all services even if they don't participate in inherently religious activities or convert to the organization's religious faith." Seventy percent said that participating in religious activities is optional and voluntary. And two-thirds said they notified clients of their rights to choose an alternative provider.
On the other hand, the survey found that most religious charities were somewhat ignorant of government regulations. Only 46 percent of respondents knew whether their staff's salaries were paid with government money. Only 53 percent reported being familiar with the Charitable Choice guidelines. And 45 percent said they had some, considerable, or great difficulty in applying for government grants.
The Hudson Institute study surveyed faith-based organizations with government contracts under federal programs regulated by the 1996 Charitable Choice Act. Conducted this spring, it surveyed religious charities in 15 states, including California, Florida, Illinois, New York, and Texas.
Two-thirds of the 587 organizations surveyed responded. The largest group of contractors (42 percent) was evangelical.
Seventy-eight percent of those surveyed were nonprofits. More than half had annual budgets exceeding $500,000.
Sherman said the study should give the White House added confidence in pushing the faith-based bill. "The role of the bully pulpit," she said, "should not be underestimated."
Related Elsewhere
Also available on our site today:
Faith-Based Legislation StalledWhite House moves ahead on regulatory, funding fronts.
The "Fruitful Collaborations" study is available on the Hudson Institute website.
Information on the White House Office of Faith-Based and Community Initiatives and bill H.R. 7 is available online.
For more coverage of the faith-based initiative see Yahoo's full coverage on the Bush Administration.
Past Christianity Today articles on the faith-based initiative include:
'I Am a Realist'U.S. Rep. J.C. Watts Responds to Weblog. (Oct. 28, 2002)
Congress's Charitable Choice Expansion Is DeadSenate may not pass "faith-based" bill, but Watts says he won't oppose it. (Oct. 16, 2002)
Will the Faith-Based Initiative 'Explicitly Prohibit Hiring Discrimination'?Barney Frank says current bill will lead to discrimination and racism. (Sept. 26, 2002)
Faith-Based Initiative Is Republican Ploy, Says Washington PostBut are Democrats really interested in explaining White House plans to their constituents? (Sept. 17, 2002)
House's Faith-Based Initiatives Bill May Not Be Dead YetRep. J.C. Watts pushes for better faith-based initiative bill in Senate. (March 28, 2002)
Faith-Based Give-inCompromise bill for religious nonprofits gains grudging support. (March 14, 2002)
Shortchanging CharitiesAmericans will surrender their constitutional values if nobody acts to expand Charitable Choice. (March 7, 2002)
Court Strips Faith Works of State FundsWisconsin vows to appeal setback of Bush-supported initiative. (Feb. 20, 2002)
Bush Backs Senate Faith-Based Initiative BillAllowing folks who don't itemize deductions on their tax returns to deduct for charitable giving is apparently huge. (Feb. 2, 2002)
Implacable Foes Find (Some) Common Ground on Faith-Based InitiativesDiverse working group's recommendations represent the minimum, not the maximum, that is politically possible. (Jan. 30, 2002)
The State of the Faith-Based InitiativeOne year after Bush outlined his plan to let religious social-service groups compete for government funds, little has actually made it through Congress. (Jan. 30, 2002)
Article continues below
Where Does the Faith-Based Initiative Stand?Observers look to Bush support, discussion, and the hiring exemption as keys to Charitable Choice legislation. (Sept. 7, 2001)
House Approves Charitable Choice BillHiring protections for religious organizations stays in the bill, but back-room negotiations may mean they won't stay. (July 27, 2001)
DiIulio Pitches Charitable Choice to Cautious NAE DelegatesMeanwhile, group suggests religious broadcasters reconsider severing ties. (March 21, 2001)
No More ExcusesBush's faith-based initiative should reinvigorate our mission of service. (March 15, 2001)
Charitable Choice Dance BeginsFaith-based organizations cautious but eager for government aid. (March 15, 2001)
Bush's Faith-Based PlansGeorge W. Bush, Texas governor and presidential candidate, has placed government cooperation with faith-based initiatives at the core of his campaign. (Oct. 25, 1999)
Have something to add about this? See something we missed? Share your feedback here.
Our digital archives are a work in progress. Let us know if corrections need to be made.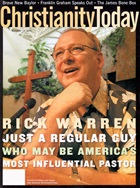 This article is from the November 18 2002 issue.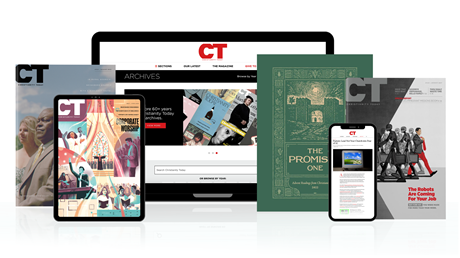 Subscribe to Christianity Today and get access to this article plus 65+ years of archives.
Home delivery of CT magazine
Complete access to articles on ChristianityToday.com
Over 120 years of magazine archives plus full access to all of CT's online archives
Subscribe Now
New Study Answers Many Criticisms of White House's Plans
New Study Answers Many Criticisms of White House's Plans