Israel says owner of James ossuary may not be owner after all
Tel Aviv newspaper Ha'aretz has finally revealed the owner of the James ossuary, the oldest extra-textual evidence of Jesus' existence. Oded Golan is a 51-year-old Tel Aviv engineer who apparently works for Lucent Technologies—or at least did in 1998 (after five gajillion rounds of layoffs, no one works for Lucent anymore).
But wait. He may not be the owner after all. Ha'aretz reports that mere hours before Biblical Archaeology Review held its press conference to announce the discovery of the bone box, the Tel Aviv police brought Golan in for questioning. "Investigators at the Antiquities Authority suspect that Golan illegally acquired this artifact, which actually belongs to the state," reports Ha'aretz's Sara Leibovich-Dar.
According to the Antiquities Law, any artifacts found in Israel after 1978 (when the law was created—and when Golan was only 16 years old) are state property. That's a problem, since Biblical Archaeology Review editor Hershel Shanks has been telling folks (including Christianity Today) that Golan "got it from an Arab antiquities dealer" about 15 years ago.
"I was confused," Shanks explains to the Toronto Globe and Mail, which runs the controversy on its front page today. When the author of the BAR article asked, "How long has it been here?" Golan answered, 15 or 16 years. But what he didn't say was that the ossuary had been in the apartment of his parents for at least 10 years before that.
The Antiquities Authority, however, told Ha'aretz that it received information that Golan bought the ossuary only a few months ago.
Simcha Jacobovici, who is making a film about the James ossuary, tells the Globe and Mail that the Antiquities Authority is "playing a cynical game. They make no real efforts to keep items from the antiquity market. They basically close their eyes and allow collectors to buy them. You can describe their position like this: 'If it's worthless, it's yours; if it's worth something, it's ours.'"
That sounds like what the Antiquities Authority told Reuters, which sums it up this way: "Under Israeli law, the Antiquities Authority, which authorized its export to Washington and then Toronto, has the right to examine it on its return in early February. If it has national significance, the government can claim it."
But the Canadian Press reports that the ossuary is unlikely to return to Israel—it's too risky to the box, let alone the ownership. "Once the pieces are slightly loose any vibration will cause further damage … it'll lose further integrity," says Francisco Alvarez, spokesman for the Royal Ontario Museum, where the ossuary will be displayed. (By the way, one letter to the Globe and Mail complains about the "taped cardboard box" used to ship the ossuary. "Guess someone didn't notice that laughable wineglass fragile sticker on the side," says John Peck. Another letter complains that "the fill material was too hard—i.e. harder than the stone—which is an absolute 'no-no.'")
Meanwhile, scholars and others are casting doubt on the ossuary itself. Among the critics is Uzi Dahari, deputy head of the Antiquities Authority. "Statistically the chances of it being Jesus's brother are low and we will never know the truth because the casket is from an unofficial dig and ended up in the open market," he told Reuters. "We don't even know if the cave in which it was found was in Jerusalem or far from Jerusalem. There are so many questions that will never have an answer so that no one will ever be able to say for sure that is the ossuary of the brother of Jesus."
"The bone-box is original; the first inscription, which is in Aramaic, 'Jacob son of Joseph,' is authentic. The second half of the inscription, 'brother of Jesus,' is a poorly executed fake and a later addition," writes Rochelle I. Altman in the online magazine Jewsweek (a more scholarly version of her analysis is available at the IOUDAIOS-L discussion list she coordinates).
Robert Eisenman, author of James the Brother of Jesus and a professor of Middle East religions and archeology at Cal State Long Beach, is upset with the Associated Press summary of his critical remarks of the James ossuary, but the Los Angeles Times gave him an op-ed to explain himself. "This box is just too pat, too perfect. In issues of antiquities verification, this is always a warning sign," he says.
Stephen Phann, president of the University of the Holy Land in Jerusalem, tells the news service, "This is up there at B-plus, or fairly certain."
More articles
Elections:
Life ethics:
Persecution and violence:
International politics:
Church life:
Related Elsewhere
Suggest links and stories by sending e-mail to weblog@christianitytoday.com
See our past Weblog updates:
November 4
November 1 | October 31 | 30 | 29 | 28
October 25 | 24 | 23 | 22 | 21
October 18 | 17 | 16 | 15 | 14
October 11 | 10 | 9 | 8 | 7
October 4 | 3 | 2 | 1 | September 30
September 27 | 26 | 25 | 24 | 23
September 19 | 18 | 17 | 16
Weblog
Launched in 1999, Christianity Today's Weblog was not just one of the first religion-oriented weblogs, but one of the first published by a media organization. (Hence its rather bland title.) Mostly compiled by then-online editor Ted Olsen, Weblog rounded up religion news and opinion pieces from publications around the world. As Christianity Today's website grew, it launched other blogs. Olsen took on management responsibilities, and the Weblog feature as such was mothballed. But CT's efforts to round up important news and opinion from around the web continues, especially on our Gleanings feature.
Ted Olsen is Christianity Today's executive editor. He wrote the magazine's Weblog—a collection of news and opinion articles from mainstream news sources around the world—from 1999 to 2006. In 2004, the magazine launched Weblog in Print, which looks for unexpected connections and trends in articles appearing in the mainstream press. The column was later renamed "Tidings" and ran until 2007.
Previous Weblog Columns: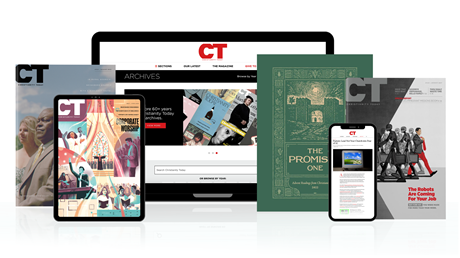 Annual & Monthly subscriptions available.
Print & Digital Issues of CT magazine
Complete access to every article on ChristianityToday.com
Unlimited access to 65+ years of CT's online archives
Member-only special issues
Subscribe
James Ossuary Owner Revealed, Under Fire from Israeli Government
James Ossuary Owner Revealed, Under Fire from Israeli Government