Falwell apologizes amid calls for his death
"I sincerely apologize that certain statements of mine made during an interview for CBS's 60 Minutes were hurtful to the feelings of many Muslims," pastor Jerry Falwell said as international media swarmed with reports of fallout from last week's remarks. "I intended no disrespect to any sincere, law-abiding Muslim," he said. "I have always shown respect for other religions, faiths and denominations. … Unfortunately, I answered one controversial and loaded question at the conclusion of an hour-long CBS interview which I should not have answered. That was a mistake and I apologize."
Muslim leaders accepted the apology. "It's good and fitting that he should apologize for remarks which hurt so many Muslims' feelings around the world," an unnamed Egyptian official told Reuters. "But people should really think before they speak, and make sure they really know about Islam before commenting on it."
Iranian foreign affairs ministry spokesman Hamid Reza Asefi also told the news service, "Because he said he did not want to deliberately offend Muslims and he apologized, that is a positive statement and we hope he won't repeat that mistake again. … At this time nobody should encourage hatred between different civilizations and different religious groups."
But this may not be the end of the story. Falwell was blamed for deadly riots between Muslims and Hindus in India over the weekend, and Iranian cleric Mohsen Mojtahed Shabestari, an envoy of Iran's supreme leader, said Falwell was "a mercenary and must be killed. … The death of that man is a religious duty, his case should not be tied to the Christian community." (According to AFP, he also issued death orders for Pat Robertson and Franklin Graham.)
We'll have more on Falwell's comments and the global reaction to them later this week.
Clergy can be barred from juries, say courts
Robert Cook, pastor of the Joy of Faith Christian Center in West Palm Beach, Florida, was excluded from a jury in a March 2001 battery case. He's black, and the Supreme Court has held that lawyers can't use race to pick juries. But while race is off-limits, religion apparently isn't. "We do know that pastors for the most part and ministers and rabbis have a tendency to be sympathetic," said Judge Howard C. Berman.
Other courts have agreed, The New York Times reported yesterday. The Ninth Circuit U.S. Court of Appeals held that "concern that ministers are uniquely forgiving" is legitimate, and the Fifth Circuit U.S. Court of Appeals similarly approved a minister's exclusion from a jury, saying, "perhaps she would have a higher threshold of reasonable doubt."
"That doesn't make any sense," Cook reponsds. "I'm harder than most … Look, a criminal is a criminal. I'm not overly hard or overly easy."
The Times quotes from some who say stereotyping ministers is legally problematic, and from others who say it's just a smokescreen to continue racial preferences. "There are plenty of ministers who have hearts of stone," said Nova Southeastern University law professor Bruce Rogow. "If you had a white, Christian, fundamentalist minister, I don't think he would have been excluded."
The New York Times doesn't mention that in many jurisdictions, clergy are among the only professionals who can claim a free pass from serving on juries.
More articles
Christian Coalition:
Christians rally for Israel in Washington | Christian Coalition rally expresses opposition to a fully independent Palestinian state and support for a greater Israel that includes the West Bank (UPI)


Christian conservatives strive for revival as political force | Since Bill Clinton left the scene, Christians have retreated from elective politics, no longer stirred to anger by a president they abhorred, and frustrated by their inability to enact laws barring abortion and permitting school prayer (

The Miami Herald

)


Group looks to reassert itself | Christian Coalition is using their annual meeting this weekend to raise their national profile (Associated Press)
Other stories of interest:
Shun idols, Christians told | Mukono Diocese Bishop Rt. Rev. Eria Paul Luzinda has said worshipping idols is the major cause of the increasing cases of child kidnap and human sacrifice in the district (

The Monitor

, Kampala, Uganda)
Related Elsewhere
Suggest links and stories by sending e-mail to weblog@christianitytoday.com
See our past Weblog updates:
October 11 | 10 | 9 | 8 | 7
October 4 | 3 | 2 | 1 | September 30
September 27 | 26 | 25 | 24 | 23
September 19 | 18 | 17 | 16
September 13 | 12 | 11 | 10 | 9
September 6 | 5 | 4 | 3
August 30 | 29 | 28 | 27 | 26
August 23 | 22 | 21 | 20 | 19
August 16 | 15 | 14 | 13 | 12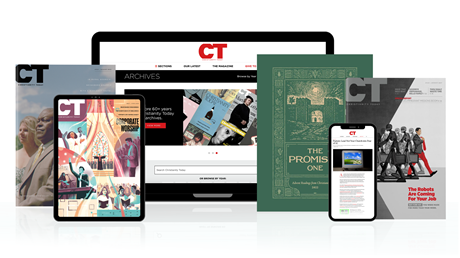 Subscribe to Christianity Today and get access to this article plus 65+ years of archives.
Home delivery of CT magazine
Complete access to articles on ChristianityToday.com
Over 120 years of magazine archives plus full access to all of CT's online archives
Subscribe Now
Falwell Apologizes For Calling Muhammad a Terrorist
Falwell Apologizes For Calling Muhammad a Terrorist