61-year-old trucker finds sniper suspects.
Several news articles and commentaries have focused on the religion of one of the two suspects arrested in the East Coast sniper killings, but some have focused on that of the man who found John Allen Muhammad.
On October 17, dozens of truck drivers from around the country gathered at a rural Kentucky truck stop. There, they prayed that the sniper would be caught. What they didn't know was that one of them would do it.
Ron Lantz, a 61-year-old trucker from Ludlow, Ky., heard the radio description of the car that police were looking last Wednesday and recognized the vehicle when stopping for the night. He called 911.
"I'm no hero. I just want people to think what I did is what I should have done," said Lantz, the men's ministry director at the Central Church of the Nazarene in Fort Wright, Ky. "It could have been any one of us."
Lantz has said he will give any reward money to the families of victims.
"Religion becomes a rationalization for killing."
Meanwhile, more details of Muhammad's life have given additional insight into his religious history and the part it may have played in the sniper shootings. The Boston Globe reports, "The piecemeal approach [he] took to religion suggests that his fractured personality, more than his spiritual beliefs, led to the terrifying violence that killed at least 10 people."
On Saturday, Nation of Islam leader Louis Farrakhan held a press conference in which he acknowledged that Muhammad, formerly John Allen Williams, was a member of the Nation of Islam. However, he did not provide security at the Million Man March as previously reported by the media. Muhammad reportedly joined the Nation of Islam in 1997 but lost contact with the group in 1999.
Some neighbors of Muhammad have said he recently had begun attending a non-Nation of Islam mosque. Members there, however, say he did not attend. The New York Times reports that he also had contact with Christianity when staying at a shelter that required attendance at services.
"John would sit there and listen with respect," a manager of the Lighthouse Mission told the Times. "We have had Muslims in here who didn't want to have Christianity forced down their throat and would complain. But John never did."
The sniper's letters to police reportedly used the phrases "I am God" and ''Word is bond,'' which has led some to suspect that Muhammad may have been involved with a Nation of Islam splinter group called Nations of the Gods and Earths. The group apparently uses "Word is bond" as a slogan. Nations of the Gods and Earths, which claims the black man is God, says he was not a member.
Some say "Word is bond" may have nothing to do with religious beliefs at all because it is also a phrase used in hip-hop. Psychiatry experts say the killer's use of "I am God" may be more telling in the case.
"This is a fairly well-known phenomenon in clinical psychiatry," Dr. Jerrold M. Post, a professor of psychiatry at George Washington University in Washington, told The New York Times. "It is a way of compensating for feelings of insignificance and worthlessness."
A professor of clinical psychiatry at the University of California at San Diego said that "a mask of religion is often used by psychopathic individuals to justify the taking of a life; religion becomes a rationalization for killing."
In The Boston Globe article on Muhammad's faith, sources say that religion is only a story in the sniper case because of his Islamic ties. ''Timothy McVeigh was a Christian, but it was never mentioned when he was arrested," Raqib Muied, founder of the Nation of Islam's Seattle mosque, told The Boston Globe. "I think people just want to make some connection between this violent act and terrorism and Muslims.''
Watts to Weblog: I didn't "cave" when I supported the Senate's faith-based initiative bill
As we note in our "What is Weblog" item every day, Weblog is a compilation of articles and therefore doesn't involve any original reporting. So our October 16 item, "Congress's Charitable Choice Expansion Is Dead," was based on reports from The Washington Times and Associated Press that U.S. Rep. J.C. Watts (R-Okla.) had backed the Senate's CARE Act and was no longer pushing to work out the differences between it and the House's faith-based initiatives bill in conference committee. Watts has responded to Weblog, and takes particular issue with Weblog's original title, which said he "caved." (Weblog changed the title before Watts's objection because we felt that the current title, "Congress's Charitable Choice Expansion Is Dead," was more provocative.)
Related Elsewhere
Suggest links and stories by sending e-mail to weblog@christianitytoday.com
See our past Weblog updates:
October 25 | 24 | 23 | 22 | 21
October 18 | 17 | 16 | 15 | 14
October 11 | 10 | 9 | 8 | 7
October 4 | 3 | 2 | 1 | September 30
September 27 | 26 | 25 | 24 | 23
September 19 | 18 | 17 | 16
September 13 | 12 | 11 | 10 | 9
September 6 | 5 | 4 | 3
August 30 | 29 | 28 | 27 | 26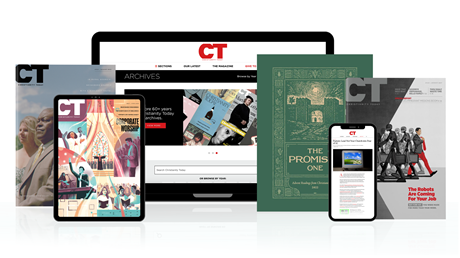 Annual & Monthly subscriptions available.
Print & Digital Issues of CT magazine
Complete access to every article on ChristianityToday.com
Unlimited access to 65+ years of CT's online archives
Member-only special issues
Subscribe
The Praying Trucker Who Stopped the Snipers
The Praying Trucker Who Stopped the Snipers