Christian stations move in on weak radio signals
A front page article in Sunday's New York Times depicts a battlefield in noncommercial radio. The major belligerents are National Public Radio (NPR) and Don Wildmon's American Family Radio (AFR).
"The noncommercial band is getting very, very crowded, and there just is not a lot of room for new stations in desirable areas," a Nashville-based radio consultant told the Times. "The competition is fierce, and the Rev. Wildmon is especially hard-nosed. His people are very good at what they do."
The audience for noncommercial radio stations (especially for Christian networks) is rapidly increasing. This growth has made available frequencies a competitive field. In the first two quarters of 2002, The New York Times reports, there were only 14 noncommercial stations sold. Christian companies bought all but two.
Federal law allows for licensed full-power stations to take over weaker FM frequencies. Those who are usually kicked off the air are small-budget operations that use translators to relay the signal from faraway stations. The Times calls it "the equivalent of the varsity team kicking the freshmen out of the gym."
In Lake Charles, Louisiana, American Family Radio replaced two NPR stations on the radio dial last year. "Religious broadcasters have done this to public radio stations in Oregon and Indiana, too," writer Blaine Harden says, "and many large-market public radio stations, like WBEZ in Chicago, complain that new noncommercial stations, most of them religious, are stepping on the signal at the edge of their transmission areas."
American Family Radio owns 194 stations and 18 affiliates. It has pending FCC applications for more licenses numbering in the hundreds. The process of setting up a full-powered station in a market and obtaining the license is lengthy. So much so, the Times reports, that NPR stations in Lake Charles could have applied for their own license to build full-power stations and likely defeated AFR's bid. But they did not.
NPR admits that it was caught off-guard in the battle for frequencies. Said Dana Davis Rehm, vice president for member and program services at NPR in Washington: "[Christian broadcasters] have employed a long-term strategy, where we have failed to do that."
Senate struggle over judge nominees continues
After the Senate Judiciary Committee two weeks ago rejected President Bush's choice for the federal appeals court in New Orleans, Democrats are now taking aim at a court nominee who a liberal constitutional scholar calls "America's preeminent scholar of religious liberty."
Wednesday's hearing over University of Utah law professor Michael W. McConnell is the latest round in a Senate tug-of-war over federal court appointees. Bush nominated McConnell to the 10th Circuit Court of Appeals in Denver in May 2001.
"We're opposing him because his extensive writings show a hostility to firmly established constitutional rights, such as the right to choose," the president of the Alliance for Justice told the Los Angeles Times. The president of People for the American Way says in the article that McConnell "may be the most dangerous Bush administration judicial nominee yet to come before the Judiciary Committee."
McConnell's work in gaining equal treatment for religion has been well documented. Christianity Today in 2001 noted that "McConnell has argued and won some critical cases that have repositioned the burden in the church-state dynamic."
Liberal advocacy groups also targeted the nominee to the New Orleans post, Priscilla Owen, who they claim is a prolife advocate who makes law instead of interpreting it.
The difference in this nomination hearing and those of Owens or Charles Pickering, who was rejected in March, is the degree of support behind McConnell from both liberals and conservatives.
Hundreds of U.S. law professors have signed a letter to the Judiciary Committee to declare their support. As the letter says, many of the signatories are "Democrats who did not vote for the President who nominated Professor McConnell." The letter continues:
Some of us have disagreed with McConnell on constitutional issues and undoubtedly will disagree with him again. All of us, however, hope that the Senate will confirm Professor McConnell without greater delay than is necessary to fulfill its important Constitutional responsibilities. In our view, Michael McConnell is a nominee of exceptional merit whose confirmation warrants bipartisan support.
Related Elsewhere
See our past Weblog updates:
September 13 | 12 | 11 | 10 | 9
September 6 | 5 | 4 | 3
August 30 | 29 | 28 | 27 | 26
August 23 | 22 | 21 | 20 | 19
August 16 | 15 | 14 | 13 | 12
August 9 | 8 | 7 | 6 | 5
August 2 | 1 | July 31 | 30 | 29
July 26 | 25 | 24 | 23 | 22
July 19 | 18 | 17 | 16 | 15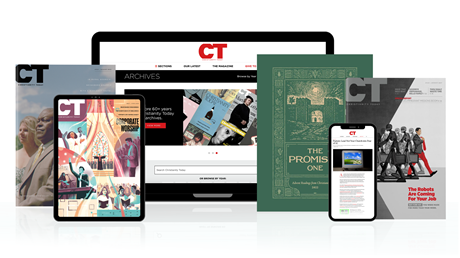 Annual & Monthly subscriptions available.
Print & Digital Issues of CT magazine
Complete access to every article on ChristianityToday.com
Unlimited access to 65+ years of CT's online archives
Member-only special issues
Subscribe
What's the Frequency, Don Wildmon?
What's the Frequency, Don Wildmon?