Ireland pulls plug on some "Power to Change" evangelism
Campus Crusade's multimedia "Power to Change" campaigns have run throughout Canada since 1998, and have recently branched overseas. In the last two years, for example, Jerusalem and Bolivia were focuses. This year Campus Crusade has targeted Ireland, and it has been quite a feat. Organizers are targeting both Northern Ireland and the Republic of Ireland (the websites are the same, but given different addresses for political reasons), and the program is backed by both Roman Catholic and Protestant churches.
It's basically an ad campaign. Local celebrities (golfer Bernhard Langer, singer Maire Brennan, etc.) pitch Jesus through ads at movie theaters, billboards, public transportation ads, and—perhaps most crucially—television.
And that's where the trouble comes in. A Republic of Ireland law passed last year bans the national broadcaster RTE from airing any religious promotion (though promoting "spirituality" is okay). The station originally said it would accept the ads, but rejected them based on final scripts because they included the words "Jesus Christ" and "God."
The campaign organizers yesterday lost their appeal for a High Court injunction ordering RTE to air the commercials.
Still, the commercials will air on UTV, Sky Television, and Channel 4—and now that the organizers don't have to worry about violating RTE guidelines, they've made them more explicitly evangelistic.
A similar ban happened last year in Germany with the Arthur S. DeMoss Foundation's Power for Living evangelistic campaign.
California approves embryonic stem-cell research
The good news first: California Gov. Gray Davis banned reproductive human cloning yesterday (which is more than the U.S. Senate has done). Now the bad news: he also approved embryonic stem-cell research.
"We are going to be the only state in the nation to say it is appropriate for the state to embark on stem-cell research and not limit it to adult stem cells," said state Senator Deborah Ortiz. To her, that's a good thing—she sponsored the bill.
Of course, this being California, the main spokespeople at the signing were Hollywood celebrities: quadriplegic Christopher Reeve and Jerry Zucker (whose daughter has diabetes).
The White House's first reaction was somewhat supportive: "The president has always said states have authority within their states," Bush spokesman Ari Fleisher said. Later, says the Associated Press, he committed a bit more: "The president thinks that all policies—state or federal—need to promote a culture that respects life and, in that, he does differ from what California and the governor there have done."
Family Research Council President Ken Connor sees it as just a financial ploy: "Doubtless some politicians are salivating over the economic windfall this decision could bring to the state—at the expense of innocent human life," he says on the organization's website. "Scientists speculate the law will attract big research money to California." The Washington Times rounds up other responses.
In other prolife news …
The Department of Justice yesterday asked the 9th U.S. Circuit Court of Appeals to strike down Oregon's physician-assisted suicide law. "The attorney general has permissibly concluded that suicide is not a legitimate medical purpose," the department said in papers it filed.
Kevin Neely, spokesman for Oregon's attorney general, replies, "The federal government doesn't have authority to say what is a legitimate medical purpose."
More articles on life ethics:
Related Elsewhere
Suggest links and stories by sending mail to weblog@christianitytoday.com
See our past Weblog updates:
September 23
September 19 | 18 | 17 | 16
September 13 | 12 | 11 | 10 | 9
September 6 | 5 | 4 | 3
August 30 | 29 | 28 | 27 | 26
August 23 | 22 | 21 | 20 | 19
August 16 | 15 | 14 | 13 | 12
August 9 | 8 | 7 | 6 | 5
August 2 | 1 | July 31 | 30 | 29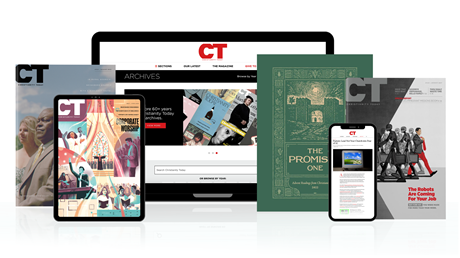 Annual & Monthly subscriptions available.
Print & Digital Issues of CT magazine
Complete access to every article on ChristianityToday.com
Unlimited access to 65+ years of CT's online archives
Member-only special issues
Subscribe
Irish TV Refuses Campus Crusade Campaign
Irish TV Refuses Campus Crusade Campaign