Lewis looks thoughtfully out of the window of his big sitting room in Magdalen College on to the deer park it overlooks. It's the spring of 1936. … On his right hand is the reassuring sight of his favorite path—Addison's Walk—where, five years before, Tolkien, Hugo Dyson, and he had had that momentous nighttime conversation that led to his conversion.
He turns to address his friend, who is perched on a threadbare armchair, the room's handsome white-paneled walls behind him. Tolkien reaches for an enamel beer jug on the table and refills his tankard.
"You know, Tollers, there's far too little of what we enjoy in stories. You liked Williams's The Place of the Lion just as much as I did. Really it struck me how rare such books are."
Tolkien exclaims through dispersing wisps of smoke, "Not enough echoes of the horns of Elfland."
He sucks on his pipe to encourage its dying embers. "Some of the Scientifiction [science fiction] around evokes wonder—sometimes offers fleeting glimpses of genuine other worlds. There is some deplorable stuff, too, but that's true of all the genres. Space and time stories can provide Recovery and Escape." He says the last two nouns with sudden loudness, perhaps to emphasize that they should have capitals. "I hope to lecture soon on this as a quality of Fairy Story. I relish stories that survey the depths of space and time."
"To be sure, to be sure," agrees Lewis, drawing attention to the slight Ulster in his vowels. He is unusually quiet this morning. "Take H. G. Wells. Even Wellsian stories can touch on the real other world of the Spirit. His early ones I care for—it's a pity he sold his birthright for a pot of message. These kinds of stories that create regions of the spirit—they actually add to life, don't they? They're like some dreams that only come from time to time—they give us sensations we've never had before. You could say they enlarge our very idea of what's possible in human experience."
"Your Pilgrim's Regress had something of what we like—romance. It's a pity it didn't do well with the public," Tolkien puts in. "Was a bit obscure in places. It can be a deuce of a labor to get it right."
"You know, Tollers," Lewis says decisively, pipe in hand. "I'm afraid we'll have to write them ourselves. We need stories like your Hobbit book, but on the more heroic scale of your older tales of Gondolin and Goblin wars. One of us should write a tale of time travel and the other should do space travel."
Tolkien reminds his friend of a rather similar challenge well over a century ago—Lord Byron, at Lake Geneva in 1816, had challenged Percy Shelley and Mary Shelley to write a ghost story … and Mary, a mere girl at the time, went on to write Frankenstein. They needed, Tolkien continues, his eyes brightening, stories today that expose modern magic—the tyranny of the machine.
"Let's toss for it, Tollers. Heads, you write about time travel; tails, you try space travel. I'll do the other." Tolkien nods his agreement, grinning.
Lewis fishes in the pocket of his crumpled and baggy flannels and a coin spins in the air.
"Heads it is."
Excerpted from the forthcoming literary biography Tolkien and C.S. Lewis: The Gift of Friendship by Colin Duriez. Used by permission of HiddenSpring, an imprint of Paulist Press, copyright © 2003.
Also appearing on our site today:
Christian History Corner: J. R. R. Tolkien and C. S. Lewis, A Legendary Friendship | A new book reveals how these two famous friends conspired to bring myth and legend—and Truth—to modern readers.
The current issue of Christian History is devoted to J.R.R. Tolkien, The Man Behind the Myth. Among the articles is Colin Duriez's "Tollers & Jack."
Our sister publication Books & Culture debated in its January/February 2002 issue if Tolkien should be acknowledged as the foremost author of the twentieth century.
Christianity Today presented last year a three-part online conversation between two authors whose books discuss the faith of J.R.R. Tolkien and the religious values underpinning The Lord of the Rings. The installments included:
Why The Lord of the Rings Is Dangerous | The authors of Tolkien's Ordinary Virtues and J. R. R. Tolkien's Sanctifying Myth talk about the Christian life in Faerie. (December 18, 2002)
Does The Lord of the Rings Teach Salvation By Works? | The authors of Tolkien's Ordinary Virtues and J. R. R. Tolkien's Sanctifying Myth talk about whether Tolkien was too ignorant of evil and other subjects. (December 19, 2002)
Hobbits Aren't Fence-Sitters | The authors of Tolkien's Ordinary Virtues and J. R. R. Tolkien's Sanctifying Myth discuss why Tolkien hated modernity and thinking about evil—and whether he was right to do so. (December 20, 2002)
Previous articles about J.R.R. Tolkien by Christianity Today include:
Christian History Corner: Saint J. R. R. the Evangelist | Tolkien wanted his Lord of the Rings to echo the "Lord of Lords"—but do we have ears to hear? (March 4, 2003)
Article continues below
Christian History Corner: 9/11, History, and the True Story | Wartime authors J.R.R. Tolkien and C.S. Lewis help put 9/11 in perspective (Sept. 13, 2002)
Christian History Corner: Intro to the Inklings | C.S. Lewis's intellect was stimulated at one of the most fascinating extracurricular clubs ever (May 18, 2001)
Earlier articles on the Lord of the Rings movies include:
Film Forum: A Season of Saviors | Christian media reviewers take on The Lord of the Rings: The Two Towers. (Dec. 19, 2002)
Soul Wars, Episode Two | The second Lord of the Rings film raises the spiritual stakes (Dec. 18, 2002)
Books & Culture Corner: Saint Frodo and the Potter Demon | The Lord of the Rings and Harry Potter series spring from the same source (Feb. 18, 2002)
Film Forum: The Fellowship of the Raves | Critics grope for superlatives for The Fellowship of the Ring. (Dec. 21, 2001)
Film Forum: Gandalf and the Gamblers | As everyone talks about The Lord of the Rings: The Fellowship of the Ring, critics also get around to reviewing Ocean's Eleven, In the Bedroom, and The Business of Strangers. (Dec. 13, 2001)
Film Forum: First Looks at a Feature Fantasy | Early reviews for Fellowship of the Ring are in. (Dec. 6, 2001)
Lord of the Megaplex | The onscreen Fellowship of the Ring launches a new wave of Tolkienmania (Nov. 11, 2001)
Previous Christianity Today articles on C.S. Lewis include:
Why There Are Seven Chronicles of Narnia | A British scholar discovers the hidden design of C.S. Lewis' perennially popular series. (April 25, 2003)
The Dour Analyst and the Joyous Christian | In the realm of mental balance and personal peace, Sigmund Freud had nothing on C.S. Lewis. (April 19, 2002)
Two Cultural Giants | Both Sigmund Freud and C.S. Lewis were emotionally wounded as boys and struggled with depression as men. But a worldview can make a tremendous difference. An interview with Armand Nicholi Jr. (April 19, 2002)
Wisdom in a Time of War | What Oswald Chambers and C.S. Lewis teach us about living through the long battle with terrorism. (Jan. 4, 2002)
Forget 'Normal' | C.S. Lewis's warning against panic during World War II resonates in our new crisis. (Oct. 19, 2001)
Aslan Is Still on the Move | There's too little evidence to prove that anyone is 'de-Christianizing' C.S. Lewis. (July 31, 2001)
Mere Marketing? | Publisher, estate under fire for handling of C.S. Lewis's identity. (July 31, 2001)
The War for Narnia Continues | Charles Colson, Andrew Greeley, Frederica Mathewes-Green, and Lauren Winner join the battle—and Doug Gresham comes out to reply. (June 20, 2001)
Article continues below
Narnia Will Return In New Books | As all of the Inklings' publishers await record interest, HarperCollins seeks to "fill in the gaps" beyond the wardrobe. (May 15, 2001)
Myth Matters | C. S. Lewis bequeathed us a method and a language for sharing the gospel with the modern and postmodern world. (April 17, 2001)
Walking Where Lewis Walked | My reluctant entry into the world of pilgrimage. (Feb. 7, 2000)
Still Surprised by Lewis | Why this nonevangelical Oxford don has become our patron saint" (Sept. 7, 1998)
Jack Is Back | The search for the historical Lewis (Feb. 3, 1997)
C.S. Lewis on Christmas | Lewis summed up Christmas in one sentence: 'The Son of God became a man to enable men to become the sons of God.' (Dec. 16, 1983)
Books and Culture analyzed C. S. Lewis among the postmodernists. Christian History profiled Lewis for its issue on "The 10 Most Influential Christians of the Twentieth Century."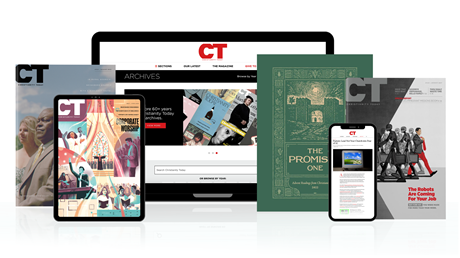 Subscribe to Christianity Today and get access to this article plus 65+ years of archives.
Home delivery of CT magazine
Complete access to articles on ChristianityToday.com
Over 120 years of magazine archives plus full access to all of CT's online archives
Subscribe Now
"Space, Time, and the 'New Hobbit'"
"Space, Time, and the 'New Hobbit'"