On the night before an open hearing about his election as the ninth Bishop of New Hampshire, the Rev. Canon Gene Robinson took his case directly to deputies of the Episcopal Church's General Convention.
"A Conversation With Gene Robinson," which competed with a Convention-sponsored event on global reconciliation, attracted fewer than 100 people to the Episcopal Church of Gethsemane.
Robinson was relaxed, talkative, and energetic. A public radio reporter had set up her recording gear near Gethsemane's pulpit, but Robinson was adamant about not taking the pulpit. "I don't want to be that far away from these people," he said, so the reporter moved to a nearby pew and Robinson stayed near her as he paced the aisle and answered questions for nearly two hours.
Robinson asked reporters to leave all questions to deputies, but he encouraged deputies to ask whatever tough questions they might have.
"Believe me, I have heard things you wouldn't dare say," he said. "Have at me."
Participants in the conversation mostly pitched him softballs, but his answers engaged many of the objections being expressed by conservative Episcopalians.
Robinson expressed frustration that some media accounts have said he left his wife, Isabella "Boo" McDaniel, for his male lover.
"Over a period of years, my wife and I came to believe that I needed to claim who I was as a gay man," Robinson said. "I didn't meet Mark [Andrew] until two months after my ex-wife remarried."
One of Robinson's two daughters attended the evening, and she distributed a statement from her mother in support of Robinson.
"It is my most sincere hope that my former husband, Gene Robinson, receives the Consent of the people of this General Convention," McDaniel wrote. "He is strong and smart. He firmly believes in God and the importance of organized religion for today's people.
"Gene Robinson is a good man, a good priest, a good husband and partner, and a good father. I am proud to have been married to him," McDaniel added. "I am proud to have him as the father of my daughters. I am proud to be associated with him. Mostly, I will be proud to have him be the Bishop here in New Hampshire and in the Episcopal Church."
Robinson addressed a wide range of questions, repeating his contention that if any Anglicans break ties with the Episcopal Church, they're not being driven away. "If they leave it's because they choose to leave and not because I made them. I'm carrying a lot on my shoulders right now, but one thing I'm not willing to carry is the future of the entire Anglican Communion," he said, which prompted the one ovation he received before the end of the evening.
Robinson said he has sought out individual Episcopalians in New Hampshire who are troubled by the prospect of his becoming bishop, and has sometimes talked with them over coffee and desert. "I think we've got to do that on the international level," he said. If people break from the Episcopal Church, "Any time they want to come back, we will be like the father of the Prodigal Son and will welcome them with open arms."
Asked about reparative therapy, in which people seek to change from homosexual to heterosexual patterns of sexual fulfillment, Robinson said, "I think that anyone who chooses to move in a particular direction around their own sexuality should be allowed to do that."
Robinson had told his ex-wife before they married that his relationships had been with men, and he tried to live as a heterosexual (including becoming a parent to his two daughters).
Today, however, he believes that different sexual orientations are "part of the magnificence of God's creation."
Seeking God's guidance
Robinson described the day of his election as charged with the pent-up energy of a 16-month search process. After deputies cast their first ballot, "It was quiet, people were on their knees praying," he said. "And the Spirit—I think most people there agree on this—was so present that you could feel the hairs on your neck standing up."
Although Robinson has said since his election that he has no intention of withdrawing as the next bishop of New Hampshire, on Thursday night he said he has asked God for guidance on that issue.
"I pray as hard as I can," he said. "I work very hard with my spiritual director to make sure the voice I hear in my head is God's voice and not my own magnificent imitation of God's voice. And I put one foot in front of the other."
If General Convention does not confirm his election, "I can tell you I'll be talking a lot to God and to the Diocese of New Hampshire," he said. "This issue isn't going to go away. I'm not going to go away."
Robinson believes that the presence of any openly homosexual bishop would enhance the House of Bishops. "No one bishop can represent the full unity of the church," he said. "The corporate symbol of the episcopate becomes a fuller symbol when someone gay or lesbian is in those ranks."
Asked if there would be less discord if he had been elected earlier in the year—when regional standing committees and bishops would have decided on his confirmation individually rather than collectively—Robinson showed no regrets.
"We'd still be having a hullabaloo, but it would be taking place in a different setting"—and behind closed doors. "I'm not sure we aren't better for having it take place in the open."
"I'm thankful that I get the opportunity to be a face to people. The other process would have been all on paper," he said. "It's about an issue, but it's also about a person, and I'm that person."
Robinson spoke proudly about working with young people through all of his career as an Episcopal priest, and as a cofounder of Concord Outright, which works to "create safe, positive, and affirming environments for young gay, lesbian, bisexual, trans, and questioning people ages 22 and under."
"More than anybody else, young people will not up with B.S. for long," Robinson said. "Maybe it was learning that from them that helped me to come out."
Douglas LeBlanc is an Associate Editor of Christianity Today.
Related Elsewhere
Other LeBlanc dispatches appearing on our site today include:
What in the World Is God Doing? | For Episcopalians, the night may be darkest before the dawn.
Deputies Slice into the Gordian Knot | The Episcopal Church's House of Deputies approve Gene Robinson as New Hampshire Bishop. The House of Bishops will vote today.
Praise the Lord and Pass the Condoms | Southern Hemisphere primates warned that approving Gene Robinson would place the church outside most of the world's 72 million Anglicans. "You'll get over it," responded about 60 percent of the House of Deputies.
See LeBlanc's earlier dispatches from the General Convention:
Gene and Me | My history with the openly gay man elected bishop of Rochester
Integrity Doles Out God's Not-So Inclusive Love | The Integrity Eucharist has become a triennial sort of mass pity party.
Gay Rites Would Not Bless Ecumenism | Could also impair Anglican work overseas.
More coverage of the General Convention is available from the ECUSA website, which has streaming video. Conservative and orthodox perspectives are available from Classical Anglican Net News, the American Anglican Council's A Place to Stand, and David Virtue's Virtuosity.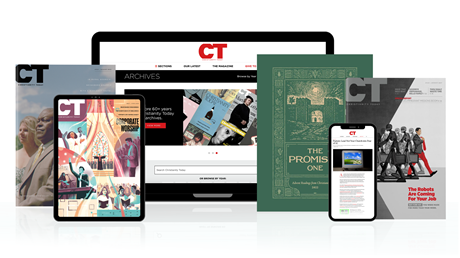 Annual & Monthly subscriptions available.
Print & Digital Issues of CT magazine
Complete access to every article on ChristianityToday.com
Unlimited access to 65+ years of CT's online archives
Member-only special issues
Subscribe
Dispatch: Gene Robinson Takes Questions in a Church called Gethsemane
Dispatch: Gene Robinson Takes Questions in a ...