Watching a media feeding frenzy is a disturbing thing, even to some of us self-described ink-stained wretches. In his film The Right Stuff, director Philip Kaufman makes snapping camera shutters sound like so many locusts, and shows reporters repeatedly invading the privacy of the first astronauts' families.
On Monday afternoon, the same sort of suffocating media attention surrounded the Rev. Michael Hopkins of Integrity (the Episcopal Church's gay caucus), then Jim Solheim of Episcopal News Service. Even as Solheim tried to walk away from an impromptu news conference, cameras and boom mikes moved with him like an electronic retinue.
That sort of media attention doesn't affect the Episcopal Church very often. Bishop Walter Righter went through it when the Court for the Trial of a Bishop held two pretrial hearings and then exonerated him in his ordaining an openly gay man as a deacon. Bishop John Shelby Spong attracted it a few times during his career, when he was well ahead on the wave of sexual liberationism that the House of Deputies surfed on Sunday afternoon.
Now Gene Robinson is going through the glare of celebrity, and until Monday the ride mostly went well for him. The House of Deputies confirmed his election by a more than comfortable margin, and it appeared he would win a confirming vote in the House of Bishops.
"My guess is that in the next few days you all are going to be so bored with me," Robinson said Sunday night, as he described returning to his ministry as New Hampshire Bishop Douglas Theuner's chief administrator. Already those words seem like echoes from an almost tranquil time that we cannot recover.
Even as conservatives grieved at the decision of the House of Deputies, few of us would have wished that Robinson's confirmation be derailed by accusations of scandal.
Robinson now faces one of the worst types of public scrutiny anyone can endure: being accused of sexual harassment. The accusation comes, ironically, from a man who identifies himself as supporting the Episcopal Church's movement toward blessing same-sex couples.
In an e-mail message he sent to at least one member of the House of Bishops, Robinson's accuser writes: "PLEASE DO allow the development of some sort of blessing of committed same-sex relationships. That symbolism is important and overdue. However, PLEASE DO NOT consent to the consecration of Gene Robinson as a bishop."
Robinson's accuser identifies himself as David Lewis of Manchester, Vermont, and his message lists a return e-mail address and phone number. No reporter has yet obtained an interview with Lewis, but Solheim said Monday that at least one bishop has communicated with him.
In his e-mail message, copies of which circulated freely in the Convention newsroom on Monday afternoon, Lewis claims that Robinson "put his hands on me inappropriately every time I engaged him in conversation."
More ironically, the process that Robinson now must endure assumes credibility of any accusation of sexual impropriety. "Failure to uphold the Bible and Christian tradition has led inexorably to our current predicament," the Rev. Whis Hays argued in his essay "Arresting the New Sexual McCarthyism" (United Voice, published by Episcopalians United, May 1995). "Most new regulations do absolutely nothing to correct this. Instead, we are substituting codes of professional ethics (driven by case law) for the older consensus about moral right and wrong based on divine revelation."
Certain modernist assumptions about sexual misconduct have left us with the process now beginning during this General Convention. Conservatives did not press for or create these canons, and so far there is no credible evidence that they prompted this accusation of misconduct.
Indeed, most conservatives wish this debate had been settled strictly in terms of disciplined, historically informed theology and ecclesiology. Now that an already painful debate has just turned more terribly painful for us all, we'll have to trust the bishops who must discharge this canonical process. And we'll have to pray that God's holy and miraculous power will lead us through this increasingly dark tunnel.
Douglas LeBlanc is an associate editor of Christianity Today.
Related Elsewhere
See LeBlanc's earlier dispatches from the General Convention:
Deputies Slice into the Gordian Knot | The Episcopal Church's House of Deputies approves Gene Robinson as New Hampshire Bishop. The House of Bishops will vote today. (August 4, 2003)
Praise the Lord and Pass the Condoms | Southern Hemisphere primates warned that approving Gene Robinson would place the church outside most of the world's 72 million Anglicans. "You'll get over it," responded about 60 percent of the House of Deputies. (August 4, 2003)
Gene Robinson Takes Questions in a Church called Gethsemane | Speaks on reparative therapy, potential schism, and whether he really "/left" his wife for his male lover. (August 4, 2003)
What in the World Is God Doing? | For Episcopalians, the night may be darkest before the dawn. (August 4, 2003)
Article continues below
Integrity Doles Out God's Not-So Inclusive Love | The Integrity Eucharist has become a triennial sort of mass pity party. (August 1, 2003)
Gay Rites Would Not Bless Ecumenism | Could also impair Anglican work overseas. (August 1, 2003)
Gene and Me | My history with the openly gay man elected bishop of Rochester. (July 31, 2003)
More coverage of the General Convention is available from the ECUSA website, which has streaming video. Conservative and orthodox perspectives are available from Classical Anglican Net News, the American Anglican Council's A Place to Stand, and David Virtue's Virtuosity.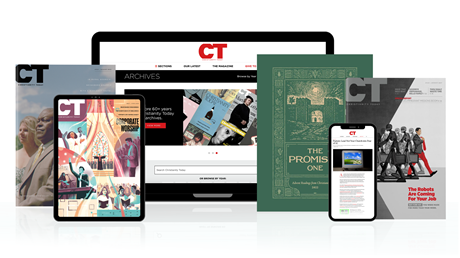 Annual & Monthly subscriptions available.
Print & Digital Issues of CT magazine
Complete access to every article on ChristianityToday.com
Unlimited access to 65+ years of CT's online archives
Member-only special issues
Subscribe
Dispatch: The Bitter Harvest of Sexual Ideology
Dispatch: The Bitter Harvest of Sexual Ideology