Briefs
RU-486 kills again
• A seventh woman has died from complications related to the abortion pill RU-486. Holly Patterson, 18, of Livermore, California, died on September 17 after a local Planned Parenthood clinic gave her the abortifacient one week earlier. Patterson went into septic shock after fragments of her unborn child were left in her uterus. Prolifers were outraged. The Christian Medical Association, Concerned Women for America, and other groups petitioned the Food and Drug Administration in August 2002 to recall the drug over concerns about the drug's safety and what they call a politically tainted approval process. The FDA has yet to act on the petition. "The RU-486 drug regimen's unconscionable laxity has put American women and teenagers at dire risk," said Gene Rudd, associate executive director of the CMA. In November, U.S. Rep. Mike Pence, R-Indiana, called on the FDA to suspend its approval of the "abortion pill."
Baylor update
• In September, Baylor University President Robert Sloan survived calls for his resignation by the Faculty Senate and several members of the Board of Regents. Sloan's Baylor 2012 plan calls for the Waco, Texas-based institution to become a major Christian research university. The board voted 31-4 on September 12 to reaffirm Sloan's leadership.
Later that month, 29 descendants of Baylor trustee J.M. Dawson (who advocated teaching evolution) sent Sloan an open letter calling for the removal of Francis Beckwith, who heads the J. M. Dawson Institute of Church-State Studies. The signatories say Beckwith is unqualified to hold the post because he believes Intelligent Design theory—an alternative to evolution—can also be taught in public schools.
Members of the Dawson family, who have no official relationship with the Dawson Institute, say they are troubled by Beckwith's affiliation with the Discovery Institute. Discovery, which awarded Beckwith a $7,000 fellowship, is a Seattle think tank that studies Intelligent Design.
In a statement, Beckwith said, "It is inappropriate, and not in the spirit of J. M. Dawson's philosophy, for his descendants or any members of the Baylor community to blacklist faculty because they received funding, however modest, from think-tanks and foundations with which other members of the academic community disagree."
Baylor officials, citing academic freedom, say Beckwith is not going anywhere.
Baptist ministries resume in Iraq
• Despite ongoing security problems in Iraq, workers with the Southern Baptist Convention resumed food deliveries and other ministries on October 7. Southern Baptists had put ministry on hold in August after attacks against the United Nations and other targets. Volunteer food distribution teams will be smaller than before, a worker told Baptist Press. "We judge the situation to be sensitive, but we can continue to work," he said. "The threat level has decreased. We are hearing very positive things about foreigners from local people."
Another worker said Iraqis who received food boxes in two towns in central Iraq asked for New Testaments as well. Another Southern Baptist said Shi'ite Muslim mosques in Baghdad held a day of prayer to give thanks for the love shown by Southern Baptists in America.
Khartoum, rebels sign security pact
• Sudan's Muslim-led government and rebels signed a security deal in September. The government is seeking to impose Islamic law on the Christian and animist south. More than 2 million people have died in the 20-year civil war. Christian ministry leaders say the agreement marks a real step forward for peace. "This is a major event for development organizations," World Relief's David van Vuuren said. "With the advent of peace the international community will be more willing to invest in long-term initiatives for Sudan."
Elizabeth Kendal of the World Evangelical Alliance Religious Liberty Commission said the hardest 80 percent of the peace agreement is done. "Believers have prayed over recent months for God to radically intervene and turn hearts toward peace," Kendal said. "This is a radical breakthrough—praise God for his intervention."
Muslim woman avoids stoning
• In September, an Islamic court in Katsina, Nigeria, rejected the death sentence for Amina Lawal, 32, who was convicted last year of adultery. An earlier court said Lawal should be stoned to death, after allowing an eight-month reprieve to breastfeed her baby. The decision prompted international outrage. The latest set of judges, however, said Lawal, a Muslim, was not caught in the act and did not receive "ample opportunity to defend herself."
Paul Marshall of Freedom House's Center for Religious Freedom said the ruling is only a partial victory. "While we should be extremely thankful about what the verdict means for the poor woman herself, any relief over the place of radical Islam in Nigeria is misplaced," Marshall wrote in

National Review

. "Extreme versions of Islamic law continue to spread in Nigeria, and there is pressure throughout Africa for more such laws."
Deaths
• Muriel McQuilkin, 81, wife of Robertson McQuilkin, the longtime president of Columbia International University, died September 20. In 1990 Robertson McQuilkin stepped down as president to care for his wife, who had developed Alzheimer's.
• Madame Chiang Kai-shek, widow of Chinese nationalist leader Chiang Kai-shek, died in New York on October 23. She was 105. Born Soong May-ling, she was a prominent anti-Communist spokeswoman during the 1950s. A complex figure, she was known both for her ruthless political savvy and for her Christian witness. Daughter of a Methodist missionary, Madame Chiang appealed for missionaries to evangelize in Taiwan, where she and her husband fled after the Communists took over the mainland.
• Mike Yaconelli, co-founder of Youth Specialties and

The Door

humor magazine, died in a car accident October 29 between Medford, Oregon, and Yreka, California. Yaconelli, who was 61, wrote

Messy Spirituality

and other books.
• Derek Prince, 88, died September 24 of heart failure in Jerusalem, after a series of chronic illnesses. Prince wrote more than 50 books—including

Shaping History Through Prayer and Fasting

,

War in Heaven

, and other titles on spiritual warfare, Israel, and other subjects.
• Garner Ted Armstrong, 73, who in 1972 split from his father Herbert W. Armstrong's heretical Worldwide Church of God, died September 15 after a bout with pneumonia. Garner Ted Armstrong was president of the Intercontinental Church of God in Tyler, Texas, and the Garner Ted Armstrong Evangelistic Association in Flint, Texas. He was the voice of the WCG's

The World Tomorrow

radio program, becoming its full-time speaker in 1957. The WCG underwent a historic move to Christian orthodoxy in the 1990s.
Transitions
• As part of a financial restructuring, Moody Bible Institute sold two of its retail stores—in Chicago and Indianapolis—to LifeWay Christian Stores. LifeWay, part of the Southern Baptist Convention, signed the papers on September 26. Discussions continue with an independent retailer about a third retail store, on Chicago's South Side.
• Melissa Rogers, for three years the executive director of the Pew Forum on Religion and Public Life, resigned in November. Rogers will teach religion and public policy at the Wake Forest University Divinity School.
• On October 23, the Baptist General Convention of Texas voted to create a mission network, called WorldconneX. The convention also elected Bill Tinsley, the BGCT's associate executive director, to lead the network, starting December 1. State leaders voted last year to provide an alternative for Texas Baptists who disagree with the conservative direction of the Southern Baptist Convention's International Mission Board.
• The International Forum of Bible Agencies appointed Roberto Laver as its new executive director during October meetings in Amsterdam. Laver, from Argentina, formerly served at the World Bank. The IFBA network represents about 95 percent of the agencies responsible for Bible translation and distribution globally. Among its members are the International Bible Society, the Jesus Film Project, Open Doors, Wycliffe Bible Translators, and others.
• Australian David Wraight was elected international president of Youth for Christ International during September meetings in Brazil. Wraight will succeed Frenchman Jean Jacques Weiler next fall after a one-year transition.
• Marshall Christensen has been appointed executive director of the International Institute for Christian Communication. Christensen, formerly vice president for development at Western Seminary, succeeds Don and Faye Smith, who directed IICC since its beginning in 1968. The Smiths served for 30 years as missionaries in Africa. They were instrumental in founding Daystar University in 1971 and Daystar Publications.
• Gordon-Conwell Theological Seminary launched the Center for the Study of Global Christianity in October. Todd M. Johnson, coauthor of the

World Christian Encyclopedia

, is director of the center. The center also unveiled a web version of the World Christian Database (www.globalchristianity.org), which is the basis for the

World Christian Encyclopedia

.
Have something to add about this? See something we missed? Share your feedback here.
Our digital archives are a work in progress. Let us know if corrections need to be made.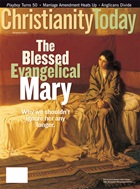 This article is from the December 2003 issue.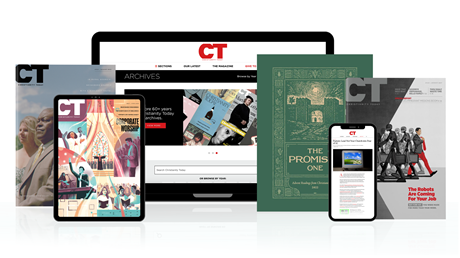 Annual & Monthly subscriptions available.
Print & Digital Issues of CT magazine
Complete access to every article on ChristianityToday.com
Unlimited access to 65+ years of CT's online archives
Member-only special issues
Subscribe
News Wrap
News Wrap