When newspapers pick up on a religion story, there's a good chance it's old hat to insiders. So now that the Denver Post and the Press-Enterprise of inland Southern California have written stories on emergent churches, are they really still emerging?
First, in case you don't know, "Emergent is first and foremost a friendship, a network of warm and mutually encouraging relationships," according to the official Emergent website. The idea is that Christianity, as we often see it, is outmoded. Postmodernity has taken hold in our culture and the church needs to adapt or die.
In a sense, emergent churches are to Gen-Xers what mega churches are to Baby Boomers. The Denver Postexplains: "Throughout its history, evangelical Christianity has shown it can change with the times, altering methods but not the message. … The emerging church has its roots in the mid-1990s, when young evangelical pastors noticed large churches brimming with boomers were lacking 18- to 30-year-olds."
So, Xers began their own churches to meet their peers' needs. "Missionaries don't try to teach people English and then teach the Christian message. They learn the language," said Scott Thumma, faculty associate in religion and society at the Hartford Institute for Religion Research in Connecticut. "This is attempting to learn the language of a new generation and conveying it in that language." That language often means having couches, lava lamps, worshiping by painting, reciting poetry, journaling, and meeting in bars.
The Denver Postwrites that the "emergent" churches have their roots, and often their financial backing in the megachurches they react against. "The Journey is backed financially by Foothills Community Church in Arvada, [Colorado] a large Southern Baptist church. It's not unusual for emerging churches, despite doing things differently, to lean on megachurches to get started." Other emergent churches join larger churches, while some are more like youth programs that have their own services, but are still part of a megachurch. New Life Church, founded by National Association of Evangelicals president Ted Haggard has a "Saturday Night" service for emergent types.
In California, "between 2,000 and 3,000 mostly 20-somethings attend Day 7@Harvest, the Sunday-evening service the church began three years ago to reach an age group that statistically is least likely to attend organized services. The youth-oriented service features a praise band, guest Christian musicians and a production crew that broadcasts services live on the Internet. It's MTV-meets-the-church, said youth pastor Steve Wilburn."
Both articles note that the point of these new church styles is not the style. "We have plasma screens, lava lamps and funky furniture," Wilburn said. "Our desire through the lava lamps and crazy this and crazy that is to let people know there is a God in heaven who loves them and he has a plan for them."
Scum of the Earth (that's the actual name of the church) founded by the Christian band Five Iron Frenzy says, "They want to sing, they don't want to be sung to. They don't want to go to church to listen to a sermon, watch a drama skit and go home without talking to anyone. They want to offer a spare bedroom to a stranger who got kicked out of the house. Most of all, they come to Scum of the Earth Church to connect with kindred souls."
The MTV generation's distrust of anything polished, marketed, political, or conformist is driving the trend. "You can come in here and not have everyone stare at you," said one Scum of the Earth member, "who until recently wore dreadlocks and still stands out with nine body piercings."
Will emerging churches replace megachurches as Gen-Xers move toward the mainstream? There's some debate whether the megachurch will die out, or if the smaller, less organized emergent churches will need the support of larger churches. We're waiting to see what emerges once Emergent becomes mainstream.
Weblog will return with Monday, December 29. Have a merry Christmas.
More articles:
China:
India:
Sri Lanka:
Iraq:
Religious Freedom report fallout:
Religion relations:
France bans religious expressions in schools:
Church and state:
Gay marriage:
Anglican church:
Catholicism:
Mel Gibson:
Music:
Books:
Archaeology:
Education:
Business:
Carl Henry:
Church life:
Christmas:
Kwanzaa:
Spirituality:
Related Elsewhere
Suggest links and stories by sending e-mail to weblog@christianitytoday.com
Check out Books & Culture's weblog, Content & Context.
See our past Weblog updates:
December 22
December 19 | 18 | 17 | 16 | 15
December 12 | 11 | 10 | 9 | 8
December 5b | 5a | 4 | 3 | 2 | 1
November 26 | 25b | 25a | 24
November 21 | 20 | 19 | 18 | 17
November 14 | 13 | 12 | 11 | 10
and more, back to November 1999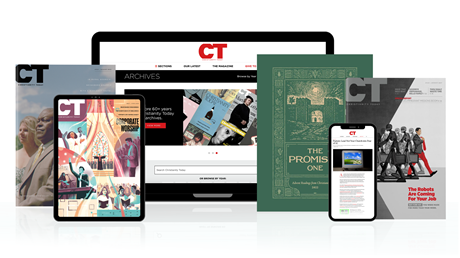 Annual & Monthly subscriptions available.
Print & Digital Issues of CT magazine
Complete access to every article on ChristianityToday.com
Unlimited access to 65+ years of CT's online archives
Member-only special issues
Subscribe
Has Emergent Emerged?
Has Emergent Emerged?