More peachy news
'Tis the season for battles over religious displays (see the myriad related links below), so it's nice to see one such battle finally coming to an end after a decade.
Back in January 1994, a neighbor asked the city of York, Pennsylvania, to force Sybil Peachlum to remove her illuminated sign of a happy peach holding a newspaper with the headline, "Peachy News. Jesus is Alive." Peachlum pursued a permit for the sign, but the city rejected her request. She couldn't afford the $350 appeal fee, and the city again refused to waive it. She sued, but courts dismissed her claims.
In June, the tides began to turn. The 3rd U.S. District Court of Appeals reinstated her lawsuit, even joining in on her penchant for puns. "Peachlum's claim," the court said, "is clearly ripe."
Friday, U.S. Middle District Court Judge Yvette Kane ruled in favor of Peachlum's sign, saying York's ordinance on signs "imposes discriminatory restrictions based on the signs' content." (As of this morning, the decision hasn't been posted on the court's web site, but is quoted in the York Daily Record and Associated Press.)
"God wins," Peachlum told the York Daily Record. "I've been harassed to the nth degree. I've faced multiple charges. This decision tells me I was right."
But wait a second. Yes, Peachlum won the case, but the newspaper says that Judge Kane ruled that York's sign ordinance did not violate or restrict Peachlum's freedom of religion, only her freedom of speech. That should temper some of the celebration. (But again, Weblog hasn't seen the full opinion, so Kane's logic may be sound.)
The other cloud to the silver lining: Peachlum didn't display the sign this year. She's apparently in financial distress, and lost her home in a foreclosure.
"If I ever get to that point [of having a home again], the sign is definitely going back up," she said. "I will use my home as an expression of my faith."
Theft of Jesus just a prank?
While we're on the subject of Christmas displays, it's worth noting that every year, many figures of Jesus are stolen from Nativity displays around the country. (It's not a new occurrence: Dragnet twice dramatized a stolen Jesus case reportedly from San Francisco in 1930. The first such episode, which aired Christmas Eve, 1953, was the only color episode during the series' first run. The second episode, from 1967, starred Barry Williams, who would later be known as The Brady Bunch's Greg.)
This year, St. Paul's Lutheran Church decided to use such incidents as the backdrop to its Christmas Eve drama, titled Stolen Jesus. Then somebody (apparently unaware of the play production) stole the church's own Jesus figure.
Baby Jesus was returned this week, painted dark brown. The thief left a note, explaining, "Sorry I took your baby Jesus. It was a childish prank. As far as his new color, I thought I would point out that Jesus was not an Aryan but actually a man of color. Although you probably knew this but would rather not be reminded."
The Toledo Blade and other news outlets take the thief's side, quoting church scholars who "said the dark-skinned Jesus is probably more historically accurate than the light-skinned image commonly seen in the United States."
Even the church's pastor is nonplussed. "I think we ought to leave it, personally," Roger Miller told the Blade. "There's something poignant about this Jesus coming to us like this, representing another race. It's a reminder to us all that Jesus came for all people."
Uh, but then again, let's not forget that someone stole and defaced church property because he (presumably a male) didn't like its color, then left an note ignorantly criticizing the church as racist. Isn't such behavior often categorized as a hate crime?
Bibleman actor Aames says "eight is enough"
Last year, Weblog joked that Bibleman's secret power was the world's shortest retirement, as former Eight is Enough actor Willie Aames announced he was hanging up his cape, then a week later announced his comeback. After eight years, more than a dozen videos, action figures, and even his own Bible, Aames is leaving the role for real this time. But have no fear, citizens: The Sacramento Bee says he'll be replaced by former children's minister Robert T. Schlipp. The Bibleman web site, meanwhile, still lists Aames as Bibleman.
More articles
Potluck religion:
2003 religion news roundup:
2004 election:
Politics abroad:
More politics:
Social activism:
Prison ministry:
Missions & ministry:
Urbana 03:
Bible and theology:
Polls:
Education:
Life ethics:
Law:
Iraq:
Anglican woes:
Sexual ethics:
Sri Lanka:
France's ban on religious garb:
Religious freedom in India:
Religious freedom and persecution elsewhere:
International aid:
Sudan:
Deaths:
Creches and other Christmas displays:
Archbishop of Canterbury's Christmas message:
The Pope's Christmas:
Commercialization of Christmas:
The meaning of Christmas:
Non-Christians and anti-Christians at Christmas:
More Christmas stories:
Neopaganism:
Kwanzaa:
Money and business:
Music:
Television:
Film:
The Lord of the Rings: Return of the King:
American Jesus:
Other books:
More pop culture:
Church life:
Catholicism:
Crime:
Abuse:
More articles:
Related Elsewhere
Suggest links and stories by sending e-mail to weblog@christianitytoday.com
Check out Books & Culture's weblog, Content & Context.
See our past Weblog updates:
December 30 | 29
December 26 | 23 | 22
December 19 | 18 | 17 | 16 | 15
December 12 | 11 | 10 | 9 | 8
December 5b | 5a | 4 | 3 | 2 | 1
November 26 | 25b | 25a | 24
and more, back to November 1999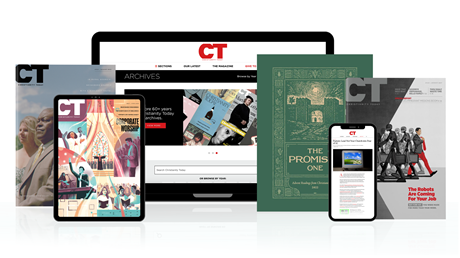 Subscribe to Christianity Today and get access to this article plus 65+ years of archives.
Home delivery of CT magazine
Complete access to articles on ChristianityToday.com
Over 120 years of magazine archives plus full access to all of CT's online archives
Subscribe Now
Federal Judge Says City Shouldn't Have Banned 'Jesus Is Alive' Sign
Federal Judge Says City Shouldn't Have Banned ...