true
Michael Steven Johnson's Daredevil is this year's first attempt to bring a comic book to the big screen, a few strides ahead of Hulk, X-Men 2, and The League of Extraordinary Gentlemen. He seems to have pleased fans of the comic, but few critics came away enthusiastic about what they saw.
Ben Affleck stars as a Matt Murdock, a blind lawyer who dons a red leather costume at night and ventures out to fight crime with his enhanced senses. As he deals out violent judgment for getaway crooks, this not-so-handicapped hero is torn between the desire for revenge and justice.
In this episode—you can bet this is the beginning of another franchise—Murdock experiences love at first "sight" with a neighborhood girl named Elektra (Jennifer Garner). A rather hasty and athletic courtship, one that rushes from violent sparring on a playground to a quick tumble in the sheets, leads Murdock into participation in Elektra's personal quest for vengeance. They have two mutual targets. Kingpin is a Herculean crime boss played by Michael Clarke Duncan, master of that menacing bad guy chuckle. Kingpin's zany assassin Bullseye, giddily over-played by Colin Farrell, is an expert at throwing sharp pointy things into other people's necks and foreheads. A series of violent confrontations and a flurry of bad one-liners ensue.
So, is Daredevil a hero to admire or just another vengeful egomaniac in tights? Religious press critics lined up to offer a wide range of opinions this week.
Gerri Pare (Catholic News Service) says, "the message is mixed in that Matt agrees seeking vengeance is wrong, but ends up back in his red get-up, declaring he is the city's 'guardian devil.' His character is clearly well-intended but continues to rationalize taking the law into his own hands."
Michael Elliott (Movie Parables) responds to the film's assumption that it carries some sort of religious significance in its array of Roman Catholic symbolism. "Any biblical standard which might have been seen was overshadowed by the vigilante aspect of the title character. Johnson never really takes the time to let us care about his characters or what happens to them. He keeps the camera so close to the action that, while it looks like something cool is happening, it is difficult to tell what it is, much less appreciate it."
Holly McClure (Crosswalk) was surprised at the level of violence: "This is definitely a movie mature teens to twenty-somethings will probably enjoy the most, but adults who are into the comic book heroes will get a kick out of it as well. Sadly, there will be many parents who will take their young children to see this movie, because they think the PG in the rating means it will be 'kid-friendly.'"
Bob Smithouser (Focus on the Family) is even more troubled by the violence: "Daredevil is no Spider-Man. It's darker and considerably more objectionable. The violence is … quite explicit in places. Aside from the hero's moral turmoil and some cool effects … Daredevil is a comic book cliché that's most noteworthy for its abuse of the PG-13 rating." Similarly, Shaun Daugherty (Preview) concludes, "Daredevil has a dark, chilly tone with little comic relief. Substantial violence, a brief sexual encounter and objectionable words earn it negative acceptability marks."
Taking a pro-Daredevil position, Steven D. Greydanus (Decent Films) calls the film "a triumph of screenwriting redaction and well-utilized effects over weak characterization and generally uninspired casting."
Also somewhat impressed, Tom Snyder (Movieguide) says that Daredevil is characterized by "a strong Christian worldview." But that worldview is polluted, he adds, by "Romantic, pagan and satanic elements and symbols." He concludes, "The best part of the movie … is the way in which it resolves the moral conflicts within Matt/Daredevil's own soul. Matt eventually decides to take his priest's admonitions about justice versus revenge to heart, despite the personal tragedies he undergoes during the story."
Mainstream critics are lining up to dismiss the film as formulaic, noisy, and dull. "Daredevil … is little more than a hollow clone of Batman and Spider-Man," says Owen Gleiberman (Entertainment Weekly), "with far less idiosyncrasy than either." Michael Wilmington (L.A. Times) agrees that this hero falls far short of Tim Burton's Batman, Bryan Singer's X-Men, and Sam Raimi's Spider-Man. "Those pictures played with our sense of wonder or nostalgia. They were fun to watch because of the loving way they elaborated the old pop myths of the superhero crime-fighters and their bizarre origins and peculiar lives. There's something ugly and chaotic about Daredevil. The movie is loud, clanging, and unimaginative."
Some, like David Elliott (San Diego Union-Tribune), took note of the questionable moral conduct of the hero. Elliott calls Daredevil's work "a revenge quest that pretends to be a moral, city-saving crusade. It's depressing even when volatile, because nothing matters except the frantic blowouts of violence, with solemn pauses for inane motivation, and some childish humor." He adds, "When Hollywood bakes a pulp pastry like Daredevil, the dough that rises isn't simply the budget. You can feel your mind becoming a sponge cake, so porous that air whistles through it like wind."
Jungle Book 2 is fun but lacks originality
Criticsare unsure whether to call The Jungle Book 2 a moderate success or a Disney misfire. Some argue that it should have gone straight to video or else been abandoned altogether. In this animated musical adventure, Rudyard Kipling's characters are brought back to life for the Disney Sequel Treatment: "Take what worked the first time and repeat it."
This time, Mowgli is living with human beings in the village, telling stories to a young admirer named Shaunti about his early days growing up in the jungle. The nostalgia kindles within him a desire to return to the wilderness. Thus, he's happy to help his old friend Baloo the Bear "kidnap" him and return him to his first home. In no time at all, the man-eating tiger Shere Khan is back on Mowgli's trail, and the boy is driven to a crisis where he must once again choose where he belongs—with men and women or with these singing, dancing beasts.
David DiCerto (Catholic News Service) calls it "a fun-filled sequel to Disney's 1967 animated classic. Director Steve Trenbirth seamlessly weaves cutting-edge, computer-imaging techniques with traditional animation to create a delightful tale of friendship and family. While the new film lacks the originality and enduring appeal of its precursor, it nevertheless fits the bill of quality family entertainment."
Movieguide's unnamed critic says, "Jungle Book 2 has plenty of colorful animation, fun song-and-dance numbers and a heartwarming ending. The story is a moral one, with good family values."
Other critics point out that the story may have positive themes, but it is not up to par for Disney's usually superior animation. Michael Elliott (Movie Parables) says, "The level of artistry does not match the original film nor other feature length animated films released theatrically this past year. Frankly, it has the look and feel of a direct-to-video release." But he adds, "It doesn't matter. Kids will still enjoy it."
Steven D. Greydanus (Decent Films) perceives more problems with this embellishment of Kipling's classic: "Jungle Book 2 is content to retell the same story about the same characters, throwing in a few new songs no one will remember the next day, and erasing the poignancy of the original ending by trying to have its cake and eat it too. Mowgli himself doesn't seem to know what he wants out of life any more. The climax in the original film had something of the feel of a rite of passage, with Mowgli taking his birthright as a man by using fire against Shere Khan. There's nothing so significant about the climactic showdown this time around."
Holly McClure (Crosswalk) has no complaints, and calls it "a delightful treat."
Grace and humor enrich Oscar-nominated Man Without a Past
Peter T. Chattaway (Books and Culture) turns in a review this week of a film nominated for Best Foreign Film: Aki Kaurismäki's The Man Without a Past.
"Inspired by the quiet transcendence of Robert Bresson yet also by the poker-faced comedy of Buster Keaton, Kaurismäki's films are minimalist masterworks. Thanks to his subtle use of expressive music and bright, colorful visuals, there is also an oddly optimistic quality to Kaurismäki's tales of life on the margins of society, a quality that sometimes has clear spiritual overtones."
Chattaway also focuses on the Christ-like nature of the central character. "It is … possible to see M as a type of Christian, whose death and resurrection symbolize the spiritual renewal available to all who become new creations in Christ. When we finally learn a bit more about M's life before he lost his memory, we get the sense that he has been redeemed from some of his own faults and given a new lease on life himself. As a Christ figure, M brings grace into people's lives, but as a Christian figure, he has received it, too. Either way, it's all grace."
Critics catch up with Quiet American, Shanghai Knights, How to Lose a Guy in 10 Days
 Steve Parish (The Film Forum) compares the 1958 film version of The Quiet American to the new version and concludes, "Noyce's revival … restores the prophetic feel of the novel. Hindsight means that lines from a CIA agent, justifying American intervention [in Vietnam] by arguing that "In the long run I'm going to save lives," extend irony to the point of obscenity. The film's mix of romance, war, perfidy, and historicity gives it elements of a thoughtful classic, and [Michael] Caine leads a strong cast well."
Michael Elliott (Movie Parables) writes, "The Quiet American is an excellent film, filled with moral complexities and ethical questions which continue to have relevance in our day. The ending of the film is deliberately ambiguous, forcing us to decide for ourselves if the actions taken by the characters were motivated by political beliefs or personal desires."
Our earlier roundup of critics' reviews is available here.
***
Last week, Christian film critics were dismayed by the relationship dynamics on display in How to Lose a Guy in 10 Days. This week, Dick Staub's Culture Watch features a summary and post-viewing discussion questions for the movie. The reviewer writes, "A light, fluffy storyline is unintentionally laden with a sad commentary on the superficiality of a 'sleep together' early and then end-the-relationship syndrome common among today's young adults."
In stark contrast, Susan Parker (Christian Spotlight) says, "If you enjoy a good laugh and a warm fuzzy, you will be delighted with this film. How to Lose a Guy in 10 Days provides an entertaining and sweet alternative to the average "boy meets girl, girl doesn't like boy, boy and girl struggle but eventually like each other and live happily ever after" formula. The movie provides an example of how we should all treat our relationships."
***
Mike Parnell (Ethics Daily) echoes several reviews of Shanghai Knights posted here last week, saying that the movie is "totally predictable. But there is magic in the movie that makes it an enjoyable experience. This movie is meant only to entertain us. It owes much to the road pictures of Hope and Crosby, and on that level it succeeds. Shanghai Knights is fun, and that's all it tries to be."
A critic at Relevant Magazine agrees: "Sometimes you just need to escape from the world and turn off your brain for a while. This is the kind of film that will lull you comfortably into a never-never land and have you repeating lines to your friends. Don't expect to be blown away with amazement, but expect to enjoy your two hours in the movie theater."
Next week: A masterful work of faith and history? Or a mediocre marathon that should have been a television miniseries? Christian film critics and mainstream reviews debate the merits of the four-hour epic Gods and Generals.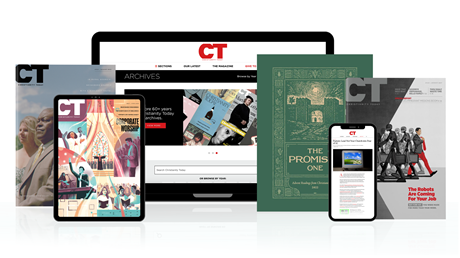 Subscribe to Christianity Today and get access to this article plus 65+ years of archives.
Home delivery of CT magazine
Complete access to articles on ChristianityToday.com
Over 120 years of magazine archives plus full access to all of CT's online archives
Subscribe Now
Daredevil Is Not Your Friendly Neighborhood Superhero
Daredevil Is Not Your Friendly Neighborhood Superhero