Captives: The Story of Britain's Pursuit of Empire and How Its Soldiers and Civilians Were Held Captive by the Dream of Global Supremacy
By Linda Colley
Pantheon Books
438 pp.; $27
In mid-February The New York Times reported that three Americans captured by the Revolutionary Armed Forces of Columbia "could be held as war booty." It seems that the guerrillas want to trade politicians and policemen they are holding captive for fellow rebels being held in Colombian prisons and, the Times continues, the Americans offer "potentially valuable leverage."
The survivors among the Japanese citizens kidnapped years ago by North Korea (many of whom remain unaccounted for) can probably feel these American captives' pain. As Princeton University professor Linda Colley points out in this outstanding book, nations, armies, pirates, and rogue regimes have long taken captives for various reasons—to hold them for ransom, to make slaves of them, to gain a sense of power over enemies, to compensate for losses in war, to acquire information.
Everyone knows that Europeans enslaved Africans in the early modern period. Fewer know that Africans, too, enslaved Africans, as did Arabs. I suspect even fewer know that Arabs—"Barbary pirates"—"Turks"—enslaved Europeans. But early modern Britons—"English, Welsh, Scottish and Irish men, women and children," among others—knew better. They knew, for instance, that if they ventured toward the Straits of Gibraltar they had a decent chance of being captured and becoming a North African's slave. But, then again, one needn't have ventured far: "Among nineteen women redeemed from Algiers in 1646, were two, Ellen Hawkins and Joan Brabrook, who had been seized fifteen years before from Baltimore, County Cork."
Cast your eyes across the Atlantic to the North American continent and things grow more complex still; for there we find Europeans enslaving natives, natives enslaving captured Europeans, Englishmen enslaved by Frenchmen, and French captives abandoning European ways for the sake of assimilation into a native culture. We find some Englishmen treating savages savagely and others, many of whom had been captured as children, loath to return to Western civilization. Later we find Americans who had established a moderately peaceful modus vivendi with natives turning against "redskins" because of their associations and alliances with the British "red coats" of the Revolution.
Elsewhere in this book we stumble over Britons—quite a few of them—who would rather trade with dark-skinned Muslims than with pale-faced Catholics. We find soldiers from the British army—an institution supposedly infested with young ruffians committed to white supremacy—deserting in India, taking on Islamic names, and marrying locals. Other military men who were captured by Indians preferred to stay with their captors rather than seeking to escape, for sometimes their fate as captives was less dismal than the everyday lives they led in the army—where, before the 1830s, flogging was habitual and furloughs in England practically nonexistent. "Company soldiers were allowed to [enlist] for twelve years," Colley writes, "but since they received a pension only after twenty-one years, most signed on for life: or rather death. … Before [the 1850s], few private soldiers and NCOs in India could hope to live long enough to fulfill their term of service and return to Britain." Under such circumstances, desertion, sometimes fed by the simple desire to marry and have children, makes a great deal of sense.
One point Colley makes repeatedly is that imperial Britain was both intrusive and vulnerable. It's astonishing that, at its height, Britain's global empire was 125 times larger than the British Isles themselves. (By contrast, the Dutch empire at its peak "was perhaps fifty times bigger than the Netherlands.") But Britain's grasp wasn't always as strong as it might have seemed. Small in size and population, it could not have acquired the empire it did (even briefly) without the assistance of locals. In the late 18th century, the British East India Company "increasingly relied on local rulers, agents and landowners to raise men and taxes, and employed a growing array of Indian informants, spies, suppliers, clerks, and administrators of all kinds." By the late 1830s, most of the 200,000 men who served in the British East India Company's private army were Indian.
Readers in search of support for the sad prejudice of the contemporary academy, wherein westerners are basically bad and English people are the worst, will find this book challenging. Colley is committed to seeing all of her subjects—soldiers and officers, slaves and masters, captives and captors—as flawed human beings very much like us. She keeps her eyes on the necessary complexity of human action in the past, and the delightful result is a book that does much to correct the glib generalizations that textbooks trade in.
Captives is that rare thing—a highly imaginative scholarly work that is as readable as it is interesting. Colley's earlier work Britons: Forging a Nation (1992) is excellent. Captives is even better.
Preston Jones is a contributing editor to Books & Culture.
Related Elsewhere
Visit Books & Culture online at BooksandCulture.com or subscribe here.
Books & Culture Corner appears Mondays at ChristianityToday.com. Earlier Books & Culture Corners and Book of the Week include:
Another Third Way? | The mixed record of Catholic social thought. (Feb. 17, 2003)
Divine Numbers | Can you say "Christian" and "mathematics" in the same sentence? (Feb. 10, 2003)
Getting Beyond Victimology | A provocative collection of essays for "the black silent majority." (Feb. 3, 2003)
Strange Bedfellows | Christopher Hitchens and Christopher Caldwell collaborate on a collection of political writing. Has the millennium arrived unnoticed? (Jan. 27, 2003)
Encounters of the Gods | Christianity and Native American religion in early America. (Jan. 20, 2003)
Books Present, Books Past, and Books to Come | Plus: A new format for this column. (Jan. 13, 2003)
Double Indemnity Meets Dead Souls | A conversation with novelist Richard Dooling. (Jan. 6, 2003)
Books of the Year | The top ten. (OK—make that twelve.) (Dec. 30, 2002)
Entertain Us | Nirvana, Pearl Jam, and the rapture of distress. (Dec. 16, 2002)
Boys Will Be Boys | A new book by a leading Christian feminist scholar inadvertently reveals the flawed assumptions underlying much talk about "flexibility" in gender roles. (Dec. 9, 2002)
Street Cred | Dave Eggers: The portrait of an artist as a … what? (Dec.2, 2002)
Epicurus'—and Darwin's—Dangerous Idea | How we became hedonists. (Nov. 18, 2002)
Weird Science? | A Darwinian debate continues. (Nov. 11, 2002)
Of Moths and Men Revisited | A Darwinian debate. (Nov. 4, 2002)
Angels in Heaven | A game that's more than a game. (Oct. 28, 2002)
Number One with a Bullet | America's foist family as a tool for evangelism. (Oct. 21, 2002)
Train Up a Child | Helping children to become intimately familiar with Scripture. (Oct. 14, 2002)
Acting Like Those 'Evangelicals' | Guilty as charged? (Sept. 30, 2002)
Ugly Evangelicals | Is this us? (Sept. 23, 2002)
Herbie Goes Bananas | The rise and fall and rise and fall and rise of the VW Beetle. (Sept. 16, 2002)
So Far, So Near | A graduate of Murree Christian School in Pakistan, the site of a deadly assault by Islamic terrorists in August, reflects on his growing-up years, on what has changed in the interim, and on the beleaguered Christian community in Pakistan (Sept. 9, 2002)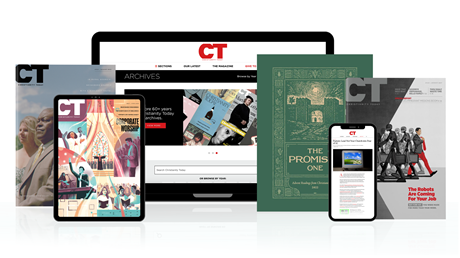 Subscribe to Christianity Today and get access to this article plus 65+ years of archives.
Home delivery of CT magazine
Complete access to articles on ChristianityToday.com
Over 120 years of magazine archives plus full access to all of CT's online archives
Subscribe Now
Taken Prisoner
Taken Prisoner