Due to financial strains, Moody Bible Institute in Chicago has announced this week that it is shutting down Moody magazine, massively restructuring its missionary aviation program, and closing its retail bookstores.
"Over the last couple of years, we have always looked for how to conduct our ministries more economically," said Moody Bible Institute (MBI) spokeswoman Heidy Hartley. "We have had to downsize and financially belt tighten, but only this year have we started to take a hard look at what we are doing."
Following an in-depth financial study commissioned by President Joseph Stowell, MBI concluded that continuing to subsidize the three affected ministries in their present form was not feasible for the ministry's financial future. According to a press release, the national economic downturn and reduced donations made the moves necessary in order to strengthen MBI's core education program.
Moody magazine will end in six months
MBI announced yesterday that it will cease publication of the 85,000 circulation Moody magazine following its July/August issue. It has published continuously since September 1900. Formerly Moody Monthly, the magazine became a bimonthly in 1996. MBI's daily devotional guide, Today in the Word, now becomes the ministry's primary publication.
"Moody magazine has been a fixture for more than a century and represents the last of the old Christian magazines that at one time included Christian Herald and Eternity magazine," said former managing editor Andy Scheer, who is now executive editor for the Christian Writers Guild. "It is hard for me to reflect on what a Christian magazine climate will be like without Moody."
According to the MBI press release, the magazine's death is due to increased media competition, a gradual decline in circulation, and the continuing need for significant subsidization. Scheer told Christianity Today that the decision to end the magazine surprised him. Moody's March/April issue marks the debut of a redesign and content overhaul meant to attract a wider readership base.
"The staff was not expecting the axe to fall," said Scheer, who left Moody last summer after 18 years. "They had worked for several months to improve the publication. I just saw the new issue and if it had to end, this is like John Elway leaving after winning the Super Bowl. Moody magazine was on the top of its game as it ended."
MBI announced yesterday that it is also abandoning the retail business, which it first entered in 1898. Moody Bookstore locations in Indianapolis, Indiana, and Chicago's South Side will be sold. MBI's third bookstore, on the Chicago campus of Moody Bible Institute, will now focus on providing materials for students and employees.
"Shutting this school means a great loss to Moody"
Last Wednesday MBI announced a major restructuring of its acclaimed missionary aviation program. It plans to relocate its Missionary Aviation Technology program from its longtime base in Elizabethton, Tennessee, to Spokane, Washington, in August. The flight school came to Elizabethton in 1967 and will remain there only until May 2005, so that current students can complete the three-year program.
MBI says that 20 aviation students will begin studying in Spokane in August. Another 40 pre-aviation students finishing their Bible training in Chicago will be eligible to transfer to Spokane for their flight training.
Moody Northwest, an extension campus, will handle the two-year biblical studies portion of the major. Spokane Community College will provide aviation training under a contract with Moody. MBI has trained missionary pilots since 1946.
The move from Elizabethton is not good news for missionary work in hard-to-reach areas, observers say. David Bothwell, senior vice president of international services for the Jungle Aviation and Research Service (JAARS) of Wycliffe Bible Translators, graduated from the Moody Aviation program in 1979. A former missionary pilot in the South Pacific, Bothwell said Moody has supplied roughly half of the 60 pilot-mechanics and 30 aviation maintenance technicians used by JAARS around the world.
"If the program goes away, it will have a huge effect," Bothwell said. "We will be hurting even more than we are now. The need is not being met by existing mission aviation programs."
Annually about 25 pilots have graduated from Moody's program, which is highly selective. It provides specific missionary pilot training, such as how to land on dirt airstrips, that may not be available elsewhere. Other mission aviation training programs exist, such as one at Prairie Bible Institute. The largest air fleets belong to Mission Aviation Fellowship (MAF), JAARS, Africa Inland Mission, and New Tribes Mission.
A Moody employee, who asked to remain anonymous, said that MBI approached both MAF and JAARS for financial assistance to keep the program running in its current form. Both declined, the source said, because they were financially unable to help.
JAARS President Jim Akovenko told CT that representatives of his organization, MAF, and Moody Aviation were discussing alternatives but had not reached any conclusions before MBI's decision. He said JAARS is "certainly not in a position" to help financially.
Simon Wunderli, a pilot with MAF in Uganda, graduated from the Moody program in 2000. Wunderli said the decision to phase out the Elizabethton training "came a bit as a shock." Wunderli, from Switzerland, said he "never even considered that Moody would be shutting its doors—especially since Moody is one of the main suppliers of pilots to various mission organizations."
Safety is another consideration, Wunderli said. "Since flying here in Uganda, I've had the opportunity to prove that Moody was the right place to study," he said. "I've seen other pilots who were not trained specifically for missionary aviation but got their training in a normal flight school. There is a noticeable difference between us."
Moody and the 39 employees at Elizabethton will also be affected by the decision. Moody spokeswoman Heidy Hartley said that some faculty will be relocated to Spokane in August for the beginning of the new semester. Some instructors will remain at the Elizabethton campus for two years as the program is phased out but others will be let go after this school year. The CT source said that all employees discharged in the current Moody restructuring will receive severance packages.
"Shutting this school, in my view, means a great loss to Moody, as [it is] giving up instructors and teachers who are hard to come by because of their many years of experience," Wunderli said. "These people receive little pay for what they are dedicated to do. It also means a big loss of impact in the community of Elizabethton. Students are known all around for their conduct and their standards."
Edward H. Robinson, director of missionary aviation technology for Moody Aviation, was traveling and unavailable for comment.
Todd Hertz is assistant online editor for Christianity Today. Stan Guthrie is associate news editor.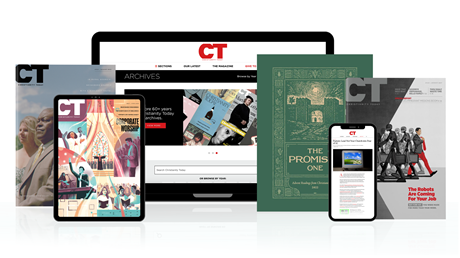 Subscribe to Christianity Today and get access to this article plus 65+ years of archives.
Home delivery of CT magazine
Complete access to articles on ChristianityToday.com
Over 120 years of magazine archives plus full access to all of CT's online archives
Subscribe Now
Moody Closes Magazine, Restructures Aviation Program
Moody Closes Magazine, Restructures Aviation Program