CARE Act back in the Senate
A new version of the Charity Aid, Recovery, and Empowerment (CARE) Act, part of President Bush's faith-based initiative, will make it to the U.S. Senate floor for a vote as early as next week, Sen. Rick Santorum (R-Penn.) tells The Washington Times.
Last year, the Democrat-controlled Senate did not vote on the bill as some members demanded that it also force faith-based groups receiving government funds to hire workers without considering their religion.
This year's bill isn't much different from the one Santorum and Sen. Joe Lieberman (D-Conn.) introduced last year. It doesn't expand charitable choice (that is, it doesn't allow more faith-based social service organizations to receive government funds). But it does offer several tax code changes that both Republicans and Democrats support. Among them, it proposes:
The bill also offers $150 million each year for technical assistance to small community and faith-based charities, and allows a faith-based organization to receive funds even if it displays religious icons, has a religious name, uses religious language in its charter documents, or has religious qualifications for its governing board.
Even so, a congressional aide says the bill may not be strong enough for House Republicans, who passed a much broader faith-based initiative bill last year. "I think there'll be a real resistance to a piecemeal approach," the House Republican aide told the Times. "A lot of the members in the House will insist that we deal with all of the issues regarding equal treatment, not just the easy ones."
More articles on the faith-based initiative:
School vouchers are back, too
There's some confusion about how hard President Bush will push for a $756 million school choice program for Washington, D.C. Bush's budget proposal includes a pilot program that would give Washington families vouchers to send their students to private schools, The Washington Post reported yesterday.
Today, the story is less clear. "The Bush administration will provide funding for private school vouchers in the District only if city officials agree to the program, U.S. Education Secretary Roderick R. Paige said yesterday," the Post reports. "But later in the day, an Education Department spokesman held open the possibility that a nonprofit organization in the District could serve as a conduit for the voucher program if city officials refused to participate."
"We're going to be suggesting they do this," Paige told the Post. "We're going to work hard to get them to agree to this."
But a spokesman for Mayor Anthony A. Williams says it won't happen. "The mayor is not going to commit the District to any voucher initiative," he said. "He is opposed to vouchers. The council is opposed to vouchers. Vouchers are not on the table."
"The details of the Bush administration's proposal are vague," report the Post's Justin Blum and Michael A. Fletcher. "Paige could not say how much the vouchers would be worth, the number of students who could take part in the program or the total amount of money that would be set aside for the District."
Bush dropped school vouchers from his 2001 education plan, but became more supportive of them than ever after last year's Supreme Court ruling that they do not violate the First Amendment.
In related news, Louisiana Gov. Mike Foster has called for a voucher pilot program in his state. "In his proposal for vouchers, Foster called for a small pilot program that would give parents of students in a limited number of failing schools the right to transfer to a private school," reports the New Orleans Times-Picayune. "Foster didn't say how much money the state would pay for private school tuition, but he said the program would include only a few failed schools and affect only a few hundred students."
Pundits: What did religious talk after the Columbia disaster mean?
A lot of people took note of religious language and feelings after the Columbia explosion. As Weblog noted yesterday, The Washington Post even ran an entire article on how Isaiah 40:26 made its way into Bush's announcement that "The Columbia is lost." Now pundits are giving it closer scrutiny.
"In moments of tragedy, it's natural to speak of God watching over us," writes William Saletan in Slate.
There are two senses in which God can watch over us. Only one of them is compatible with the courage praised by Bush and Reagan. The other is the one invoked by the terrorists of Sept. 11 and by Iraqis who are rejoicing today in our misfortune. … It's reassuring to think that God will protect us from tragedy or defeat. But that belief has two dangerous implications. One is that courage is unnecessary and unreal. The crews of Challenger and Columbia weren't actually taking risks or showing bravery, as Reagan and Bush supposed, because their fate was in God's hands. The other implication is that tragedies are God's will. That's what Bush rebuked Pat Robertson and Jerry Falwell for suggesting when they speculated that Sept. 11 had happened because God had removed his protection from the United States.
Saletan, Slate's chief political correspondent, concludes by noting the implications this has with war against Iraq. "In the skies over Baghdad, as in the skies over Texas, God's non-neutrality is a guide, not a promise. If Iraq insists on building weapons of mass destruction, we must fight not because God will protect us, but because he won't."
The idea God allows evil but does not cause it or will it does not appear in Saletan's piece.
In The Wall Street Journal, meanwhile, Naomi Schaefer writes that religious language about the Columbia explosion—indeed, even about space itself—is wholly understandable. "The impulse to see if there is a world beyond the human world, whether there is life other than human life, and view our own planet from another perspective, is deeply entangled with our curiosity about the fundamental questions of existence," she writes.
Indeed, [Columbia astronauts Rick D. Husband, Michael P. Anderson, and Ilan Ramon] didn't seem to see a conflict between maintaining their religious beliefs and exploring the outermost reaches of space, even though such missions have helped provide mankind with some of the most important information regarding the way in which the world was created. … Perhaps belief in a higher power may bring something even more important than this comfort—a drive to go back "into the darkness beyond our world."
More on the Columbia tragedy:
More articles
Persecution and religious freedom:
War in Iraq:
War elsewhere:
Faith in the workplace:
Vatican releases reflection on New Age:
Zimbabwe:
Related Elsewhere
Suggest links and stories by sending e-mail to weblog@christianitytoday.com
See our past Weblog updates:
February 3
January 31 | 30 | 29 | 28 | 27
January 24 | 23 | 22 | 21 | 20
January 17 | 16 | 15 | 14 | 13
January 10 | 9 | 8 | 7 | 6
January 3 | 2 | December 31 | 30
December 27 | 26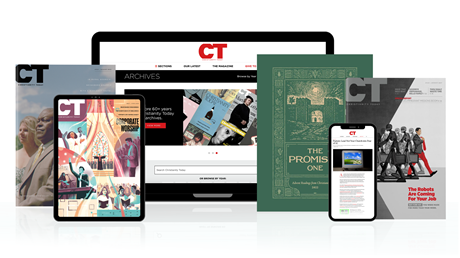 Subscribe to Christianity Today and get access to this article plus 65+ years of archives.
Home delivery of CT magazine
Complete access to articles on ChristianityToday.com
Over 120 years of magazine archives plus full access to all of CT's online archives
Subscribe Now
As Senate Considers Faith-Based Initiative, Bush Pushes D.C. Vouchers
As Senate Considers Faith-Based Initiative, Bush ...