Two years ago, the All India Christian Council (AICC) began building a modest dispensary in the dusty village of Limdi, which had been hit hard by an earthquake. It was to be dedicated to the public, a quiet expression of Christian concern for the small community in India's sometimes militantly Hindu Gujarat state.
This spring World Hindu Council (VHP) radicals ransacked the facility. They left a chilling warning in red paint: "Those who don't worship Lord Ram are worthless." They also ransacked the public dispensary. "Most of these [Christian] organizations work to divide the country and destroy Hindu religion," say posters throughout the dusty town. "Glory be to god Ram: VHP!"
Increasingly bold legal challenges to Christians, and even terrorist acts by radical Hindu, or Hindutva, forces are spreading.
In March the state government in Gujarat passed a law declaring "forced" conversions illegal. Called the Freedom of Religion Bill, the controversial legislation was the top priority in the election manifesto of the extremist national ruling Bharatiya Janata Party (Indian People's Party). The party won a massive victory in state government elections in October.
According to Compass Direct, the law seeks to prevent religious conversion by force or allurement. It calls for a three-year prison term and a fine of 50,000 rupees ($1,070) for violators. Those who simply change their religion without permission face a fine equivalent to $20. Other Indian states, including Tamil Nadu in the south, have passed similar measures in recent months (CT, February, p. 30).
"There are attempts on the part of Hindutva forces to isolate the Christian community and even bring about disunity among us," John Dayal of the AICC told Christianity Today. "And all of this together leaves our community in a limbo. But at the moment, we are determined to defeat this draconian law."
Going to Court
Indian Christian groups are preparing to challenge the new anti-conversion law in India's supreme court. "We are on it," Godfrey de Rozario, Catholic bishop of Baroda, said from his house in Ahmedabad, the capital of Gujarat. "Our legal officers are doing their job now."
Sources told CT that officials with the National Commission for Minorities, a government body that investigates persecution of minorities, believe the anti-conversion law is an outrageous violation of the constitution.
The law is a "blatant violation of human rights," said Mar Aprem, bishop of the Chaldean Christian community in Kerala state. "Christians won't fall on their knees on this. They will certainly stick together and break these shackles."
Just before the Gujarat anti-conversion bill became law, state police attempted to conduct a survey of Christians that opponents said echoed Nazi tactics. During the first week of March, Christian missionaries across the state received handwritten copies of a questionnaire in the local Gujarati language. The survey sought names, years of birth, and precise details about Christians in each village. Ominously, the questionnaire asked, "What are the reasons behind the conversions in your districts?" This was the second time in five years that the state has attempted such a survey.
After being challenged by the AICC in Gujarat's High Court, state officials admitted they had been gathering statistics on Christians at the behest of federal officials. The high court has demanded a detailed reply from the government.
With a population of 51 million people, Gujarat has only about 130,000 Christians—or about 0.25 percent of the state's population.
Back at the vandalized dispensary in Limdi, a Christian man walks past the crumbling front door. On the broken glass someone has scrawled in red, "Glory be to Lord Ram. Only those who advocate the interest of Hindus will rule this country."
The man, with a hammer and a bunch of nails, begins repairing the building. It is likely to be a long and difficult job.
Related Elsewhere
Previous Christianity Today articles on religious tensions in India include:
Gujarat Religious Survey Troubles Indian Christians | Government of Indian state says it has been gathering statistics on the minority at the behest of federal officials. (March 14, 2003)
Machete Attack on American Alarms Local Christians | Hindu militants threaten to expel evangelists, stop conversions. (Feb. 18, 2003)
Indian Christians 'Living in Terror,' Rights Groups Report  | Accusations against priest lead to intense conversion pressure in Rajasthan. (Nov. 6, 2002)
Indian State Bans Conversion | Christians say Tamil Nadu ordinance threatens relief work. (October 11, 2002)
Hounded, Beaten, Shot | What you can do to help persecuted Christians in India. (June 11, 2002)
Critics Assail Dialogue with Hindu Radicals | But some Christians see talks as an opportunity to build bridges in times of persecution. Critics Assail Dialogue with Hindu Radicals. (May 14, 2002)
New Curriculum 'Tampering' with History, Indian Churches Protest | Christian leaders allege that a current education proposal promotes Hindu nationalism. (Dec. 12, 2001)
Article continues below
Law Could Curb Foreign Donations To Churches, Indian Christians | Worry Stringent legislation is aimed at cutting off terrorist funding, but could hurt non-government organizations. (Nov. 9, 2001)
Christians Encouraged as 50,000 Dalits Leave Hinduism | Low-caste Hindus see conversion as their only escape from oppression. (October 11, 2001)
India's First Dalit Archbishop Holds 'No Grudge' Over Predecessor's Attack | Once "untouchable" Dalits make up bulk of country's Christians. (May, 11, 2001)
Plans to Resolve India's Interfaith Tensions Face Delays and Accusations | Did India's National Commission for Minorities plan a meeting to discredit Christians? (July 20, 2000)
Foes Claim BJP is Using Arms Training to Win Crucial Election in India | Fears mount that reason for camps is to galvanize support for temple construction. (June 29, 2001)
Bomb Explosion During Mass Stirs Fear, Public Outcry in Bangladesh | Suspects linked to rash of attacks. (June 25, 2001)
India Election Results Rattle Ruling Nationalists | Hindu BJP "getting irrelevant day by day" say rivals. (June 13, 2001)
Despite Tensions, Indian Churches Agree to Talks With Hindu Groups | Mainline churches will join talks, but other Christians say "partisan" meeting is dangerous. (Apr. 11, 2001)
India Relief Abuses Rampant | Radical Hindus hijack supplies in quake intervention. (Mar. 20, 2001)
In Orissa, You Must Ask the Government If You Want to Change Religion | Christian church leaders say they're trying to ignore the controversial law, but police aren't doing the same. (Mar. 12, 2001)
Churches Angry that Indian Census Ignores 14 Million Christian Dalits | Only Hindu, Sikh, and Buddhist members of "untouchable" caste being counted. (Mar. 2, 2001)
India's Christians Face Continued Threats | We must preach what we believe in spite of Hindu pressure, says Operation Mobilization India leader. (Feb. 15, 2001)
Have something to add about this? See something we missed? Share your feedback here.
Our digital archives are a work in progress. Let us know if corrections need to be made.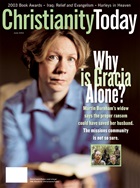 This article is from the June 2003 issue.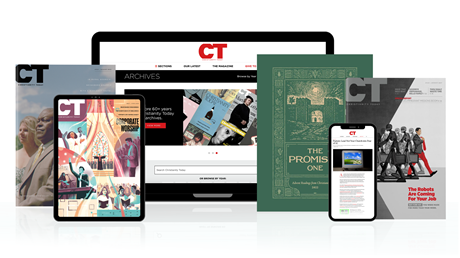 Subscribe to Christianity Today and get access to this article plus 65+ years of archives.
Home delivery of CT magazine
Complete access to articles on ChristianityToday.com
Over 120 years of magazine archives plus full access to all of CT's online archives
Subscribe Now
Fending off Hindutva
Fending off Hindutva