Religious freedom and democracy hang in the balance for Iraq's 22 million people. According to some estimates, since the 1970s the nation's Christian population has dropped to 600,000—a precipitous decline. Saddam Hussein donated pipe organs to Baghdad churches, but he deprived Iraqi Christians of a more important gift: spiritual freedom.
Full religious freedom for Iraq is not negotiable. If the Bush administration is unable to follow through with the necessary influence to protect these emerging freedoms, our costly military victory will be incomplete.
We are worried about religious freedom in Iraq on several fronts. The Bush administration's track record on religious freedom has been weak, especially in Afghanistan and Sudan. About 18 months after the U.S.-led coalition liberated Afghanistan, Christians and other religious minorities are facing new threats.
For example, the new Afghan government is writing a constitution. But reliable sources believe the current draft does not include strong protections for non-Muslims' religious expression. International relief groups are retreating to the relative safety of Kabul, the capital, because militant Muslims are targeting relief workers. Since last November, militants have killed an Afghan worker for Mercy Corps and assassinated a staff member of the International Committee of the Red Cross.
Civilian monitors in Sudan have testified that the Muslim-dominated Khartoum government is violating the American-negotiated ceasefire that was designed to protect Sudanese Christians and others in the south. The Bush administration should stiffen its spine—by imposing tough sanctions before the end of 2003 in accordance with the Sudan Peace Act—if Sudan's government won't stop killing and terrorizing non-Muslim civilians.
The situation for Iraqi Christians has been mixed since the end of the 1991 Gulf War. Saddam Hussein did not persecute Christians as brutally as he did Shi'ite Muslims. But Christians were forbidden to give their children Christian names and conversion to Christianity was punishable by death. Now Christians are worried that a new Shi'ite-dominated regime could eliminate even the limited freedoms they have had in the past.
Kurds have secured greater freedom for Christians in the north, but Christians have still suffered and died for their faith throughout Iraq. One of the worst instances is the murder of Sister Cecilia Musha Hanna, a Chaldean Catholic nun. Last August, according to media reports, militant Muslims abducted 70-year-old Sister Hanna, stripped her, tortured her, cut her throat, and beheaded her. Her fellow nuns said that harassment began in 1998 after Wahhabi Muslims constructed a mosque across the street from their convent.
In the short term, the U.S. government is in a highly influential position to help establish religious freedom in Iraq. The 1968 Iraqi constitution established Islam as the state religion, but it also secured for Christians and other religious minorities equality before the law and free expression of religion. Americans helping Iraqis form their new government should emphasize the importance of recognizing more than just Shi'ite and Sunni Muslims. Iraq's Catholic, Orthodox, and Protestant Christians, as well as Jews and other religious groups, all have a role in rebuilding their nation. That's not unreasonable for a Muslim-majority nation. Jordan and Kuwait, though not free of human-rights abuses, allow a wide spectrum of religious groups to operate within their borders.
The Bush administration is keen to prove that it is not an occupying force in Iraq. If the U.S. military in Iraq treats all religious groups with equality, it will be a tangible example to Iraq. Iraqis have tasted greater religious freedom since war's end. The next step should be for Iraq's new government to reaffirm a commitment that Christians and others may operate openly and without fear that radicals or officials will harass or attack them.
Related Elsewhere
For more coverage on the Iraq conflict see our CTWar in Iraq archive. The CT World Report on Iraq includes more articles on religious freedom in the country.
With the current unclear picture of religious freedoms in Iraq, Todd Hertz last month wrote for CT, "What's the Difference Between Shi'ah and Sunni?"
Recent articles on religious freedom in Afghanistan include:
Threatened Aid Groups Retreat | In a 'new and disturbing twist,' rebel forces target international agencies. (May 15, 2003)
Letter from Kabul | Religious freedom still in jeopardy under new Afghan government. (April 21, 2003)
Return to Kabul | Shelter Now's Georg Taubmann talks about ministry and security in the former Taliban state. (Jan. 17, 2003)
Recent articles on religious freedom in Sudan include:
Peace Process Criticized | Bush acknowledges country's military activity, but does not impose threatened sanctions. (May 21, 2003)
Sudan Peace Act 'Has Teeth' | But sanctions are at President's discretion. (Nov. 26, 2002)
Christians Push For More Progress in Sudan | Observers say there's a long road to go for peace. (Sept. 4, 2002)
Legacy of an Ancient Pact | Why do Christians still chafe under restrictions in some Muslim nations? It all started with Umar. (July 26, 2002)
Weblog: Peace For Sudan? | Both sides agree to secession for southern Sudan. (July 22, 2002)
A Cry for Help | Sudanese Christians gather in Houston and ask for U.S. support. (June 27, 2002)
Freedom Panel Alleges Genocide | U.S. Commission on International Religious Freedom makes suggestion on Sudan's worsening abuses. (May 4, 2001)
Have something to add about this? See something we missed? Share your feedback here.
Our digital archives are a work in progress. Let us know if corrections need to be made.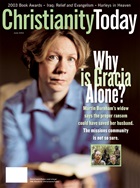 This article is from the June 2003 issue.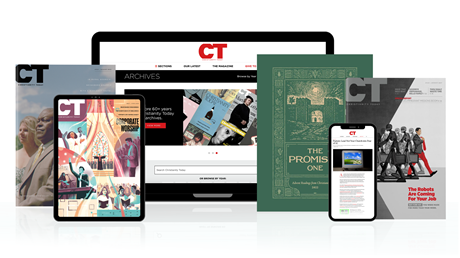 Subscribe to Christianity Today and get access to this article plus 65+ years of archives.
Home delivery of CT magazine
Complete access to articles on ChristianityToday.com
Over 120 years of magazine archives plus full access to all of CT's online archives
Subscribe Now
The Mother of All Liberties
The Mother of All Liberties