In most readings of American church history, the white church stands center stage, and the African American church (among others) stands in the wings. In his latest book, Juan Williams argues that America cannot understand itself or its history without understanding the black church.
Many readers know Juan Williams as the left-leaning pundit on Fox News, the author of the critically acclaimed books Eyes on the Prize: America's Civil Rights Years and Thurgood Marshall: American Revolutionary, and a senior correspondent on National Public Radio. Now Williams has written This Far by Faith: Stories from the African American Religious Experience (William Morrow) to explore the place of the black church in American society. The book, written with Indiana University religion professor Quinton Dixie, is a companion volume to a six-episode PBS series of the same name that airs June 24-26 (check local listings). Williams spoke with CT editor at large Ed Gilbreath about the contributions of African American faith to American life.
What is the significance of the book's title?
It comes from an old gospel song and suggests the idea that faith has been essential to the African American religious experience in a unique way. For a variety of reasons, black Americans had to rely first and foremost on the notion of faith in God, that they had a personal relationship with God outside of any church. To me, the miracle of the African American Christian experience is the idea that the slave master introduces Christianity to the slave, but the slave reinterprets this faith and recasts it as a vehicle for liberation and social protest.
You speak of black Christianity as being almost jazz-like in its expression.
Jazz is an authentic American art form that includes elements of both African and white American musical traditions, but it was formed and given birth by black musicians. It's a response to having been denied training in other classical forms of music, and having limited opportunities and places where black musicians could practice their craft. They created this new art form that gives them full expression, and it ended up being a gift to the world.
I think of African American religion in the same way. You have people being denied opportunities, denied education in terms of being able to read and study the Bible, denied the ability to practice leadership in the white church, and so they create this authentic American entity called the black church. Despite the dehumanizing force of slavery and segregation, these men and women were fully human, and they claimed an independent relationship with God that did not have to go through white people. Instead, here were black people saying, "We'll practice Christianity in our own way and worship in our own way."
You seem to emphasize the point that neither America nor the American church could be its true self without the influence of African American faith.
That's the heart and soul of the book. If everybody in the country were white and the church were entirely white, the nation and the church would lack a genuine, full-blooded expression of its ideals, of its faith, and of what it ultimately strives to be.
Of the many religious figures you highlight in the book, who rises to the top for you?
Three individuals stand out. There's Sojourner Truth, the former slave whose preaching about the sinfulness of slavery and America's need for repentance was so powerful and profound that some white audiences doubted that she was a woman. As she delivered one lecture in Indiana in 1858, a white doctor accused her of being a man in disguise and demanded that she go backstage and show her breasts to some of the women to verify her sex. But Sojourner Truth pulled out her breast right there before the entire crowd and declared that she had nursed plenty of white children in her life.
Then there's William Seymour, who is considered one of the founders of the American Pentecostal movement. He presided over the legendary Azusa Street revival, in 1906, which brought together blacks, Hispanics, and whites during a time when people weren't interested in interracial gatherings.
And finally, Albert Cleage, a fiery preacher who became a pioneering voice among black nationalists. In the '60s, Cleage presented the idea of Christ as a black man. He was picking up on what Bishop Henry McNeal Turner, another outspoken nationalist, talked about back at the end of the 1800s—that God is God to all people, which is a pretty threatening message to the powers that be if you're living in a society based on racial superiority.
How has this book affected you?
In my own life experience, my relationship with God has been key, but I always thought of it as a relatively private thing. Most people who know me as a political journalist don't think of me as a guy with a deep spiritual life, even though I attend church regularly.
But all of a sudden I write this book, and in terms of the interviews, the audiences at book signings, the speeches and opportunities that have come as a result of it, I am knocked out by how central faith is to so many people's lives and how the question of faith in American life—even in postmodern America 2003—has a power that is truly awe inspiring.
Edward Gilbreath is managing editor of Christianity Today's sister publication Christian Reader.
Related Elsewhere
This Far by Faith is available at Christianbook.com.
In 1999 Christianity Today sister publication Books & Culturereviewed Williams' Thurgood Marshall: American Revolutionary.
For more CT book reviews, see our books archive.
Have something to add about this? See something we missed? Share your feedback here.
Our digital archives are a work in progress. Let us know if corrections need to be made.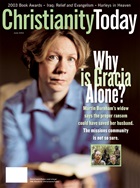 This article is from the June 2003 issue.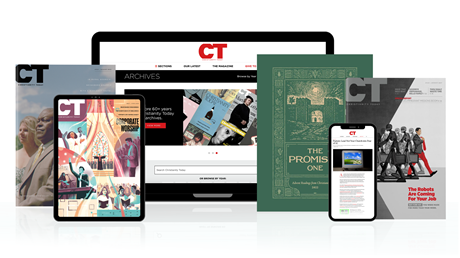 Subscribe to Christianity Today and get access to this article plus 65+ years of archives.
Home delivery of CT magazine
Complete access to articles on ChristianityToday.com
Over 120 years of magazine archives plus full access to all of CT's online archives
Subscribe Now
"Jazz, Jesus, and Liberation"
"Jazz, Jesus, and Liberation"