During this week's Academy Award ceremony, Jack Nicholson and Kathy Bates may win honors for their work in About Schmidt. But the character that has left the deepest impression with moviegoers is known only by his first name: Ndugu.
Although he appears in the film only through still photos, the Tanzanian boy plays a big part in the film's plot. Nicholson's character, Warren Schmidt, is a retiree searching for meaning and purpose as he looks back at his life. His choice to sponsor Ndugu through real-life child sponsorship group Childreach is what ultimately gives him hope. "We're all pretty small in the grand scheme of things," Schmidt says at the end of the film. "The most we can hope for is to make a difference."
From early in the critically acclaimed film, when Schmidt sees a commercial to help Third World children, to the end, when Schmidt hears back from his "foster son," child sponsorship plays a major role.
More than two years ago, About Schmidt's producers contacted Childreach to be the child sponsorship organization in the movie. Childreach has 100,000 U.S. sponsors while its parent organization, Plan International, has a total of one million child sponsors throughout the world. Not only are the company and the commercial shown in the movie real, but Ndugu is as well. Actually named Abdala, the 6-year-old boy is now sponsored by the cast and crew of About Schmidt.
Because it is such a pervasive theme, child sponsorship has received widespread press attention since the movie debuted in February. An article in Australia's The Age earlier this month said that Plan International's sponsorships have quadrupled since the movie debuted. The company expects to raise over $21 million globally because of About Schmidt.
Several Christian agencies, however, have not seen film-related spikes in sponsorships. Christian Children's Fund told CT that only a handful of donors have mentioned the movie in calls, while Food for the Hungry said it hasn't heard anything about it from new sponsors. David Dahlin, chief operating officer of Compassion International, said the group has "been having a growth year in child sponsorship, but we haven't seen any direct response related to the movie."
Dahlin said there has been little talk of the movie in the child sponsorship field, but he has noticed a troubling trend in media coverage of About Schmidt. Because Childreach and Plan International openly allocate pooled child sponsorship funds to benefit entire communities—and not just for sponsored kids—Dahlin says that "the assumption made in the press is all child sponsorship organizations take that approach."
In a recent Washington Post article on About Schmidt's child sponsorship angle, more than half of the story deals with organizational approaches that operate as "expensive marketing ploys," as charity watchdog Daniel Borochoff calls them in the article. Many observers in the aid and relief field say that supporting the community and the child with sponsorship funds is an effective model—as long as the agency is open with how funds are used.
The Post coverage also dredges up a 1998 Chicago Tribune investigation, which uncovered that some child sponsorship organizations were not directly helping sponsored children. In some cases, sponsored kids had been dead for years. Because of this, the Post says that "most organizations have scuttled the practice of sending sponsor money directly to children … used as a fundraising heart tug."
Compassion, however, says it continues to directly benefit sponsored individuals through local church partnerships. "In the general public's eye, all sponsorship organizations look an awful lot alike, so they assume we all do the same things. And that is really very untrue," Dahlin said.
Despite how press coverage of About Schmidt may have made child sponsorship appear, Dahlin says the movie does reflect truth. "We really believe, as shown in the movie, that the sponsor really has an impact on the child and the child has an impact on the sponsor," Dahlin said. "The relationship is real and it matters to both of them."
Todd Hertz is assistant online editor for Christianity Today.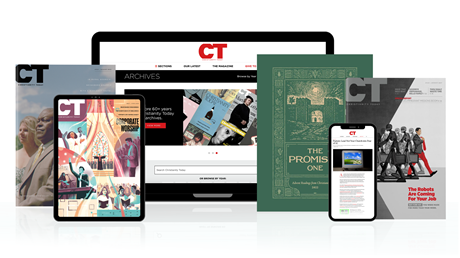 Subscribe to Christianity Today and get access to this article plus 65+ years of archives.
Home delivery of CT magazine
Complete access to articles on ChristianityToday.com
Over 120 years of magazine archives plus full access to all of CT's online archives
Subscribe Now
Coverage of About Schmidt Casts Shadow on Child Sponsorship
Coverage of About Schmidt Casts Shadow on Child Sponsorship