In good years, Ethiopia's southern flatlands are the African nation's breadbasket. This is not a good year. In the small, bone-dry village of Hawzen, several Ethiopian children sit with bloated bellies, staring into space. In nearby Dir Kiltu, 90 miles south of Addis Ababa, a rainwater collection pond is dry and cracked. An old man gulps his first glass of water in two days. Nearby, a teenage girl limps along on pencil-thin legs.
One million people died during Ethiopia's famine of 1984-85, and Congressman Frank Wolf saw some of that horror during a one-week visit. "What I saw—and experienced—changed me forever," the 12-term Virginia Republican said. "I never thought I would see something like that again. I have—last week."
Wolf spoke those words in January after returning from Ethiopia and Eritrea, its small neighbor in the horn of Africa. Wolf cannot believe the nightmare is repeating itself—this time on an even bigger scale—but his eyes confirmed it. Worse, he says, the international community, distracted by the Iraq War and other issues, seems less inclined to help.
Wolf told Christianity Today, "Ethiopia is on the brink of a crisis of biblical proportions."
Border war and drought
Short rainfalls last year, poor government planning, the effects of a two-and-a-half-year border war with Eritrea (which split from Ethiopia in 1993), and donor fatigue have worsened the current crisis. About 11.3 million of Ethiopia's of 69 million people face severe malnutrition or starvation. The total could reach 14 million by July.
Two decades ago, 8 million people were at risk in a population of 45 million, but massive world sympathy averted an even greater catastrophe.
Ethiopia has recently received 850,000 tons of food aid, including 289,000 tons from the United States Agency for International Development (USAID). But the United Nations World Food Program says existing supplies could run out by June.
Relief experts say the country needs more than 600,000 additional metric tons of cereals, blended foods, and vegetable oil.
The current famine differs significantly from the 1984 crisis, according to Wolf, who serves on the powerful House Appropriations Committee and three subcommittees. "HIV/AIDS is spreading throughout the country," he said. "Repeated droughts over the years have made the people much more susceptible to disease. The inner turmoil in Somalia and Sudan has brought thousands of refugees into Ethiopia, which can't even meet its own people's needs."
Former Congressman Tony Hall of Ohio visited Ethiopia in February as the U.S. ambassador to United Nations food agencies. "The scenes at the feeding sites were ones of despair and tragedy," Hall told CT. "Mothers had nothing to offer their hungry children. Children, who should have been playing, had no energy to even move. Senior citizens looked decades older than they actually were."
Hall said in his report about the trip, "I am numbed by the sheer numbers of acutely malnourished children. I never thought I would see it as bad as during the Great Famine of 1984-85."
Ethiopia's government, led by President Meles Zenawi, has been asking for international help since last year. USAID, which provides economic and humanitarian assistance worldwide, started sending food last July. Wolf told CT the United States has donated 58 percent of Ethiopia's food aid, compared with 27 percent from the European Union.
But, he said, America can and must do more. "We have been so blessed as a nation, and as a people, that we must share more of that blessing."
That appears to be happening. Congress in February approved an additional $250 million in food aid for Africa. President Bush signed the bill February 20. Twenty-three relief agencies, Christian and otherwise, are already on the ground, responding to the crisis and pursuing long-term solutions to Ethiopia's persistent problems.
Churches respond
World Vision is one of many nonprofit groups trying to make a difference. It is working with Ethiopians on irrigation, housing, farmer credit, and agricultural projects. World Vision's Ethiopian director, Getachew Wolde Michael, said 300 World Vision employees live and work in the Ethiopian communities they serve. While the work is difficult, he said, "It gives you energy to help save people's lives."
Another agency, Project Mercy, is providing health, agricultural, educational, and vocational training in Yetebon, a rural farming region in south central Ethiopia. The organization began an integrated community development project there in 1993. Project Mercy's founders, Ethiopians Marta Gabre-Tsadik and Deme Tekle-Wold, were in Ethiopia in March helping with food distribution.
"It is bad," Tekle-Wold told CT. "The people are hungry, short of food—especially the children."
Church World Service, a cooperative humanitarian ministry of 36 Protestant and Orthodox denominations, is responding to the drought in Ethiopia by working through the Ethiopian Orthodox Church (the largest church in the nation) and Norwegian Church Aid, which in turn are working with churches in the country. Relief work is occurring in 24 of 71 districts until August, when agencies will assess the need for a longer-term presence.
Land reform urged
Observers say that Ethiopia's plight requires new long-range strategies. Wolf and Hall say the United Nations needs to appoint a special envoy to mobilize resources, coordinate international efforts, develop an operational plan for agencies, and remove obstacles to the timely flow of relief resources.
"A special envoy for hunger would help re-energize the global community, refocus attention on this situation, and, most importantly, save millions of lives—mothers and children—around the world," Wolf said.
Michael of World Vision said the famine is not simply the result of a rain shortage. Ethiopia had a bumper crop in 2001, but the government did not buy up the surplus at cheaper prices for use during bad times. The grain was wasted.
"There is a policy, strategy, and structure problem as well," Michael said. "Can you imagine, after all these years, Ethiopia does not have the necessary technology to harvest [surplus crops] in good seasons?"
Wolf agrees that just handing out food in an emergency is not a long-term solution. The people and government of Ethiopia must learn self-sufficiency, he said, something they have not grasped after two decades of food and monetary assistance.
Ethiopia must improve irrigation systems and produce more drought-resistant crops, Wolf said. The government must also develop a 10- to 15-year plan and convince the world it wants to end its dependence on handouts.
About 85 percent of Ethiopia's population lives on farms, but the government owns all farmland. Wolf thinks the government should consider sweeping land reform. "If you own it, you take care of it," Wolf said. "You take pride in it. Who wants to work someone else's land?"
Such reforms, if they come at all, will have to wait. Ethiopians have more immediate concerns. In northern Ethiopia, known for its dramatic ravines and mountains, dry riverbeds slash through the landscape. An old woman in Mekelle clutches a month's wheat ration for her family. The grain could easily fit into a bowling bag. On average, people in the villages are subsisting on about 900 calories of food per day. A normal U.S. diet is at least 2,000 calories a day.
Wolf is frustrated by the size of the problem. "Even if ships loaded with grain were to leave today," he says, "many would not make it in time to avert disaster."
Timothy R. Callahan is a freelance writer living in Reston, Virginia.
Related Elsewhere
For additional coverage see Yahoo! full coverage and allAfrica.com.
Recent stories include:
Famine looms, warns relief agency—Catholic Information Service for Africa (Nairobi)
Ethiopia's Dying Children—The New York Times (May 13, 2003)
When Will People Pay Attention?—Truth News (May 12, 2003)
Ethiopia's worst famine in 20 years—The Guardian, London (April 18, 2003)
Previous related Christianity Today stories on Ethiopia include:
International Community Has No Excuses in Ethiopia, Says Aid Official | Starvation not widespread, but growing rapidly (May 2, 2000)
Meeting Noah's Other Children | For years our congregation had done short-term missions projects. Then the Afar of Africa expanded our vision. (August 9, 2000)
Have something to add about this? See something we missed? Share your feedback here.
Our digital archives are a work in progress. Let us know if corrections need to be made.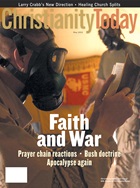 This article is from the May 2003 issue.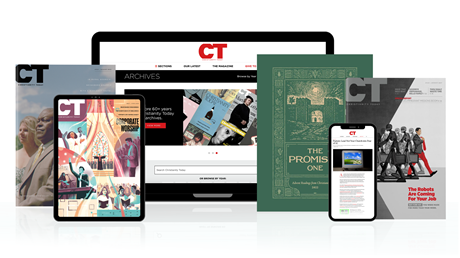 Subscribe to Christianity Today and get access to this article plus 65+ years of archives.
Home delivery of CT magazine
Complete access to articles on ChristianityToday.com
Over 120 years of magazine archives plus full access to all of CT's online archives
Subscribe Now
'I Never Thought I'd See Anything Like that Again'
'I Never Thought I'd See Anything Like that Again'