The Washington state scholarship had Joshua Davey's name all over it: class valedictorian, perfect grades, attending a Washington school. But when, in 1999, Davey decided to double-major in business administration and theology at the Assemblies of God-affiliated Northwest College, Washington pulled the scholarship.
"It was simply a matter of his choice of degree that excluded him from eligibility for state financial aid," Carolyn Busch, executive policy adviser to Washington Gov. Gary Locke, told

The Washington Times

in a June 2000 article (not available online anymore, but discussed in an old Weblog). "We try to be as open as we can on our policies, but when a student chooses a theology degree, then they are not eligible for state financial aid."
That's because of Washington's constitution, which has something called a Blaine Amendment forbidding the use of public funds for religious purposes. Such amendments appear in 36 other state constitutions, which were created in the late 1800s to fight Roman Catholicism (they're named for James Blaine, who tried to get such an amendment in the U.S. Constitution). At least 14 states specifically prohibit theology majors from receiving state scholarships.
Last July, the 9th U.S. Circuit Court of Appeals ruled against the Blaine Amendment, saying it discriminated "in such a way as to suppress a religious point of view."
Yesterday, the Supreme Court promised to take up the case in its next term, and many observers are saying it could be a landmark decision for religious liberty issues. And the bets are that the Supreme Court will agree with the 9th circuit on this one, since last year's Zelman v. Simmons-Harris decision allowing religious schools to receive state-funded tuition vouchers treaded on similar ground.
Not everyone agrees, however. UC-Berkeley law professor Jesse H. Choper tells the Los Angeles Times says "it would be a big step" for the justices to interpreted the First Amendment's guarantee of free exercise of religion as a guarantee of public support for religion. (But the court wouldn't have to take that step: it would only have to reiterate earlier decisions that if a government offers public support, it can't deny it on the basis of religion.)
"Should the Washington case lead to a clear new rule prohibiting discrimination based on religion, it could conceivably affect the entire dispute over educational vouchers," says a Denver Post editorial, which doesn't give an opinion on the case other than to say it "is of obvious importance."
"The Supreme Court has the potential to strip away the last legal defense school choice opponents have," Clark Neily, senior attorney for the pro-voucher Institute for Justice, says in a press release.
But it's not just about furthering vouchers. A ruling against the Blaine Amendment would be a huge boost for President Bush's faith-based initiative, notes the Times's David G. Savage.
If the Supreme Court decides that the First Amendment's ban on religious discrimination takes precedence over state constitutions' explicit discrimination against religion (as the justices should), there will be few church-state debates unaffected.
In other Supreme Court news …
Also yesterday, the U.S. Supreme Court said it wouldn't hear an appeal of lower court rulings against the town of Burbank, which began its City Council meetings with "sectarian" prayers. The ruling means that all California legislative bodies can open with invocations, but they cannot invoke anything that identifies the prayer with a particular set of beliefs. Buddhists, Hindus, and Zoroastrians must get as much out of the prayer as Christians, Muslims, and Jews.
"We still have the invocation. We just don't have a sectarian invocation," Assistant City Attorney Juli C. Scott told the Associated Press. "They are usually very benign, positive expressions of thanks asking for divine guidance so legislators do a good job."
Other cities say they'll probably do away with invocations altogether.
The court still hasn't announced whether it will hear an appeal on whether requiring students to recite the Pledge of Allegiance's "under God" phrase unconstitutionally promotes religion.
More articles
Missions and Ministry:
Gracia Burnham:
In harm's way; in Jesus' name | Despite controversy, danger, New Tribes still sends missionaries into the field (

Milwaukee Journal-Sentinel

)


DOJ official to meet Gracia Burnham | Or at least she'll try (Today, ABS-CBN, Philippines)


Military officers accused of colluding with Abu Sayyaf summoned for pre-trial probe | Officers, accused of letting the rebels and their captives escape from a security cordon around the hospital in Lamitan, could face court-martial (Associated Press)
Australian Missionary murdered:
Persecution:
Persecution is increasing in developing countries—and going unnoticed | The murder May 6 of a man named Jamil Ahmed Rifai unveiled the face of 21st-century Christian martyrdom (

Kansas City Star

)


Four Christians murdered in Colombia | Twenty-five armed men entered a rural church in northern Colombia the evening of May 6 and murdered its 80-year-old evangelical pastor and three other believers (Compass Direct)


Service held for victim of Tripoli mission bomb | Speakers called for stopping attacks against the Evangelical community (

The Daily Star

, Lebanon)
Politics and law:
U.S. wants groups to receive housing aid | The Bush administration wants to allow religious groups to receive federal housing aid even if they hire or fire employees based on their religion (Associated Press)


Faith in office | A recent conference at St. Jerome's University in Waterloo, Ont., titled The Hidden Pierre Trudeau, was both unprecedented and daringly un-Canadian: a gathering of politicians, academics and journalists to examine a prime minister's religious faith and beliefs (

The Globe & Mail

, Toronto)


Church and state | Idaho and Wyoming put up a fight, but in the battle for bragging rights as the nation's most conservative state, nobody can touch Utah (

The Washington Times

)


Church life:
Books:
Music:
Afroman getting high on religion | Joseph Foreman, the Hattiesburg rapper who shot to stardom in 2001 with the hit party song "Because I Got High," has a new message for his fans (Hattiesburg American, Miss.)


June Carter Cash's Christian faith, love for family remembered | Singer, songwriter, and actress died May 15 at age 73 following complications from heart surgery (Baptist Press)
Related Elsewhere:
Suggest links and stories by sending e-mail to weblog@christianitytoday.com
Check out Books & Culture's weblog, Content & Context.
See our past Weblog updates:
May 19
May 15 | 14 | 13 | 12
May 9 | 8 | 7 | 6 | 5
May 2 | 1 | April 30 | 29 | 28
April 25 | 24 | 23 | 22 | 21
April 17 | 16 | 15 | 14
April 11 | 10 | 9 | 8 | 7
and more, back to November 1999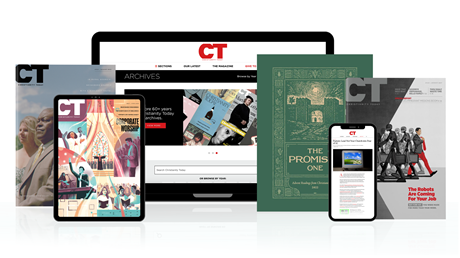 Annual & Monthly subscriptions available.
Print & Digital Issues of CT magazine
Complete access to every article on ChristianityToday.com
Unlimited access to 65+ years of CT's online archives
Member-only special issues
Subscribe
Supreme Court Will Take on 'Blaine Amendments'
Supreme Court Will Take on 'Blaine Amendments'