Evangelical leaders call for tempered speech on Islam
Yesterday, about 40 or 50 evangelical leaders got together to criticize evangelist Franklin Graham. Or so it would seem from media reports.
"Leading evangelical Christians for the first time have publicly condemned assaults on Islam by the Rev. Franklin Graham and other fellow religious conservatives and pledged to heal rifts with Muslims that threaten missionary work overseas," begins a widely circulating report from the Associated Press.
The Washington Post begins on a similar note, but adds a few names: "Evangelical Christian leaders from across the country called yesterday for fellow ministers such as Jerry Falwell, Franklin Graham and Pat Robertson to stop making broad, inflammatory remarks about Islam."
And then there's this headline from the television station in San Diego, where Franklin Graham's father is preaching this week: "Billy Graham's son condemned by evangelical leaders: Franklin Graham rebuked for derogatory statements about Islam"
Weblog wasn't at the meeting, which was sponsored by the National Association of Evangelicals and the Institute on Religion and Democracy, and a CT news story is still in process. However, judging from the news stories themselves, it seems that characterizing it as a meeting about Franklin Graham is spurious. None of the stories on the event quote anyone explicitly critical of Graham. Not one.
In fact, says Associated Press religion reporter Rachel Zoll, participants "avoided personally criticizing the religious leaders."
The meeting in fact was called to discuss and promote the IRD's "Guidelines on Christian-Muslim Dialogue." Graham, it should be noted, is an evangelist who engages in very little Christian-Muslim dialogue. Interfaith relations isn't his bag.
In fact, by reading the guidelines and quotes from the meetings, it would be more appropriate to report that evangelical leaders criticized United Methodist Bishop Melvin Talbert, who says Muslims will be saved and should not be evangelized. There aren't any quotes with Talbert's name, but the guidelines seem far more directed at liberal mainline church leaders who favor "macro-ecumenism" and "pretend that [Christianity and Islam] have the same basic teachings" than at evangelists who used some ill-advised adjectives in describing Islam. In talking with Muslims, the guidelines say, Christians must "give testimony to the Gospel of Jesus Christ, because it is our duty to do so." (UPI emphasizes the anti-syncretistic flavor of yesterday's meeting, while The Washington Times characterized the meeting as anti-anti-Islam.)
Indeed, the mainliners seem to have understood this point better than some of the reporters. National Council of Churches General Secretary Robert Edgar told The New York Times he disagreed with some of the guidelines. "We disagree that you can't have dialogue unless you talk about Jesus," he said. "My belief is that dialogue is best built on relationships. People have to get to know each other, to trust each other, to like each other, and in some cases to even love each other before real learning and listening takes place."
Nevertheless, there was what one unnamed attendee called a "loving rebuke" of Christians who have been too harsh in their condemnation of Islam, and it was clear that at least some present were talking about Graham.
"We've got to have an attitude of how can we serve, how can we help," World Relief President Clive Calver said. "Saying Islam is evil isn't going to help any of us."
In an interview with The New York Times after the meeting, Calver was apparently more direct in referring to Graham. The evangelist's statement that Islam is a wicked and evil religion, Calver said, ""is used to indict all Americans and used to indict all Christians. It obviously puts lives and livelihoods of people overseas at risk."
"Since we are in a global community, no doubt about it, we must temper our speech and we must communicate primarily through actions," NAE President Ted Haggard said. "There has to be a way to do good works without raising alarms."
Franklin Graham, who was invited to the meeting but couldn't attend because he's helping at his father's San Diego meetings, hasn't responded to the reports. Neither has Pat Robertson. But Jerry Falwell told reporters he was upset that he hadn't even been invited. That's too bad. As someone who is contrite about many of his anti-Muslim statements, his perspective might have been helpful.
"Almost suddenly, the world has become very tiny, and every comment from any portion of the planet that is important will be heard in every other part of the planet the same day," he told

The Washington Post

. "So, yes, we do need to be more careful, and I hope we have all learned from what we say and do."
In an interview with The New York Times, he explained what he learned: "In this media-sensitive world, we must be cautious that we walk a tightrope that does not allow offending others while at the same time never compromising what we believe. At the same time we cannot expect hundreds of thousands of evangelical church leaders to go silent when somebody asks what they think about any religion, just because those religions might kill their missionaries."
The NAE, Falwell said, was "trying to do something noble" in calling the evangelical leaders together on the subject, and he promised to participate in future discussions.
Meanwhile, at least one reporter engaged in some name-calling and ill-advised comments of his own: according to The Washington Post's Alan Cooperman, the NAE and IRD are "fundamentalist Christian groups." For both groups, them's fighting words.
More articles
Muslims upset over Christian books:
Evangelical book causes outrage among Muslims in Israel | A book with the title "Who is the Greatest?" has caused the Islamic movement in Israel to publish large ads in the main Arab Israeli newspapers accusing Emmaus Bible school in Nazareth of being a part of a larger Zionist-American plot to combat Muslims all around the globe in inspiration of the American victory in Iraq (

Come and See

, Tel Aviv, Israel)


John MacArthur book on terrorism banned in Pakistan |

Terrorism, Jihad and the Bible

"has the potential to deliberately and maliciously outrage the feelings of different classes of citizens in Pakistan," the government of Pakistan's North West Frontier Province said in a statement (Associated Press)
Interfaith discussion:
Politics:
Religious-charities bill stumbles in House | A top Republican signaled today that the House was effectively abandoning President Bush's drive to expand religious organizations' ability to receive federal money for social services (

The New York Times

)


House to vote on church programs | Bill would allow hiring based on beliefs (

The Washington Post

)


Also: Religious-hiring bill faces debate | Workforce Investment Act would permit religious groups that accept federal job-training funds to hire only workers who share their faith (

The Washington Times

)


Church and State:
Ohio exempts Amish from workers' comp | The Amish in Ohio, which number about 51,000, have sought the provision for at least a decade (Associated Press)


Suspended teacher's aide sues employer over wearing cross on necklace | Brenda Nichol had been told of the ban in 1997 and was warned twice since March that wearing the necklace was cause for suspension. She said she refused, "after prayerful consideration," because the cross symbolizes her religion (Pittsburgh Post-Gazette)


Also: Teacher's aide takes agency to court over cross necklace (Associated Press)
Persecution:
Life ethics:
Crime:
Maine church arsenic case:
Law:
Case spotlights moral convictions in jury room | Personal beliefs OK; consulting Bible goes too far, experts say (

Rocky Mountain News

, Denver)


Arrested 'apostle' won't repent for street preaching | Orlando Bethel, 36, was arrested April 12 and again Wednesday evening, but the activist with the 21st Century Church of God in Loxley, Ala., pledged to continue his fire and brimstone preaching, and he called "interference" by Escambia County sheriff's deputies unconstitutional (

Pensacola News-Journal

)
Abuse:
William Bennett, gambling, and religion:
Billy Graham in San Diego:
Church life:
Tornadoes:
William Jewell College hit hard, but lives are spared (Baptist Press)


Tornadoes cause major damage at William Jewell College (Associated Baptist Press)
Business:
Rejecting bad company | Some shareholders are forcing firms to weigh the human rights consequences of their business practices (

The Christian Science Monitor

)


It's not just a job, it's a ministry | Christian businessmen say faith makes a difference (

Times Daily

, Florence, Ala.)


Church works on cash card for members | Maori Anglican Church's cards would prohibit expenses for gambling, pornography, cigarettes, and alcohol (

New Zealand Herald

)
Media:
The media gets religion | The only problem is that, according to a new study, they get it wrong (Fred Barnes,

The Weekly Standard

)


St. Benedict's virtual scribes | What do Trappist monks, fruitcakes, Cartier, Harley Davidson and a Quaker computer geek have in common? Would you believe it—business interests? (UPI)
Catholicism:
Related Elsewhere:
Suggest links and stories by sending e-mail to weblog@christianitytoday.com
See our past Weblog updates:
May 7 | 6 | 5
May 2 | 1 | April 30 | 29 | 28
April 25 | 24 | 23 | 22 | 21
April 17 | 16 | 15 | 14
April 11 | 10 | 9 | 8 | 7
April 4 | 3 | 2 | 1 | March 31
March 28 | 27 | 26 | 25 | 24
and more, back to November 1999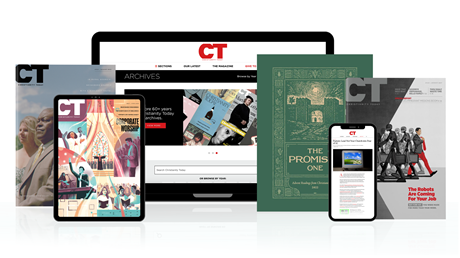 Annual & Monthly subscriptions available.
Print & Digital Issues of CT magazine
Complete access to every article on ChristianityToday.com
Unlimited access to 65+ years of CT's online archives
Member-only special issues
Subscribe
Was Evangelical Summit About Islam—Or About Franklin Graham?
Was Evangelical Summit About Islam—Or About Franklin Graham?