As one of the few Sri Lankan institutions to freely cross ethnic boundaries, the church commands some respect in the search for peace. "Though such a small group, we have had a voice," Ivor Poobalan, principal of Sri Lanka's Colombo Theological College, told me. Church leaders (mainly from the older, traditional churches) help facilitate the peace process from behind the scenes.
"We once thought everything depended on us," Anglican bishop Duleep de Chickera says. "We have now shifted to a more gospel stance, being the leaven, the salt, moving into people. It's not as though the church is making peace by itself. We have to work with others."
One such activist is Harim Peiris, an evangelical who serves as the country's president's chief spokesman. Methodist preacher Ajith Fernando's book on Daniel, Spiritual Living in a Secular World, influenced Peiris to consider public affairs as an area of Christian service. When President Chandrika Bandaranaike Kumaratunga asked Peiris to join her in government, he submitted the decision to his church, knowing his role could be divisive.
He points out that if Sri Lankan Christians want to serve in the political realm, they must be willing to serve with those of other faiths. "Out of over 200 electoral constituencies, maybe two in the whole country would return a non-Roman-Catholic Christian to office," he says. "[The mostly Hindu] Tamils elect Tamils, and [the Buddhist] Sinhalese elect Sinhalese. We'll probably never have a Christian president of Sri Lanka. But Daniel and Joseph didn't necessarily serve a godly leader."
Peiris feels the loneliness of his position. "You don't see enough Christians involved in social issues," he told me. "Not that they don't want to be, but the church has not really grappled with the issues, so there's no social consciousness." One lesson Christians elsewhere could learn from Sri Lanka, he believes, is that "God has called us to challenge the assumptions on which society is built. Otherwise we become complicit with its injustices."
If few Christians bring deep reflection into the political scene, they do at least bring their example. Churches have not fractured by ethnicity. Services in multiple languages are normal—an achievement that few churches in the U.S. could claim. The Assemblies of God, the largest and fastest growing of all the younger churches, has gone even further. By policy, until recently they held all their services in two or three languages. Constant translation is tedious, but they have done it to demonstrate that unity supersedes ethnicity.
Several people made the point that this unity is superficial. "They never discuss the political issues together," Vinoth Ramachandra, who oversees South Asia for the International Fellowship of Evangelical Students, complained. Bishop Chickera noted, "In the average congregation, I think it tends to be superficial. I once had someone say to me, 'If I once talk these matters with my Tamil friend, we lose each other.'"
The criticism is fair enough, but one should not underestimate the significance of worshiping and working together. Even in close-knit families, certain subjects may remain difficult or even impossible to discuss. Nevertheless family loyalty is a potent force. The church teaches that Christ supercedes ethnicity simply by sticking together.
When I asked Christian leaders how they assessed Sri Lanka's chances for peace, I discovered considerable skepticism. "I wish it would work," Godfrey Yogarajah said, "but to be realistic, it's a very fragile process. There are extremists on both sides." Later I began a question by saying, "You hope the peace process. … " Yogarajah interrupted me. "I said, 'I wish.''"
After 20 years of civil war, and even more of civil strife, misunderstandings and bitter memories go very deep. In no way can any peace process make everything whole again. Forgiveness will be necessary.
Tim Stafford is senior writer for Christianity Today.
Related Elsewhere
Related articles appearing on our web site today include:
The Joy of Suffering in Sri Lanka | How Christians thrive in the land where ethnic and religious strife is always just around the corner.
A Man of Peace | While other monks march against peace, this fierce-looking cleric seeks accord.
Indigenous and Evangelistic | Isolated from the infusion of foreign missionaries by Sri Lankan laws, the island's church knows that to survive, it must focus on evangelism.
More reports on religious freedom in Sri Lanka are available from the U.S. State Department, Open Doors International, and International Christian Concern.
The Sunday Leader, an English newspaper based in Colombo, Sri Lanka, recently reported on a "new wave of Christianity" in the country (second item) and an increase in attacks on churches.
Earlier Christianity Today articles on Sri Lanka include:
Violence Erupts in Sri Lanka as Churches Look to New PM to Bring Peace | The island nation reels from an ethnic conflict which has claimed more than 64,000 lives since 1983 (Dec. 19, 2001)
Article continues below
The Hard-Won Lessons of Terror and Persecution | Overseas Christians reflect on painful experiences (Sept. 26, 2001)
Christians and Buddhists Build Bridges for Peace in Sri Lanka | Religious officials secret meeting with Tamil Tigers draws criticism (Mar. 7, 2001)
Sri Lanka to Investigate Attack on Evangelical Church | Buddhist fervor for tradition and anger at Christian evangelism boils over in church assault (Feb. 28, 2001)
Christians Mediate for Peace | Sri Lanka churches try to reconcile Sinhalese Buddhists and Hindu Tamils. (Apr. 10, 2001)
Sri Lanka's Churches Pray for Peace as War Rages Around Jaffna | Country's Protestants to unify in prayer June 16. (June 5, 2000)
In Sri Lanka's No Man's Land, Churches Provide Some Hope for Refugees | Christians mobilize to help nearly a million left homeless by Tamil conflict (Apr. 18, 2000)
Sri Lanka's People Are Not Divided, Just the Politicians, says Archbishop | Churches call for peaceful end to Tamil fighting (Feb. 28, 2000)
Dispatch From Sri Lanka: Bombs Away | How Western military actions affect the work of the church (June 14, 1999)
Sri Lanka: A Light in Buddha's Shadow | "With no end in sight to the war, we persevere in seeking to be faithful to God." (Nov. 16, 1998)
Dalai Lama, Evangelical Leader Talk | The discussion focused on the persecution of Christians in Sri Lanka by Buddhists (Aug. 10, 1998)
Assemblies of God Church Attacked | There has been a 230 percent increase in anti-Christian incidents on the island nation south of India in the past year (Feb. 9, 1998)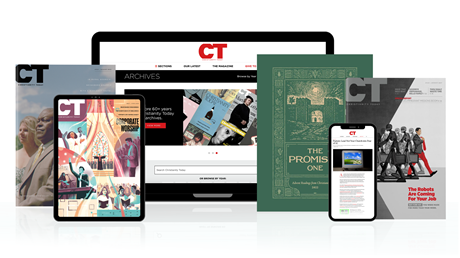 Annual & Monthly subscriptions available.
Print & Digital Issues of CT magazine
Complete access to every article on ChristianityToday.com
Unlimited access to 65+ years of CT's online archives
Member-only special issues
Subscribe
Being the Leaven
Being the Leaven