The Back to Jerusalem movement began in the 1920s, went underground for decades, and now hopes to send 100,000 missionaries to 51 nations. Critics who perceive missionary efforts as rooted in Western imperialism will find their assumptions defied by this movement of Chinese Christians who want to reclaim Christianity's ancient missionary roots. Paul Hattaway, a New Zealander working in Asia, has extensive connections with Chinese house-church leaders. He is the author, with three leaders of Chinese house-church networks, of Back to Jerusalem: Called to Complete the Great Commission (Gabriel Resources, 2003). CT senior writer Tim Stafford reached Hattaway in Thailand.
What is the Back to Jerusalem movement?
The name unfortunately leads a lot of people to believe that it's about evangelizing Jerusalem or Israel. That's not the case at all. When the Chinese say "Back to Jerusalem," they're talking first of all about a geographical advance of the gospel throughout history. The gospel started in Jerusalem and then spread in a generally westward direction into North Africa and Europe. Throughout history it has continued to spread westward around the globe, with China as its farthest advance. With a Chinese mindset, they see that to fulfill the Great Commission is to encircle the whole globe with the gospel, until it goes back even to where it began. Their aim is not Jerusalem or Israel, but all the countries and unreached people groups between China and Jerusalem. Along the old Silk Road, which once brought trade from the Middle East to China, you find approximately 5,200 unreached people groups and tribes.
How did it start?
The vision goes back to the late 1920s, when a group called the Jesus Family had formed in China. They lived like the church in Acts 2, sharing all their possessions in a common pool, and preaching the gospel as they walked from one village to another. They faced tremendous opposition. Often the "scum" of society would believe in Christ, so it would be the cripples, the blind, and the beggars. Whole villages would come out and throw rocks and rotten fruit and vegetables at them.
It was that group, or a derivative of that group, that first believed that God was telling them to walk on foot all the way back to Jerusalem, preaching the gospel and establishing churches in every town and ethnic group on the way. But they never got to see their vision come to fruition. A small group of Chinese missionaries got right to the border. But then the vision died for a long time. It went into the ground from the early '50s to the late '80s.
When did it reemerge?
One of the great catalysts was a man named Simon Zhao. He was one of the leaders of the Back to Jerusalem movement in the late '40s and early '50s, and was arrested along with all the other leaders when the Communists took over that part of China. He was given a 40-year prison sentence. It's a very touching story. His wife was pregnant—they had only been married a short time. She was also arrested and suffered a miscarriage in prison. She died a few years later, and he never saw his wife again. Simon Zhao said that many nights in the prison labor camps he would face toward the west, toward Jerusalem, and he would say, "God, the vision that you've given us has perished, but I pray you'll raise up a new generation of Chinese believers to fulfill this vision."
Simon Zhao got out of prison in 1983 and had no money, no family. He didn't know any Christians anymore. People had forgotten that he existed. He began to live right outside the prison labor camp, just under a piece of canvas, because he had nowhere to go and no money and nothing to do. Once the believers heard about his story, they brought him back and had him share his vision. God used his ministry to raise up this new generation. He died last year.
I don't think many of us have thought about the Chinese church in a missionary capacity. How do you envision its contribution?
It's more than the quantity of missionaries—it's the quality. In my opinion, the kind of Christianity that God has instilled in Chinese believers allows them to impact the Islamic and Hindu and Buddhist worlds in a way that most other Christians cannot.
I'm sure all your readers are aware of the persecution that has affected Chinese churches. There are hundreds of pastors in prison today. Yet they don't see it only as a satanic attack when they are tortured and put into prison. They see it as God's training ground, and God's furnace of affliction to purify them so they can be effective witnesses. The Chinese are in the position to send workers who have been though the furnace for so long that they're willing literally to die for the gospel.
The Chinese believers are not misinformed. They fully understand that when they go to these Islamic nations and others, they're going to have to spill their own blood for the sake of the gospel.
Then the issue of persecution, or possible martyrdom, is really very much in the front of their thinking.
One house church leader, Brother Yun, believes that in the first decade of this movement, there may be 10,000 martyrs for Christ. Some of the training for the new workers includes subjects such as how to witness for the Lord under any circumstance, and that means even if you're handcuffed and being led to the execution ground. They're training people how to pick handcuffs, and how to jump out of two-story buildings without breaking an ankle in escape. That's an interesting theological point. On one hand, the Chinese believe that sometimes God sends them to prison so they can have a prison ministry. But other times they believe the Devil wants them in prison to stop the ministry, so they need to discern every time there is an arrest just what God's will is for them.
Why choose a goal of 100,000 missionaries?
That number of 100,000 actually came when all of the top church leaders had a meeting, praying about what involvement God wanted from their particular groups. They felt that they should tithe the number of full-time workers that they already had. Out of all the groups, they had approximately 1 million full-time pastors and evangelists, and so this is how the number 100,000 began.
How many have gone out?
The vision is still in its infancy. The latest figures I've seen show that a little less than 1,500 cross-cultural missionaries have actually left China. But it's a little difficult to gauge, because many of them come and go. They'll go into neighboring countries for six months, and then they'll go back to China.
Do they have a supporting structure within the churches that send them out?
They do. Six or seven major house-church networks are fully behind this vision. There are millions of believers in each network. And so they are the ones focused on sending workers to fulfill this vision.
From what I've seen, they don't really have any structured plan how they are going to financially support these workers. They're not looking for handouts from the West, that's for sure. They're looking for the hand of the Lord. But they don't really plan and strategize financial matters like we do in the West. They just believe that if they're called by God to go somewhere then God will provide. And he does.
Many are going and getting jobs. They don't see that as a hindrance to ministry at all. In fact it's a great help for getting visas and permits to be in a country. The Chinese government is very set on an economic agenda of prosperity, so it's practically impossible to determine which of these people leaving China are Christian missionaries and which are going for business purposes.
There are ethnic tensions between the Han Chinese and other ethnic groups. How does that play out in cross-cultural missions?
That's perceived as one of the major obstacles in seeing this vision become a reality. Many people tell me that, for example, the Chinese can never reach Tibetans. But I've come to see firsthand that that's not true. If the Chinese (Han) believer is truly humble and broken, it can actually be a powerful witness for the Lord, because he comes from the so-called oppressor group, the Han. I'm thinking of several testimonies of Han who have gone into Tibetan areas, and now there is a Tibetan house church. The Tibetans saw a love and meekness in these believers that they had never seen before from the Han ethnic group.
Are the churches aware of this issue as they train their missionaries?
A lot of them are learning as they go—by error, unfortunately. A lot of them are quite gung ho, sure they are going to have great success, and they find out that just doesn't happen. It's not quite as easy as they expected. Many of the evangelists and missionaries are then forced to examine what's going on and what needs to be done to have an effective ministry. But I'm quite encouraged in some respects. Those working with Muslims, in particular, are really growing and learning. I might add that the Chinese Christians believe generally that it's much more difficult to reach the Buddhist world than it is to reach the Muslim world.
Do the house-church leaders see miracles and signs as central to their witness?
They don't see miracles as essential to their work; they see them as a natural reaction to preaching the gospel. Even in the house churches, there are many different groups and beliefs. But generally speaking, the Chinese don't focus on miracles at all. They focus on proclaiming the gospel to the lost. And when they proclaim the gospel to the lost, they find the Lord backing up his word with miracles frequently.
They believe that miracles are not for inside the church but for those who lack faith out on the street. One brother is often challenged with the question, "Why don't we see miracles in the West like you do in China?" These days he's come to ask, "Are you really proclaiming the gospel for the lost humanity of the world?"
You really have to live with Chinese believers to see that reaching the lost is an overwhelming force in their ministry. Many evangelists in rural areas greet each other with the question, "How many people have you led to Christ today?"—not in the last six or twelve months, but today.
For more information, visit the website www.BacktoJerusalem.com.
Related Elsewhere:
More on Chinese Christians includes:
China Arrests Dozens of Prominent Christians | At least 50 detained in fresh crackdown on house churches, reportedly promoted by new video and book releases. (Feb. 18, 2004)
The Red Glowing Cross | A veteran journalist makes vivid the hidden and expanding world of Chinese Christianity (Feb. 18, 2004)
House-Church Christian Dies in Custody | Family saw prisoner injured and bound with heavy chains (Jan, 15, 2004)
Crushing House Churches | Chinese intelligence and security forces attack anew. What you can do to help persecuted Christians in China (Jan. 13, 2004)
About-Face on Charities | Communist leaders invite even Christians to help the poor. (Oct. 21, 2003)
'Dangerous' Chinese Bill Is Thwarted | Article 23 would have automatically banned Hong Kong groups now outlawed on the mainland. (Aug. 21, 2003)
Breakthrough Dancing | A look at the one of the most creative youth ministries in Hong Kong—if not the world. (July 23, 2003)
Hit by the SARS Tornado | Breakthrough reacted quickly when the disease hit Hong Kong. (July 23, 2003)
Inside CT: Chinese Puzzle | Things are changing for China's church. (March 07, 2003)
Under Suspicion | Hong Kong's Christians fear antisedition measures will curb religious liberty. (Feb. 21, 2003)
Did Apostles Go to China? | Evidence suggests Christianity reached China in the first century. (Oct. 21, 2002)
Working with the Communists | Some evangelicals minister happily within China's state-supervised Three Self church. (Oct. 18, 2002)
Bush: 'I'm One of Them' | Religious persecution allegations set the stage for George Bush's visit to China. (Feb. 27, 2002)
'New' China: Same Old Tricks | Top communists, despite their denials, endorse arrest and torture of Chinese Christians by the thousands. (Feb. 15, 2002)\
The Unlikely Activist | How a bitter atheist helped besieged Christians—and became a believer. (Feb. 15, 2002)
What China's Secret Documents Reveal | The New York archive of religious persecution in China contains numerous government documents that show how the government controls religion. (Feb. 15, 2002)
China Persecution Dossier: Zhang Wu-Ji | Tortured to the point of death. (Feb. 15, 2002)
China Persecution Dossier: Shi Yun-Chao | Beaten for Hosting Bible Studies. (Feb. 15, 2002)
Article continues below
China Persecution Dossier: Gu Xiangmei | Surviving on "tiger's diarrhea." (Feb. 15, 2002)
In Perspective: What is the Falun Gong? | And why does the Chinese government want to destroy it? (Feb. 06, 2002)
Gong's 'Accusers' Claim Torture Induced False Confessions | Letters from imprisoned Christian women in China describe assaults with electric clubs (Feb. 01, 2002)
Gospel View from China | He Qi first saw Jesus' face in an old magazine. Now he paints his own images of the biblical story. (Jan. 25, 2002)
Church Leader Gets Reprieve | China's case against Gong Shengliang now on hold. (Jan. 24, 2002)
Have something to add about this? See something we missed? Share your feedback here.
Our digital archives are a work in progress. Let us know if corrections need to be made.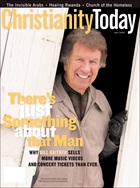 This article is from the April 2004 issue.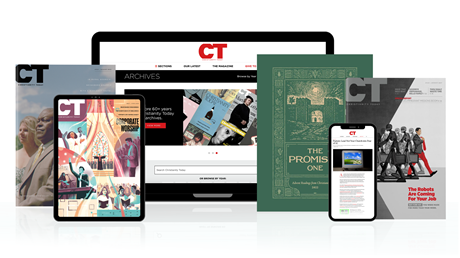 Subscribe to Christianity Today and get access to this article plus 65+ years of archives.
Home delivery of CT magazine
Complete access to articles on ChristianityToday.com
Over 120 years of magazine archives plus full access to all of CT's online archives
Subscribe Now
A Captivating Vision
A Captivating Vision